The third largest city in EU has also the 3rd largest GDP, Madrid is smaller than only Berlin and London with a huge metropolitan reach. Madrid is the seat of power in Spain …the government buildings, monarch palaces and cultural epicentres are all around this region.
Football lovers know Madrid because of its top notch club; Real Madrid and Altetico de Madrid; while art lovers know it because of its buzzing literary and music festivals and of course the foot tapping flamenco. A lot of business travellers go to Madrid apart from throngs of tourists…it's considered to be the financial hub of South Europe.
The Monocl magazine had voted Madrid to be the 10th most liveable city in the world….it retains a distinct character though and urbanization has not robbed it of its innate Spanish fire. The headquarters of the World Tourism Organisation is in Madrid, so you can guess how beautifully the city lays itself out for its admirers.
Cradling the rather delicate Manzarnes river and straddling the Jarama river basin, Madrid is a mere 60 km from the scenic Guadarrama mountains…the city and its suburbs are on undulating mini hills. Madrid is also close to the Toledo mountains (to its south) and the Somoiserra (to its north east).
One fourth of Madrid's metropolis is taken by the El Pardo again reflecting the Spanish commitment to the environment. Interestingly some parts of Madrid municipality like the Fuencarral El Pardo district has much higher altitude than other parts (for example the Manzarnes valley). Interestingly the locals are called "gatos" (cats) since the middle ages…they were famous for their late hours and prowess in scaling walls.
If you are visiting Madrid in summers be prepared for shows and performances to begin late. You should also dine late and take a nice long siesta before diving into the arms of the city in the evenings…this is a city that celebrates every night.
Attractions
The first thing that will strike you about Madrid is that it seems to have been built by different people with entirely different aesthetics. The city centre is a labyrinth of old streets and the Plaza Mayor has lovely Neoclassical buildings while modernistic apartments and tonnes of offices surround the city outskirts…it's evident that the architectural sensibilities have changed and Madrid has evolved dramatically as time passed.
Technically Madrid bridges both sides of the Atlantic and intellectually it has been a convergence point for artists from different backgrounds and different countries. Madrid's Paseo del Arte area contains a large portion of the art treasure of the world.
You will find 3 museums of significance here apart from the famous Museo Del Prado that hosts European art from middle ages to 19th century (Goya, El Bosco, Reubens etc.). The other two are Museo Thyssen Bornemisza (world art from 13th to 20th century) and Museo Nacional Centro Reina Sofia (contains a good collection of Picasso)…together they comprise the Golden Triangle.
There are others too like Museo Arqueologico (Spanish archaeological treasures)… an art lover can spend weeks in this area and still not soak up everything. Madrid also sees the Feria del Libro de Madrid (Madrid book fair) and the Photo Espania (international photography event). And some of them like the Teatros del Canal (showcases Spanish operetta or zarzuela), Teatro Real Coliseo Carlosn (international opera events) see a lot of plays by famous directors and international choreographers.
Some events in Madrid like the Autumn Spring Festival (de Otono a Primavera), Suma Flamenco, Madrid International Dance festival see art lovers thronging the city along with thousands of journalists who descend upon the area.
The outskirts of Madrid are also full of surprises…The exotic palace of Aranjuez opens up its fragrant gardens for the Festival de Musica de Aranjuez while the internationally acclaimed festival de Verano San Lorenzo sees scores of concerts on the historical monuments of Madrid like the Manzanares El Real Castle.
If you are in Madrid then watching a Flamenco show must be on your checklist and you can do so at any of the tablaos and restaurant converted theatres all around the city that serve up rapid glitzy versions of the dance. For a slower, more duende (spiritual state of emotional joy) inspiring Flamenco take a local guide who will show you the little known bars and neighbourhood theatres where the original emotional version of the art is played. For fusion flamenco shows at affordable prices you can check out the weekend performances at Amor de Dios Flamenco dance centre in Lavapies.
Plaza Cibeles (junction of Calle de Alcala and Paseo Recoletos) is a must visit with its beautiful fountains of Cibeles and the palace that's now converted to City Hall.
Madrid has its own version of Broadway…the setting sun sees the modernistic Gran Via lighted up beautifully while street performers and theatre artists create a stage on the road when one of the numerous music festivals happen. Here you will find the Corte Ingles shopping hub and art deco style skyscrapers and a bevy of beautiful theatres.
Walk up to the Calle Fuencarral hipster neighbourhood that's filled with trees and a lazy pace of life ….Mercado IIdefonso is a major food market here. You can also continue walking from the metropolitan building of Gran Via to the Calle de Alccala which is full of interesting architecture; palacio Cibeles, Banco de Espana are just two examples.
Cale Del Espritu Santo has amazing street art, cobbled paths and unique cafes and bars …it's another interesting place to take a long walk; it's not surprising to see the staggering number of tour agencies who offer walking tours in Madrid. Walking through the old town will expose you to the past of Madrid…the architecture is different and the Royal Palace (Palacio Real) and Madrid de los Austrias seem to have been caught in a time bubble.
Look out for the casas a la malicia (houses of spite)…these have the façade of being only one storey high while internally there are 2 floors. History says that at one point the emperor had commanded his subjects to let the visiting officials stay in one of the floors of their homes. The ever fiery and rebellious Spaniard quickly retaliated with a slew of seemingly one storeyed homes.
The San Ildefenso convent where Cervantes was buried and the corrales de Comedias (traditional open yard theatre spaces) along with Juan de la Cuesta (Madrid's oldest printer who printed the first copy of the iconic on Quixote book) are only some of the many interesting attractions.
When all the attraction hopping will tire you out then retire with a bottle of Spanish wine to the Retoro or the Royal Botanical Gardens or the Madrid Rio on the riverside….if you are lucky a street musician strumming the Spanish guitar will give you company.
Madrid is very fond of its bicycles and has a spectacular 420 km cycling route through the entire region connecting the natural reserves and the UNESCO sites. It's an adventure to sign up for the CiclaMadrid and bike your way through ancient fortresses and vineyards and monasteries…simply explore the CiclaMadrid website and you will know how the electricity powered BiciMAD bikes can be used to explore Madrid city less strenuously while the 65 km green cycling ring weaves around green natural spaces and gushing fountains.
Visit the Estadio Santiago Bernabeu (one of the world's most acclaimed football stadium) that's to the north of central Madrid.
When in Madrid City how can you miss visiting the 3 famous UNESCO heritage sites that border it. Drive to Alcala de Henares (home to famous author Miguel Cervantes)…it's the world's first university city the Cervantes birthplace museum, san ildefonso college, Aula Magna and the Patio Trilinguae, monastery san bernado etc.
Or if you want to experience the mountains visit San Lorenzo el Escorial which is located in the heart of Guadarramma mountains. San Lorenzo has the charming Bosque Herreria forest and a gigantic monastery complex of international acclaim besides a tranquil pine reserve.
Another spectacularly beautiful UNESCO site is Aranjuez on the banks of the Tajo river…the Bourbon dynasty's residence has orchards, palaces, museums and gardens that still preserve the spirit of royalty… if you want to experience Spain's incredible natural bounty then drive out to ayedo de Montejo which has the Seirra del Rincoin biosphere reserve that sits on the bank of Jarama river.
A wine tour should definitely be a part of your agenda while you are in Madrid…this city suburbs produces its own hearty reds and whites. Near the Toledo and Avila province there is Las Moradas Martin winery and in the Escalona region you will find the Bodega Saavedra winery. The Carretera Toledo region has Bernabeleva and the Avenida de Marcial has the Bodegas Maranones winery….any local wine tour company will take you to these 4 vineyards.
Food and Drinks
From local delicacies to Michelin starrers…Madrid can please all palettes. However there are some foods that uniquely belong here and you must try them out on your tryst with the city.
Madrid City dates back to 1870 and is most recommended for Cocido. The Spanish are very fond of hearty meat and potato concoctions and the Hueves Rotos or freshly olive oil fried potato chunks with drool worthy egg toppings and meat chunks are a city favourite. Go to any of the small tavernas at the Los Huevos de Lucio in La Latina district and you can have this dish.
Head off to the central Plaza Mayor in Madrid to taste its awesome Bocadillo de Calamares or sandwich with fried squid. The 16th century Callos a la Madrilena or stew with sausage, beef tripe and chorizo and generous amounts of paprika…is still served in all its glory in almost all bars and restaurants especially around winter. And wind off your gastronomic journey in the Huertas area with decadent porras (chocolate-y deep friend giant sized Churros) at Bar Chocolat.
In case you want to taste food from all 5 continents apart from all regions in Spain then head of to the Huertas area near the tirso de Molina or on the streets lined with restaurants around plaza Espana and Fuencarral
Nightlife
Madrid loves its nightlife and there are two basic things that you can do here at night. You can "go out for tapas" i.e. to the Spanish version of the pub crawl where you move from bar to bar and eat bite sized potato omelettes, squid, tail of the bull and croquettes along with tall glasses of Spanish wine and plentiful beer.
The upscale modernistic wine bars and pubs are found near the outskirts of Madrid's but its suggested that you check out the true blue Spanish taverns in the historic centre (these have unique facades made with tiles)…the neighbourhoods of La Latina and Huertas are good options. Here you can hear impromptu songs and listen to authentic flamenco performances (no, the dance isn't a compulsory part) or simple share racciones (huge plates of food meant to be shared) with wonderful Spanish strangers.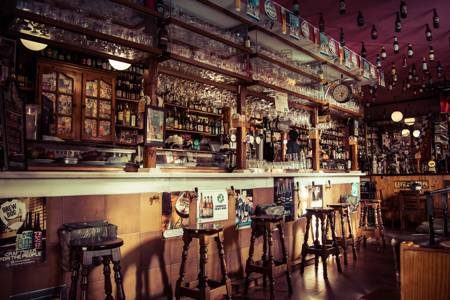 This naturally leads to the second amazing thing you can do in Madrid at night…immerse yourself in its amazing music. Café La Palma on Calle de la Palma (electronic, blues) and Blackbird Rock Bar (techno, jazz. Hip hop) in Huertas and the Honky Tonk (rock and Roll) in Calle Covarrubias apart from the Wulitze Ball room (heavy metal and punk rock) in Calle de last res Cruces are all amazing musical destinations.
You can also head off to downtown Madrid Calle Bailen Street and there are street musicians performing there every evening (in Madrid this basically means 8 to 11 p.m.)
Shopping
Madrid is more about specialist designer shops and artisanal boutiques than homogenous malls….in fact some of Madrid's shops are so focused that they only sell one thing. One of the best things you can take out from the city are the handmade Spanish farms and intriguing veils …you will find Casa de Diego on Puerta Del Sol selling a lovely collection.
Guantes Luque in this area sells only designer gloves…the kidskin ones are most popular. On Plaza de Callao there is a maze like bookshop which stocks a good collection on literature, history and arts. The Plaza Mayor has Casa Hernanz which sells only handcrafted espadrilles (Spanish shoes) in every design and color…don't be scared by the serpentine queues outside.
In the Austrias neighbourhoods there is the Taller Puntera which makes lovely leather purses, belts and accessories….a great place to pick up a classy gift. Capas Sesena in Barrio de Las Lestras is the only shop in the planet which exclusively sells merino wool capes (material is sourced from Salamanca). Nearby is Eocalf…a speciality store that sells designer apparel and accessories made from recycled material…Queen Sofia of Spain is one of their customers.
If its olive oil you want then Patrimonio Olivarero stocks exclusive kinds and some are packaged in quirky bottles too…check out olive based soaps and creams too. Some distance away is Queseria Cultivo …an exclusive cheese shop that sells 30 different kinds of authentic Spanish cheeses.
In the Salamanca area you will find Lavinia that's probably the best wine shop in Madrid…in case you haven't been on a winery tour this is the best place to shop for and taste different wines. Don't leave Madrid without stopping at Mercado san Miguel on the atmospheric Plaza Mayor…get bunches of ready to eat Tapas, fresh seafood and Spanish cheese. Alternatively you could also visit the less glamorous fresh food market of Mercado San Anton (this is in Chueca).
Getting There
The Adolfo Suarez Madrid Banjaras (MAD) airport is pretty far north of the city (around 14 kms) but it's very well connected to the other global cities of the world. Many travellers exploring Europe prefer to fly into Barajas airport from UK…it takes 3 hours from London. More than 150 destinations across the Asian, African, Americas and European continent have direct flights to MAD and these include, Delhi, Cairo, New York City, Shanghai, Athens etc.
You can reach Madrid by direct train from any major Spanish city apart from Lisbon (9 hours) and Marseille (7 hours). All kinds of train; long distance, mid distance, high speed as well as suburban trains come in to the Chamartin and Atocha stations…the city is a hub of the Renfe network.
Incidentally the MAD airport is the biggest airport in Europe (there are 4 terminals) and it is a conveyance hub for the Iberian Peninsula and Barajas district.
Getting Around
There are two convenient and affordable options right from the airport gate to city….take the express bus (it leaves every 12 minutes during daytime) or take metro line 8 that takes you inside the city. Taxis are also found outside the airport. The best thing about Madrid transport system is that it's integrated….metro, trams and buses and trains (even suburban ones) are under one transport network called CTM. You can use the CTM official website to get all relevant information about public transport in Madrid.
It's advisable to buy Metrobus travel cards (Billete turistico) that allows extensive use of metros and buses in urban Madrid…for suburban cercanias (local trains) you need to buy separate tickets.
There are a number of tourist trains that will take you to the most scenic places around Madrid like the Philip II train (to San Lorenzo Escorial), Cervantes train, the vintage locomotive drawn Arganda train and the strawberry train to Aranjuez.
Getting around on the principal streets is easy with buses and they run right from 6 a.m. to 11.30 p.m. most bus stops have extensive route charts and time tables and you can even board buses with folding bicycles. There are an army of night buses that run from the Plaza de Cibeles square to various points and you can distinguish them by the large "N" that's pasted on the front. These run till 6 a.m. so you can basically explore the city all night.
For the record Madrid has aced the war against pollution by running hydrogen run buses…recognise them by their blue color.
Metro underground has over 300 stations and runs from 6 a.m. to 1.30 a.m. There are 13 lines and the maps at stations have multilingual options besides being color coded so it won't be difficult to understand. Metro trams have only 4 lines; Colonia Jardin To Estacion Aravaca, Pinar De Chamartin To Las Tablas, Colonia Jardin To Puerta De Boadilla and a circular line  tranvia de Parla.
You can order taxis using the radio taxi service and from the umpteen taxi stands but you can only hail them when the green lights are on. In Madrid taxi rates aren't cheap…there are extra charges for night runs, holidays, airport service etc.
Madrid has tourist focused open topped hop on hop off buses that will take you around most of the interesting landmarks and attractions of the city. You might find yourself hopping off to explore some fascinating aspect and then never getting on that bus…that's what Madrid does to you.
Read: How to get around Madrid using local transports
Weather And When To Go
Summers can be quite hot in Madrid and often the Celsius touches 40 degree C but it's not humid and so roaming around on the streets isn't a torture. One of the highest altitude capital cities of Europe, Madrid has non humid cold weather in January-December. There is winter sunshine in the mornings, hotel rates are low and its sale time in shops. The Celsius may dip below freezing point but it hardly ever snows.
Ideally, late spring and early fall are the best climate-wise to visit Madrid. October-November sees the autumn festival, three king's day, Madrid Carnival and Gastrofestival happen in Jan-February while April to May sees a slew of events like Dos del Mayo, Madrid Marathon, Feria del Libro and Fiesta de San Isidro. August is perhaps the only avoidable month….most locals (café owners and restaurant owners too) take a month off to holiday.
Read: Important weather information of Madrid & Spain
Also Read