About Scotland and its terrain
The incredibly lovely country called Scotland shares its border with England (south) and that's about the only immediate neighbour it has. Its East is flanked by the North Sea and south-west by the Irish Sea and north Chanel. Scotland has a large bevy of islands (more than 790 of them) and those include the Hebrides and North Isles.
Ireland lies a mere 20 km or so away from the southwestern Scottish peninsula of Kintyre. The nearest neighbours across the waters are Norway and Faros
Once upon a time, massive glaciers covered the whole of Scotland and when they melted they had already pockmarked the land. Unlike its neighbour England, Scotland is all about sudden deep lakes, fierce gushing rivers and rocky undulating land that's punctuated by mountains. The Northern Highlands in Scotland are worshipped as the ultimate seat of natural beauty…. this is the most mountainous region here.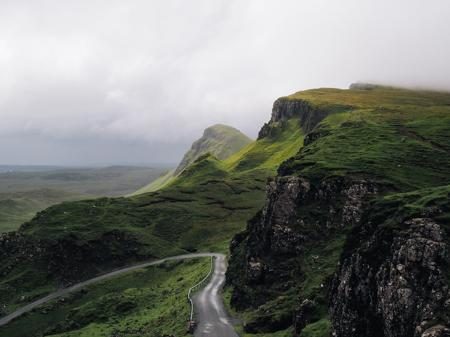 The huge Grampian granite laden mountains slash Scotland from southwest to northeast and includes the tallest peak of Scotland; Ben Navis at 4409 feet. The mountains flank Lochaber's Fort William creating a region that's called the Outdoor Capital of the UK… The southern lands are high with green verdant valleys flanked in the south by Cheviot Hills (they separate Scotland and England).
The Central Lowlands is however a valley that has originally been formed by multiple volcanic explosions….this is a relatively flat area. Two of the largest rivers here are Clyde and Tweed and there are multiple inland freshwater bodies like Loch Ness and Loch Lomond.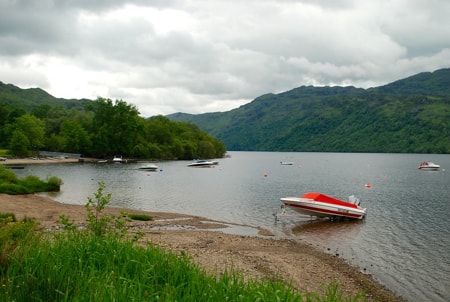 If you look at the terrain, the extent of land diversity that this small country possesses will surprise you… almost every kind of land formation can be found here. Even the islands that can be grouped into the outer Hebrides, northern inner Hebrides and Shetland-Orkney have a lot of land diversity. Islands of Harris, Skye and Rum have fierce rock domination while Lewis has gentle undulations and Shetland and Orkney have gentler lands. The strong salt spray or gales always blow in with the winds on the islands.
A brief history of Scotland
The kingdom of Scotland remained an independent sovereign state till the early part of the middle ages i.e. till 1707 (the Kingdom of Great Britain was formed in this year). In fact, in 1603 James VI (king of Scotland) was the king of England and Ireland too and this was when all three nations were united. The union of England and Scotland and the intermingling of the royal lines will fascinate you if you are fond of medieval dramas like the Tudors which is trending on Netflix.
Post the political alliance in 1707, the parliament of Great Britain was established and this was the successor of the parliaments of both Scotland and England. Much later in 1997, a Scottish Parliament was again born and a system of the unicameral legislature was established. Scotland has healthy representation in the UK political and legislative structure and it's the second most powerful nation in the UK after England.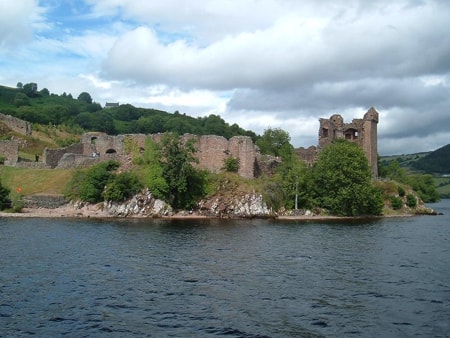 Scotland differs from the rest of the UK nations in terms of its sense of national identity. You will see the Scottish referring to themselves as only "Scottish" and they are proud of the fact that their legal system, educational set up and religious practices are distinct. The Scottish conform to all their obligations and commitment to the UK but continue using imagery, titles and symbols that date back to the time of pre-union.
Culture
Scotland has given the world literary geniuses like Robert Burns and Walter Scott (inventor of the novel) and the city of Edinburgh has been named UNESCO city of literature….almost 500 novels have taken inspiration from the country. Band music right from Celtic turns to rock and pop is very big in Scotland… the country is full of live music and you will keep expecting every local to break into an impromptu dance with bagpipes.
In terms of fashion too Scotland has given the world my personal favourite…Scottish checks. Whatever art form you may choose to look at you will find that Scotland retains a sense of unique identity in each area.
Scotland has an aura of romance about it that's hard to define…the Scottish have a charming duality. Though they are extremely proud of their heritage…they are quick to embrace modern customs and update themselves in every way possible. The ancient alleys of Edinburgh's old town and the neo-modern interiors of Glasgow's cocktail bars could be two different worlds.
Geoparks in Scotland
The icing on the cake is that the Scottish government is totally committed to showcasing the unpolished raw beauty of the lands and that's why there are numerous geoparks here… right from the UNESCO Global Geopark in North West Highlands to Lochaber Geopark and Shetland Geopark. Besides this, there are UNESCO certified biospheres here like South Ayrshire and Galloway along with Wester Ross.
The lands have an eerie fairy tale (Grimm style) quality about them as if goblins and witches and towering castles lay hidden in their corners. So it's no surprise that JK Rowling who was born in England was heavily inspired by the Scottish lands especially Edinburgh to create the legend of Harry Potter… The Legend of the Sleeping Dragon, Stories behind Arthur's Seat and Camelot's tales …there are so many stories floating around in the air of Scotland that once you start listening it's impossible to stop.
You only have to glimpse the mysterious Aurora Borealis i.e. Northern Lights once and see the exotic fauna hiding inside Galloway Forest Park (UK's forest dark sky park) to understand the eerie appeal of Scotland. Your heart will flutter when you see the 12 km long alpine mountain ridge or Cuillin's in Skye and the mystic dark skies of Scotland in the Isle of Coll (the dark sky Island).
Attractions in Scotland
Though better known for its mountains… Scotland is full of lovely beaches too; the Loch Morlich, Sea Cliff, South Harris and Big Sands are just some of the names. For absolute tranquillity go off to the ivory sand beaches of Luskentyre where the waters of the Hebridean Sea are absolutely turquoise blue. The adventurous divers will want to look at the wrecks of 51 ships that lie in the depths of the Scapa Flow near Burray. St Andrews near the coast is full of beautiful golf courses.
If by chance you wander away from the Sango Bay then you might bump into the Eskimos…this is right near the Arctic Zone. And not just this, the Barra (an Outer Hebrides Island) with the Cockle strand beach that receives flights between tides, qualifies as the planet's only beach airport.
After all this excitement of exploring the heartlands via the Scottish waterways i.e. the Caledonian, Forth and Clyde, Crinan, Monkland and Union Canals will heal your soul by its tranquillity.
And of course, there are the typically Scottish Lochs or large stretches of water that dot the land in circles….almost all of them have unique offerings. Round off your Scottish exploration at one of the angling points on the 120 mile River Tay that's teeming with salmon.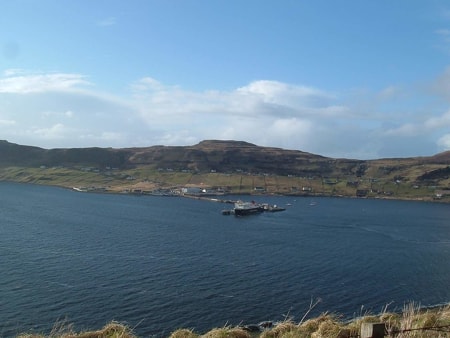 Offering everything from whiskey distilleries to succulent seafood to windsurfing to lunar landscapes to the Harris Tweed manufacturing centres … The Scottish islands are alluring in their charm.
Some of the best-known destinations are the Isle of Skye, Orkney, Shetland, Outer Hebrides, Argyll and Isles of Islay.
Scotland offers a diverse terrain and you get all sorts of experiences here. There is Old Edinburgh with its Arthur's Seat and legions of tales surrounding it. The city has a lot of attractions including the National Museum, National Library, National Gallery and the prestigious Edinburgh University.
The city is steeped in history… you can see the antique churches of St Giles, Greyfriars etc. and the Holy Roodhouse Palace. Edinburgh is hailed as one of the art and culture hubs of Europe and the Fringe is the biggest art festival on the planet.
New Edinburgh in contrast is full of neoclassical buildings, fragrant landscaped spaces and interesting pubs and boutiques….in summers its population swells up to double because of excessive tourist inflow. No wonder why Edinburgh has sprouted 5 Michellin starred restaurants (the second most number of Michelin restaurants in a single city) and a bevy of fashionable stores. Incidentally, the historical value and architectural beauty of the town has made UNESCO name both new and old Edinburgh as world heritage sites.
Read: Edinburgh and its tourism.
The second city of the British Kingdom i.e. Glasgow is full of historic architecture dating back to the 18th century and budding fashion designers (Britain's finest designers emerged from here). This UNESCO City of music is heaven for anyone on the planet who is fond of live music…there is a gig going on every second.
Read: Tourism in Glasgow.
Dundee is another important city and is famous for its blend of modern and old-world heritage designs… this probably provoked UNESCO to name it as the City of Design. Interestingly Dundee has great competency in gaming….Grand Theft Auto game was born here and it has a cool V& A Museum. The international Jazz Festival and Scotland's largest Food Festival happen in Dundee and there are amazing opportunities for white water rafting and hiking in its neighbouring countryside.
If you are not really fond of the dark skies and heaps of clouds that punctuate the skyscape in Scotland then head off to Aberdeen that's named as UK's sunniest city. This is a good place to base your holiday… the Scottish highlands, beaches and an abundance of golf courses around lead to a bundle of opportunities.
And a visit to Scotland must have Inverness…the happiest city in Scotland. The Scottish highlands with their wild beauty lie all around this urban hub which is a medley of festivals, ancient architecture, art shows and restaurants.
Read: Tourism in Inverness.
If you go even further north you will reach Up Helly Aa in Lerwick where the mystical Viking Fire Festival is held. One of the best places to experience the Scottish countryside is Perthshire where there are rich farms and the rivers teem with fish, especially Salmon. Another lovely experience would be to visit the Moray Firth region where there are spectacular cliffs and tiny fishing villages nestling under them.
Food & Drinks
To understand Scotland's food and drinks you have to notice that Scotland produces some of the most premium produce in the world due to its rich farmlands. The steaks (Aberdeen Angus), the amazing trout, fresh salmon, oysters and succulent Ayrshire potatoes, and exotic Fife fruits are all gourmet delights. And the "made in Scotland" stamp immediately elevates the status of whiskey blends in the eyes of the world. For most people, the term Scotch means fine whiskey.
Even Scottish cheese rivals the best of French cheese in taste. The uniqueness of the local produce has urged the European Union to name it PGI or Protected Geographical Indications that has to be produced according to specific norms. Therefore when you go to Stornoway you must have black pudding and when you go to Orkney you must-have island cheddar while visiting Ayrshire requires you to taste Dunlop cheese.
Wherever you go in Scotland you are sure to sample Haggis with mashed potatoes and whiskey sauce. Other national favourites are Cranachan, shortbread, Dundee cakes and Aberdeenshire Butteries. Whiskey is a big part of Scottish existence and you mustn't forget to tour a distillery while you are here. And though the Scotch probably outshines everything else…craft beer is also huge here.
How to reach
If you want to visit this lovely mysterious country then flights are one of the best options. Edinburgh Airport, Glasgow airport, Dundee airport and Aberdeen airports are the busiest and most well-connected airports in Scotland. From North America and Canada, there are strong networks of direct flights operated by Air Canada, Delta, Virgin Atlantic, West Jet and Norwegian etc. New York, Chicago, Orlando, Philadelphia, Toronto, Calgary, Halifax, Rhode Island, and Washington DC are some of the best-connected cities. From central and south America it's advisable to fly into the above-mentioned cities and then to Scotland.
Most countries in Scandinavia and Europe are also well connected to Scotland and there are sporadic seasonal direct flights to Norway and Switzerland. Easy Jet and Vueling air carriers mostly service this part of the world and the best-connected European hubs are London, Paris, Frankfurt, Amsterdam and Madrid. From the Middle East, you will get direct flights to Edinburgh/ Glasgow from Dubai, Doha and Abu Dhabi. From Asia and Africa, it's advisable to fly into either European or the Middle East connecting cities and then to Scotland.
Getting around
The Scottish railways or ScotRail has invented nice passes exclusively for the benefit of travellers. Spirit of Scotland Travelpass offers unlimited travel time by train inside Scotland. Some bus routes and all ferries to Caledonia and Maac Brayne are covered in the pass and discounts are covered on other ferry tickets. You can also choose to extend your travels to England and Wales.
Central Scotland passes have flexi tickets which offer unlimited train travel and selected ferry routes. You can use this pass to travel to more than 90 castles, monuments, battlefields and attractions. You could also take a city sightseeing tour.
Separate passes can be booked for exploring Scotland's great scenic landscapes in rural areas. Going off on one of these routes is simply the best thing you can do while you are here…it is then that you will finally understand why travel aficionados name Scotland the most beautiful country in the world. Journeys go off to the West Highlands (Glasgow to Mallaig crossing Fort Williams) and in the Kyle Line (Inverness to Lochalsh Kyle).
Other nice routes are the Far North Line (Inverness to Wick and Thurso along the North Sea Coast), the Carlisle Line (Glasgow to Carlisle via the Gretna Green and Dumfries), the Borders Line (Edinburgh to Tweedbank exploring the borders) and Stranraer Line (Glasgow to Stranraer). On all these journeys the trains will stop at different towns and stations and passengers can get down and explore the attractions around before continuing on their journey.
The west highlands line in particular is known to all Harry Potter fans as the train that took Harry to Hogwarts. Steam trains are available at certain stations like the Jacobite Steam train at Fort Williams and you can hop in for a truly magical experience. The steam locomotive will obviously take more time than its modern counterparts but the journey will enchant all your senses leaving you in love with the Scottish countryside.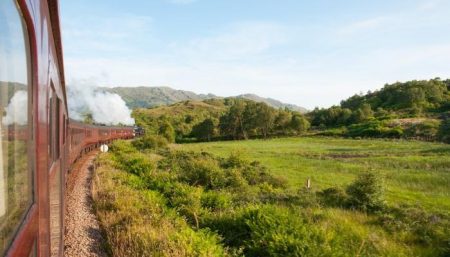 And if you are looking for a luxe train experience there are 5-star trains too like the Belmond Royal Scotland which offers premium hospitality standards and exotic holiday opportunities.
Read: Amazing train journeys in Scotland
Scotland doesn't have an extensive subway service. Its only subway service is centred around Glasgow and is called Clockwork Orange (inspired by its rather peculiar orange colour). You can get all day and all week tickets from all subway stations in this local network. Tickets are cheap and can also be booked online from the Strathclyde Transport Partnership.
While you are here in this magical country don't forget to explore its tiny jewel-like islands….each having a fairy-tale aura and a legend behind it. You can choose to island hop by ferry or plane and there are beautiful island destinations dotting the Inner Hebrides, Outer Hebrides, Orkney, and Shetland lines. Ferry connectivity is great and CalMac offers good connections in the Hebrides line while Shetland and Orkney are connected well by North Link ferries. Plane connectivity is on limited routes only and Benbecula, Westray, and Shetland are island aviation hubs.
Edinburgh has great connectivity to London and Cardiff by train in case you were thinking of intercountry travel within the UK. Taking a British Rail pass is a great idea if you want to tour all of Britain and not just Scotland….most trains in Europe offer standardised features and amenities and you will almost always get a seat (apart from peak season) even if you don't reserve one.
Don't rush through Scotland…it's almost a sacrilege to rush through this country ticking off its attractions on a checklist. Its deep mysterious and utterly bewitching aura has to be breathed in peace to be understood. Don't be surprised if Scotland casts a Hogwarts spell on you …the land is full of magic.
Read: Local transports in Edinburgh and how to get around.
Read: Getting around Glasgow – Local Transport
Read: How to get around Inverness.
Best time to visit
Spring (March to May) and autumn (September to November) is the best time to visit Scotland. However these are peak times and tourist crowds are thick around then. If you can visit around late November crowds will thin out and in December though it's pretty chilly you will be rewarded with solitude and mesmerising winter scenery.
Read: Important weather conditions in Edinburgh, Glasgow of Scotland
Also Read