The largest city Nestling in the beautiful Scottish highlands, Inverness bears the title "highland capital" though it retains a lot of its old-world charm and non-touristy atmosphere. It is strategically located where the River Ness meets Moray Firth at the eastern end of Glen Mor. This position and its command over the Caledonian Canal have given it good power over the water pathways of north Scotland.
There are fantastic stories about Loch Ness (the base watershed of river Ness) monster spotting and they have contributed to the fairy-tale myth shrouded image that the highlands now command. The beautiful city has a fault in its stars….it actually lies on the Great Glen Fault (a geological condition that induces seismic shifts) and this exposes it to minor earthquakes every couple of years or so.
Nevertheless, the architecture, music and culture scene of the city and its unspoilt ambience makes it a lovely tourist destination in itself apart from its usefulness as a base to explore all the Scottish highland attractions.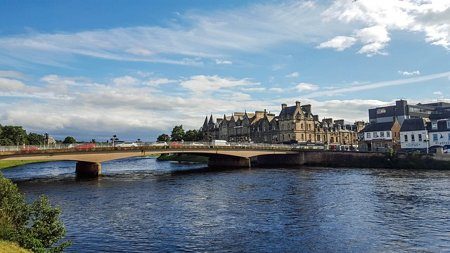 Attractions and Activities
Inverness is a place where fairy tales are encased in a modern sheath so you will find antique castles sitting next to modern bars and gorgeously dressed people shopping in the historic market hall. There are some buildings here that are sheer antiquity though they don't feature on tourist maps. The town steeple and the old town cross and the ancient high church all date back to the 16th century.
The Brodie Castle dates back to 1567 and has enough treasures inside it to keep you engaged for hours. The historic haunt of the Brodie family was conceptualised when the land was granted to the family by King Malcolm. There is a large central keep with 5 storey towers (all with nicely preserved plaster ceilings) on all corners and no walls.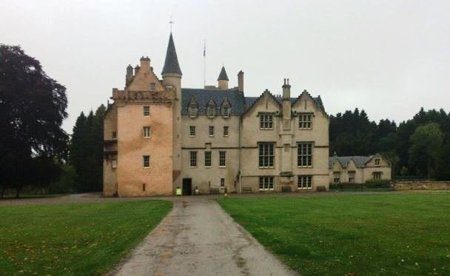 There are lots of interesting secret passages that saw many prisoners and elopers escape. The ravishing collection of French furniture and Chinese porcelain and 17th-century Dutch art defines the castle but don't forget to look at the beautiful library and the prized daffodils in the gardens and grounds (best seen in springtime).
This castle is managed by the National Trust of Scotland and exploring its woodland walks, wildlife observatories and nature trails can be a day-long activity if you wish.
For many, the River Ness is the primary attraction in Inverness. It beautifully bisects the town, and the best of restaurants, bars and old restored buildings are set off against its banks. The sides of the rivers are flanked by mature trees and vintage stone stools are dotted alongside which give the whole route a peaceful and lovely look.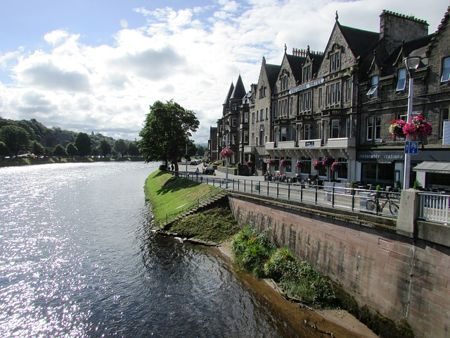 Going for a long walk along the Ness river banks while watching the ducks and fishers…is an enjoyable activity. Walk along the main bridge that spans the river near the city centre and get perfect shots.
Going to the north tower of the Inverness castle (on the riverbank of Ness) for a sweeping view of the town and all its attractions should also be on your priority list. The castle sits on a cliff that overlooks the river Ness….its red sandstone construct was created by William Burn, the famous architect.
The sheriff court runs here today and only the northern tower and the neatly maintained grounds are open to the public now. The view from the north tower needs a fee and includes a film too (shown in the Round room on the ground floor) but the view from the terrace is also enjoyable and that's free.
The Inverness Cathedral (church of Saint Andrew) is a reigning attraction (free entry); this was built around 1800 along the river bank. Don't miss the pretty white angel font …it was created by the well-known Danish artist Thorvaldsen. Incidentally, the face of the angel is that of Mrs Learsmouth (the wife of the general who commissioned the construction of the statue).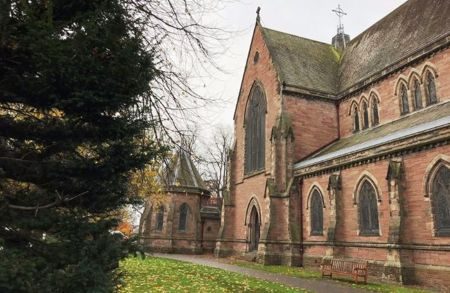 The Inverness Cathedral is known for its inclusiveness and its lovely spiritual service and also as a wedding and vow renewal destination. Its red stone and granite facades, stained glass windows and vibrant calendar of events has made it a Gaelic hotspot; it's a pleasure to just sit here and watch what goes by.
Read the memorial plaques around the church and you will understand the loving relationship the cathedral shares with the townsfolk. Don't miss the lovely café adjacent to the cathedral (open only in summer months)…run by the community members… it offers good food and tea.
The Ness Islands is a publically managed park that has two exquisite wooded islands (populated by sycamore, beech and fir) that are bound by footbridges (Victorian suspension bridges)… an hours walk will let you explore almost all points of the islands and you can shorten the route by using the bridges.
If you walk 20 minutes south from the Inverness Castle following the river Ness then you will reach the Ness islands. There is a running loop around the islands that's perfect for a 5 km energetic run (several running events like Race of Life has chosen the Loop as their venue). . If more relaxed activities suit you then read a book on the park benches or munch on a picnic sandwich.
Alternatively, bring your binoculars or your camera…they will be much used here. In the stretch between the 2 road bridges in the epicentre of Inverness… there is a good chance of spotting seals. The city centre map is painted along the river Ness banks so following it makes sense. Walk upstream along one bank and return downstream through the other.
The Inverness War Memorial with its blooming gardens (this is spectacular in spring-summer) and the path leading to the leisure centre should definitely be explored. Shortly ahead there is the floral hall; a landscaped area with waterfalls, ponds full of coloured fish and flowers along with a dainty tea room.
The importance of Inverness can be mapped by the fact that its centre of Inverness-shire that's Scotland's largest and most historically relevant county. So a visit to Inverness is automatically linked to exploring the Glen Mor, isle of Skye (inner Hebrides), Lewis and Harris (Outer Hebrides) and Central Highlands all of which are dotted with stone towers and stories of prehistoric settlements.
If your heart beats for the outlanders then Beauly (about 24 minutes away) is a good place to stop….there are nice high street shopping hubs and interesting pubs here. And of course, the ruins of the Beauly (which means beautiful place) are incredible even for non-outlander fans. This is a free to visit site that's looked after by Historic Environment Scotland.
The Beaufort castle is also nearby and that's the historic home of Lovat lords…you can admire the castle from outside only as it's privately owned. If a more detailed look at an outlander castle is what you seek then the Urquhart castle that overlooks Loch Ness is completely visitable. You can climb up the iconic grand tower, peek into the banquet hall and explore the horrifying prison. This is one outlander attraction that's open all year through.
The Castle Leod (35 minutes away approx.) is another dramatic attraction… it's the formal seat of Earl Cromartie and the Mackenzie clan and of course, it inspired the Castle Leoch in the outlander series. Grand weddings happen here and a thousand stories are hidden inside its halls. Take a guided tour and learn all about the 1745 Jacobite uprising, deaths for treasons, earldom awards and fierce battles of clans.
And of course, if you come this far then a relaxing spa in the Victorian spa village of Strathpeffer is in order. Also check out the ancient station and its museum of childhood, coffee shop, fair trade centre, pump room etc…the place is full of historic buildings. There are abundant mountain biking routes, nature trails and picnic spots around.
Wardlaw museum (Kirkhill, 20 minutes away) is another focal attraction around the town. This contains the tomb of Lord Lovat (an iconic figure of Jacobite rebellion and an important character in the Outlander series). Then there is the mysterious underground chamber that contains the beheaded body of 11th Lord Lovat (he was executed in the Tower of London).
Expanding more on this subject there are specially conducted "Outlander" tours for people who visit this part of the world. Culloden Battlefield and its visitor centre (closed in winter) is reminiscent of the Frank and Claire outlander honeymoon. The Fraser stone here is also a part of the series but its actual history is no less interesting. This is a testament to the Jacobite soldiers who fought the last battle on British soil along with Bonnie Prince Charlie.
Clava Cairns (near Culloden about 20 minutes away from Inverness) is an amazing photography and historical education site. Incidentally, these 4000-year-old burial grounds teeming with romantic –tragic stories and secret passages and mysterious graves inspired Craigh Na Dun (any outlander fan will understand the significance).
The major chunk of tourists opts for several Day Trips during their Inverness stay. A popular option is to go to Loch Ness and the Eilean Donan Castle before reaching the lovely Isle of Skye. Another option is to go up till the remote apple cross peninsula while another great option is to take a trip to the Black Isle and Caithness.
There is an option of watching hordes of Bottlenose dolphins (and otters and grey seals) at Channory Point (about 14 miles away from Inverness). The Munlochy Clootie wishing well that's nearby is very popular amongst tourists too.
Whiskey tours (even those not extending till Speyside) also use Inverness as a base and they usually include a stop at the Royal Lochnagar where whiskey-making (Balmoral estate close to Lochnagar estate) is explained. The Tomatin Distillery, Glenfarclas Distillery, Glenlivet Distillery and the Aberlour and Speyside Cooperage are great local destinations that can offer whiskey lovers an excellent base for experiencing highland scotch.
Food and Drinks
Expect food in Inverness to be fresh and the menu to be seasonal…highlanders love simple hearty food that's locally sourced. And also expect a lot of malt whiskey and the dry Scottish humour to accompany your meals. There is a lot of variety in restaurants here…right from fancy places to quick breakfast eats to traditional Scottish inns.
You will find Rocpool in central Inverness on the western bank of Ness River. Its glass walls allow diners to admire the Inverness castle while the modern décor complements the classic European food on offer. Seasonal produce and locally sourced meat is used in its kitchens and you should definitely try the Highland Beef, Black Isle Pork, Speyside Vension, Shetland style mussels and west coast styled smoked salmon.
For a nice fancy meal dress up for the Chez Roux, that's on the Culduthel Road. The service is lovely and so is the amuse-bouche platter. Try the canapés and the scallop dishes and also the exotic ice creams like the Tonka bean flavour. They always enquire about special dietary requirements and have a great wine list.
Riverside Restaurant is also on the river Ness bank and there is a seasonal spring summer/ autumn/ winter menu. Try the west coast mussels and the local style lamb (with tasty garlic and rosemary fondant) and Ardgay estate venison.
Fig and Thistle on Stephens Brae looks small but the food is excellent. Chevre Chaud, monkfish, croquettes, haggis bonbons and coconut ice creams are major draws here.
Right nearby the castle is Café 1 that has its indigenous croft Holly House where Hebridean sheep and Highland cattle are still bred. Try the pigeon with mashed haggis and 24 hours smoked salmon and Angus sirloin along with fillet steaks. Though themed a café, this is a place for hearty lunches and brunches.
On Church Street, there is Rendezvous Café that has traditional British food and is a good place to get breakfast. The menu centres on soups and sandwiches and they pride themselves on their eggy bread, bacon and maple syrup. Café Artysans on Strothers Lane is really good waffles dominated breakfast place.
For a different flavour try the Aspendos (again, on the Ness banks) that's inspired by an ancient Greek city that's now a part of Turkey. Savour Mediterranean and Turkish food like grilled meat and tempting skewered fare. The soslu patlican (aubergines smothered in yoghurt and pepper and cooked in olive oil) and tavu Kalaar (squid fry with caper sauce) and karniyarik (minced lamb with aubergines) are particularly good.
Indian Ocean is on the eastern bank of River Ness (on academy street)… arguably one of the best Indian restaurants here. Try the lamb naga Jalapani, tikka masala, mohonwala and vindaloo and you won't be disappointed. The Mustard Seed is on the east bank of River Ness and it has a terrace seating area too that offers great views of the river and city. Highland cooking made with fresh produce is on offer and the pork/ game terrine, rib-eye steak and Ross shire pork are really good.
River House restaurant is presided by Alfie little who has strong connections with the local fishing community and uses this advantage for sourcing the best Piscean produce. The freshness of the fish and seafood shines through the simple preparations. Try the Isle of Harris scallops, west coast cod flakes with cherry tomatoes, Orkney crab on toast. Also, watch out for the special 28 days matured Scottish rib eye and sea bass dishes.
On Young street, there is a blink and miss place called Urquhart's place which serves and cooks comfort food beautifully. The Stornaway black pudding, poached egg salad, fish pie and mushroom risotto are all very popular. Don't confuse Urquharts at Young street restaurant with the café in Urquhart castle… the latter one is great in its own right!!
If the idea of lunching at a Scottish inn intrigues you then try the Dores Inn that's on the famous road linking the southern bank of Loch ness to the Augustus Fort. This is a family-run place that serves scallops, mussels, hearty steaks and fish and chips. Come in summers and the azure waters of Loch ness and highland peaks view will give you company.
In case you visit the Culloden battlefield then pop inside the Culloden Hotel for a good meal. They are very particular about the origin of their food…meat is sourced from Dingwall and fish from Duncan Fraser while vegetables are all grown in the garden. They promote a Scottish malt each month by their whiskey of the month scheme.
If you travel towards Loch Ness via the A82 then en route you will find the Okawood Restaurant that offers great Scottish food and a nice ambience. Try the beef roast with Yorkshire pudding and the casseroles and don't forget the ham and pea soup and whiskey cheesecake.
Nightlife
Inverness is more of a place that invites you to sip on fine scotch in offbeat bars than a place that invites you to party all night!! That being said there are plenty of delightful ways in which you can spend your evenings and nights here and most of them will be along the banks of the River Ness as the best places centre around here.
Visit the Malt Room that's a cosy place on Church Street that invites you to try chocolate and whiskey pairings while relaxing on their comfy chairs. The staff will serve great jerkies and fine scotch and you can even buy a bottle.
Hootananny is also on Church Street and it's known all over the highlands as a great music destination that showcases local talent. Go there for the jam sessions, good whiskey and nice braised meat dishes. On the ground floor is Ceilidh Café Bar while the middle floor hosts Mad Hatters that's famous for its hearty ale. The top floor has Bothy Sofa Bar which is perfect for a romantic rendezvous or a private gathering. Visiting Hootananny on a Friday evening is the best thing and on Saturdays, the Ceilidh starts from 2.30 p.m. onwards
Gellions on Bridge Street Has live Scottish music and a lovely food and beverage menu. The pub comfort foods like fish and chips and baked potato with cheese and onion are really nice. The walls are full of TV screens but the Scottish memorabilia around will draw your eye. Gunsmiths Pub on Union Street and Loch Ness House Hotel's pub on Glenurquhart road offer similar classic highlanders atmosphere.
Johnny Foxes on Academy Street has an Irish bar ambience and draws hordes of backpackers. There is live music all week and Sundays are karaoke nights. Food and drinks are all affordable and of consistently good quality.
G's Nightclub on Castle Street is open till 3 a.m. on Fridays and Saturdays and is definitely the last one to shut its doors in Inverness. Most of the neighbouring pubs shut down by 1.30 a.m. after which G's has its sing-along Boogie that's great fun. The dancing is lively but the crowd is mostly young.  For a more cosmopolitan experience, there is Barbazza on Young street that offers casual dining, rock (also indie and punk) music and karaoke
Ironworks on Academy Street showcases local and national bands like Stiff Little Fingers, Dangleberries, Niteworks, Ho Ro etc. There is a well-run bar, cloakroom, restrooms and the facility of table bar service while you sit near the stage and watch the action. Bar prices are affordable though the selection may seem limited.
Close to the banks of the Ness, there is the bustling Eden Court theatre that's a magnificent venue for cultural shows, cinemas and dance performances. There are two theatres and 2 cinema halls inside besides bars and restaurants so you will never lack entertainment options here…be it day or night.
Shopping
Inverness isn't a large city so not many people consider it to be a shopping hub. However, it does have a wider web of stores and independent sellers who consider it to be the most commercially viable place in the Scottish highlands. So you will get a lot of stores and all are within walking distance of each other which makes shopping easy and fun.
1890 built Victorian Market is architecturally brilliant and is one of the best shopping destinations in Inverness. Go through the 3 graceful stone arches on Academy Street and you will immediately see a bevy of shops and standalone boutiques asking for your attention. Saffron Oriental Food here sells exotic spices, preserved foods and condiments sourced from all across Asia.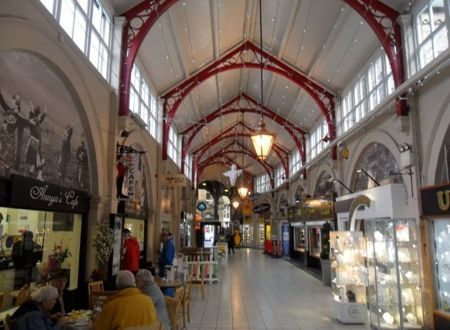 The biggest mall in Inverness is the Eastgate shopping centre and that lies in the centre of the town. There are more than 50 shops and 13 separate restaurants and 2 car parks so you know where to get everything under one roof. Health food lovers, Drop into Holland and Barrett which stocks Angelic Gluten-free food; the brand has won multiple awards.
High street shopping options are also good here with the Inverness High Street linking to the Eastgate shopping centre. There are national as well as global brands here but look closely and you will find the perfect independent shopping stores too.
Church Street has some interesting shopping options but the star of the show is definitely Leakey's second-hand bookshop that stands inside an old church. Find staggering shelves of books sourced from across the world here; after all, this is Scotland's second-biggest book store. The large wood-burning stove here adds to the charm. Then there is Victory Global Food where you can buy gourmet delights from all parts of the world. For souvenir shopping hop inside the Caledonian gifts and souvenirs store.
Castle Street is another interesting shopping ground. There is Chisholm's Highland dress store; one of the best places to pick up authentic Scottish kilts. They call themselves "authentic Scottish kilt-makers" and are very knowledgeable about all things Scottish. Shop for tartans, souvenirs, jackets, sporrans and even get yourself fitted for a custom made kilt.
The Highland House of Fraser on the nearby Huntley street also has a gorgeous collection of kilts and Scottish attire (dresses, purses, ties, accessories also available) that are sewn right on the premises.
Castle Gallery has featured in many newspapers and articles where its rotating collections of sculpture, miniatures, handmade jewellery and Scottish art and craft collections have been called "some of the best reasons to visit Inverness".
Right near the Inverness airport in Ardersier, there's the Connage cheese pantry shop and café that makes some of its offerings right on the premises under the watchful eyes of Helen and her team. The coffee, cake and cheese platter selections here will make you return for more… a good place to buy local and imported cheeses and to learn all about the cheese-making process.
In Bridge Street, central Inverness there is the Whiskey Shop which offers huge collections of whiskeys and a small whiskey tasting tour for a nominal fee. So you get to sample about 5 different variants, learn all about the glorious concoctions and get a little drunk. You will get miniatures and standard sized bottles too and it's useful to take the staff advice before you purchase as they are highly knowledgeable. Woodwinters Wines and Whiskies on Church Street is also a good alcohol shopping and tasting destination though they specialise more in wines.
When to visit
You should ideally target a time that will allow you to enjoy the full beauty of Scottish highlands using Inverness as a base. May to September is the best weather-wise and there is maximum daylight during these months and July and August are overcrowded as that's the peak tourist season.
So May (even April is doable) and September are the best months if you want to avoid the chunk of crowds and yet ensure a good time. In winters most private tours are unavailable and many distilleries close their doors especially on weekends.
Read: Important weather information for major cities in Scotland.
Getting to and around
The Inverness Dalcross international airport is just 15 km east of the city and enjoys good connectivity to major UK destinations like Belfast, London, Luton, Bristol, Manchester, Birmingham, Benbecula, Sumburgh, Dublin, Stornoway, Kirkwall etc. By the way, don't miss a peek into the Highland aviation museum that houses a fighter jet inside….it's right beside the airport.
There is a taxis stand outside the airport. Alternatively, take the "Jet"; it's a dedicated shuttle that runs between the Inverness city centre and the airport and Nairn.
The railway station is in the heart of Inverness and has a café, waiting room, non-smoking zone, Wi-fi zone. Keep a sharp eye on the timetable as it changes frequently; trains do not run perfectly to schedule but approximately!! Direct train connections are available to Glasgow, London and Edinburgh as well as Aberdeen.
Tourists coming from London will find the overnight sleeper trains from Euston and East Cross very convenient. Scenic train journeys are a big draw in Inverness and many tourists take the lines to Thurso, Wick and other highland destinations as a means of enjoying the journey. Get the Travel Pass and Rover tickets to save while travelling on the highland lines and the Inverness Oban bus.
The City Link/ City Gold, National Express buses carry travellers to and from major Scottish cities (fort Augustus, Oban, Skye, Aberdeen, Glasgow, Edinburgh etc.) to Inverness. Get the Explorer pass and save money.
The stagecoach buses run on local routes i.e. to Beauly, Dingwall, Strathpeffer and Cromarty so it's ideal for short-distance hauls while there is an especially dedicated Orkney express bus from travel between Inverness and Orkney.
Open topped hop on and hop off city bus tours are available and an audio guide is played for the benefit of tourists.
The highway A-96 that joins Inverness and Nairn (holiday resort hub) and Aberdeen is soon to be upgraded into a double carriageway. A southern bypass (Inverness trunk road) that links A9, A82 together and facilitates crossing the Ness River and Caledonian Canal is also underway.
Currently, A9 links Inverness with Glasgow, Edinburgh and South Scotland/ north Scotland while A82 links Inverness to Loch Ness to Fort Augustus and Fort William and then to the Isle of Skye. Hire a car from one of the numerous car hire operators and go off exploring…inter-district travel should take up a lot more of your time than intercity travel when you are in this part of the world.
Like many other Scottish cities, Inverness is quite cycling-friendly and you can hire everything from regular bicycles to mountain bikes to motorbikes. The city of Inverness is quite compact and walking around is recommended in order to fully appreciate its beauty.
Read: How to get around Inverness easily using local transport
Also Read