What To Expect
Walk around the Vatican area or the Termini station zone (or other attraction heavy areas) at any point of the day or evening and there is a high chance that you will be approached by some of the other tout selling tickets to hop on hop off tours in Rome. It's no secret that touts work on commission so obviously, your goal is to avoid being pushed off into a tour that gets the tout maximum commission but delivers less than average value to you.
Seeing Rome in comfort with an audio guide explaining features of the main attractions while you enjoy the hop on hop off facility of the huge open-topped double-decker buses, is a nice proposition. But what makes the entire thing more lucrative is when you know the special offerings of the major operators and have enough knowledge to make a fair comparative analysis. This will help you choose the operator most suited to your needs, budget and schedule.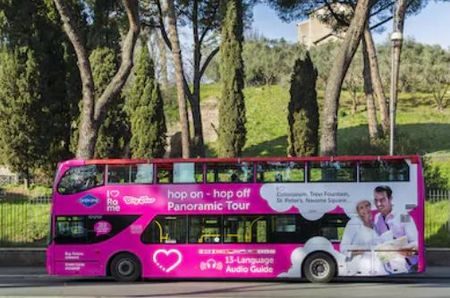 Bear in mind that Rome is an intensely historical, cultural and spiritual place and its attractions are not stuff that can be covered in half an hour to 40 minutes (max time afforded to a stop if one wishes to do a full hop on hop off tour in one day). Hop on hop off tours are a good way to see the city if you are here for only a couple of days and on a limited budget (these tours are excellent as a transport source).
And in case you are in Rome for a longer holiday (ideally the better option) then these tours are also a good way to see where each attraction is placed, interests of a particular area etc.  This way you can get enough visual and practical information so that you can visit areas which you choose in detail in the following days.
You can choose from a wide range of hop on hop off tours of Rome and book online from this Viator site.
Almost every operator will stop at the following stops unless a special construction project is organised or a particular route has been obstructed for civic reasons. The common stops and the attractions you can visit around them are as follows.
Termini railway station (Piazza dei Cinquecento)
The exciting Piazza Della Republican and the Via Nazionale are accessible from this stop. You can shop, visit the Palazzo Massimo with its interesting architecture and the Baths of Diocletian (2 branches of the National Roman Museums).
Basilica Santa Maria (Piazza dell Esquilino)
Hop off to visit the Santa Maria Maggiore Basilica and the Basilica Di San Pietro in Vincoli ….this is famous for its Moses by Michelangelo
Colosseum (Via San Gregorio)
Hop off to visit the Colosseum and the Palatine Hills area and the museums. Note the interesting architecture of the via dei Fori Imperiali that leads up to these areas.
Circo Massimo (Piazzale Ugo La Malfa)
The Circus Maximus and the Basilica Santa Maria Cosmodome are accessible from this stop. You can also take a detour to the Palatine Hill and the 'mouth of truth' from here.
Piazza Venezia (Via Teatro Marcello)
The following points of interest are accessible from this stop; Piazza Del Campidoglio,  Capitoline Museums, Pantheon,  Trajan's Column,  Dorothy Circus Gallery, Campo De' Fiori,  Piazza Navona,  Roman Forum. Then there are historical areas like the Jewish ghetto and the Tiber Island. Prepare to spend a good 2 to three hours in this area as Piazza Venezia teems with shops and boutiques.
Altare Della Patria, Trajan's Market and the Time Elevator Rome are other attractions here.
Vatican (Lungotevere Tor di Nona)
Get down at this stop to explore the Vatican museums, Sistine Chapel, Universale Giudizio, St. Peters Basilica, Castel Sant Angelo, and Vatican City along with the Borgo Pio, Castel Sant Angelo and Square Navona. Shop at Via Cola di Rienzo. Take guided tours if you want and then continue the rest of the hop on hop off journey the next day if you have a 2-day/3-day ticket.
Ludovisi/Spanish Steps (Via Ludovisi)
Head off directly to the Spanish Steps and Trinita Monti or visit the Borghese Gallery and the Piazza del Popolo.
Piazza Barberini (via Barberini)
These last two stops can be used to visit the National Gallery of Ancient Art, Galleria Borghese, Villa Borghese gardens and Quirinal palace apart from the Spanish steps.
Avoid taking the hop on hop off tour on weekends if you are averse to walking and have a special fondness for the Trevi fountain. On weekends buses in Rome skip the Trevi fountain stop and halts just above the Spanish steps. You will have to walk to the Trevi from the piazza Barberini stop and that will take you a good 15 minutes. Also, on Sundays and selected public holidays like Easter, traffic might be restricted in certain areas of Rome and stops like Colosseum or Circo Massimo are affected.
Do some research on the opening and closing timings of particular attractions that you are deeply interested in. For example, St. Peter's Basilica has restricted entry on Wednesdays (1 p.m. to 3 p.m.). The hop on hop off bus operator should not be relied on to provide accurate information. Typically most operators will try to sell their tours without bothering much if your travel goals are fulfilled or not.
Also, in Roma hop on hop off tour buses do not stop immediately in front of attractions. Most of the places of interest are in narrow pedestrian streets that are inaccessible by buses so you will have to do some amount of walking to see them. Public protests, celebrations, construction, archaeological activities etc. are common in the city so expect route disruptions at any point and at any time. Most of this information won't be provided by operators and you as a tourist need to do your homework well.
Check the top hop on hop off tours of Rome and book online from this Viator site.
Here is a summary of the best and most popular hop on hop off tour operators in Rome and a comparative analysis of their offerings
Big Bus
Big Bus is a familiar name in many European cities and they have firmly established their foothold in the hop on hop off segment. Big Bus has a fairly large fleet, good frequency of buses and all tier buses offer free Wi fi. They have a free mobile app that you can download from their website to get access to all routes, schedules and attraction listings. The open-top floor of the bus has a cover in case it rains and guests are all given free ponchos (rain guards). Audio commentary is available in 9 different languages including English and there is a disposable audio device.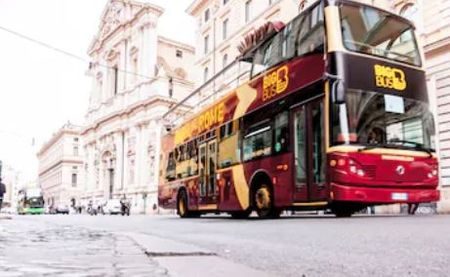 Ticketing
Tickets are predictably grouped into 1 day (classic), 2 day (premium) and 3 day (deluxe) tickets.
The classic ticket costs around 29 euros per adult while the premium and deluxe tickets costs 35 euros and 43 euros respectively per adult. Premium and deluxe ticket holders are automatically eligible for free purple route tours while the deluxe ticket holders can avail a free night tour too.
You can book your Big Bus Hop on Hop off Tickets online from this Viator website.
Route
Big Bus offers two hop on hop off routes; Red Route and Purple Route. There is also a night tour route that is similar to the red route but it isn't hop on hop off. The Red route is the standard whole city sightseeing route and runs from 8.30 a.m. in the morning to about 7 p.m. in the evening (the last Big Bus leaves from the first station at this time).
The red route comprises of the following stops
1 Via Marsala (Termini station)
Santa Maria Maggiore (Basilica)
Colosseo (Colosseum and Ancient Rome)
Circo Massimo (Circus Maximus)
Piazza Venezia (Capitoline Museums, Pantheon)
Vaticano (Vatican City)
Fontana di Trevi (Trevi Fountain)
Piazza Barberini (for Spanish Steps, Villa Borghese)
The complete tour can be done in 1 hour 40 minutes (plus site visit time) and since bus frequency is dense i.e. every 15 minutes it's easy to get on/ off at any point.
In case you want to see Rome at night then sign up for the Big Bus night tour that's only an hour long and covers all the above-mentioned stops though it doesn't stop (only slows down) at all of them. The tour departs from Termini station twice every evening i.e. at 8.30 p.m. and 9.30 p.m…
In case you have a deluxe or a premium Big Bus ticket then you are automatically eligible for the Purple route that's a unique offering by Big Bus.
The purple Route stops are as follows
Termini station
Basilica Santa Maggiore
Colosseum
Porta San Sebastiano (Via Porta San Sebastiano)
Catacombs & Church of San Sebastiano (Via Appia Antica)
Caffarella Park (Via Appia Antica)
Domine Quo Vadis (via appia Antica)
Terme Caracalla (via Guido Baccelli)
Circo Massimo (Piazzale Ugo la Malfa)
Piazza Venezia
This 90-minute tour starts from 9 .00 a.m. and runs till 5.00 p.m. (the last bus leaves from Termini station at this time). Frequency is much sparser and there is only one bus every hour.
Walking Tour Routes
As mentioned earlier all Big Bus hop on hop off ticket holders get a set of free walking tours. These are the English language 1 hour-long tours and do not include admission tickets to the attraction.
The Vatican and St Peter's Square Tour will explore the Castel Sant'Angelo area and the premises of the Vatican City and St Peter's Square. This tour is accessible from stop 6 on the red route i.e. Vatican stop. The tour starts at 12.00 p.m. daily.
The Roman Forum and Colosseum tour starts at Capitoline hill and one is led through the altare Della patria views and then the Roman Forum and finally the Colosseum. The tour begins from Piazza Venezia i.e. big bust stop 5. The tour starts at 3.30 p.m. daily.
The Pantheon Piazza Navona tour begins near the Vatican and explores the Pantheon and Piazza Navona area in detail. The tour starts off at 2.00 p.m. daily from stop 6 i.e. Vatican.
The Barberini Spanish steps tour starts at the Barberini square and explores the Brancaccio fountain and the Spanish steps before ending at the Hard Rock Café Roma. The tour starts at 5.15 p.m. every day from the Big Bus stop 8 i.e. the Barberini stop.
Advantages
You will get access to a set of free walking tours along with your big bus ticket. These tours will take you on a round of the city's best landmarks and are conducted by experienced locals and tour professionals. These are gratuity only tours which means that you can pay what you like if you are satisfied with the tour quality but there isn't any fixed compulsory fee.
Other hop on hop off tour providers also provide tours but they are self-guided ones on apps. If you coordinate your big bus hop on hop off tour with these free walking tours over the course of 2 days then it's possible to get a pretty decent overview of Rome at a pretty decent price!!
Big Bus is the only operator that offers hop on hop off separate service to the south of the city visiting the Catacombs of San Sebastiano, Via Appia Antica and the Baths of Caracalla. Kids below the age of 5 can travel for free while those between the ages of 5 to 15 can avail the tour at a reduced rate.
Disadvantages
Unlike most operators who offer 24/ 48/72 hour tickets from the time a guest embarks on the tour, Big Bus offers calendar day tickets. Audio commentary is sometimes sparse with long stretches filled with music. Signage at some stops is confusing.
Contact Details
To know more about Big Bus Rome, fill up the enquiry list on their website and submit it. Else you can call on the following number. Phone: +39 06 488 2625. Website
City Sightseeing
City Sightseeing offers services all across the globe and in Rome, their local vendor is 'Sightseeing Experience'. Their buses are high on visibility with the classic shiny red postcard avatar with lots of colourful signage.
They offer a free APP Sightseeing experience that has a walking tour of Rome city centre available in 5 languages. There are interactive maps showing real-time positions of the buses, waiting times at each stop and your position. The nifty app will also help you reach the nearest station from your present geographical location. There are special features for differently-abled guests. All city sightseeing buses have free Wi fi. Audio guides on board the bus are available in 8 languages while audio guide of the historic centre is available in 5 languages.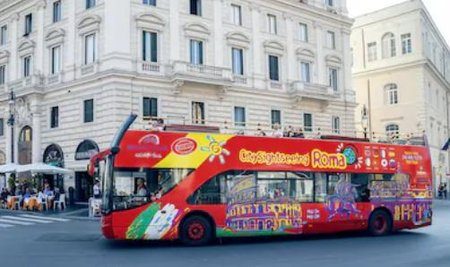 Ticketing
Tickets are grouped into 1 day, 24 hours, 48 hours and 72 hours. The price of a 1-day ticket per adult is 23 euros per person while the 24-hour ticket is 28 euros per person. The 48 hour and 72-hour tickets are 31 euros and 35 euros per person respectively.
You can book tickets online from this Viator site.
City Sightseeing Tours offers a number of attractive bundles like a 48-hour hop on hop off tour plus audio-guided tour of St. Peter's Basilica (38 euros) or a 48-hour hop on hop off tour plus a skip the line entry to Colosseum and ticket for Roman Forum and Palatine Hill (around 51 euros).
Before you book tickets know that City sightseeing tickets are included in the Rome City Pass. You need to print out the ticket voucher before you board the tour. Unlike many other operators, they don't accept a phone ticket.
You can receive Admission to the Colosseum only on the date shown on the voucher.  Also, The Skip the line ticket can only be used on the first day (and not the second or third day). Preferably, redeem the voucher at the City Sightseeing Rome Visitor Centre located in Via IV Novembre 147 (vicino a Piazza Venezia), before 1.00 pm.
Before visiting St Peter's Basilica you need to go to City Sightseeing Roma – Vatican Museums Visitor enter – (Via Veniero 74, in front of Vatican Museums )
Note that the visitor centre is open from 8:30 am – 4:00 pm Mon-Sat. This is exactly the kind of fine print that you need to pay attention to otherwise the whole sightseeing plan gets inconvenienced.
Routes
The city sightseeing buses run from 9.00 a.m. and the last bus leaves from the Termini station at 7 .00 p.m. The last departures from the other two terminus are at 5.00 p.m.  They offer only one route of 1 hour 40 minutes total duration.
You need to start the tour from any of the below terminals.
Terminal a
Termini Marsala (Via Marsala 7)
Terminal b
Largo Di Villa Peretti
Terminal c
Piazza dei Cinquecento
The route goes along the following stops; Santa Maria Maggiore, Colosseo, Circo Massimo, Piazza Venezia, Vaticano. Piazza di Spagna, Piazza Barberini.
Advantages
If you retain the tour ticket then you can receive a 10% discount on the price of your next city sightseeing tour in whichever city it operates in. kids up to the age of 4 can take the tours for free. There is a proper Visitor Centre for City Sightseeing tours which offer assistance to tourists and gives out free printed maps. Though guided walking tours are not provided City Sightseeing, APP has free self-guided audio enabled walking tours in English, French, German, Spanish and Italian.
The city sightseeing buses are wheelchair accessible (lower level only). The most accessible boarding point is the Marsala Termini stop.
Disadvantages
City Sightseeing Tours have not been earning as great reviews in Roma as in other cities. Sometimes buses wait too long at stops a customer service at their visitor centre is not always up to the mark. The audio quality is sketchy and not very informative.
Contact Details
Via Londra, 5/7 (Zona industriale Bomba) – 52022
Phone. +39 055 961237; Email: [email protected]; Website
I Love Rome (Grayline) Panoramic Tours
Grayline is again a global player and for Rome their local partner is I Love Rome. They have this Barbie pink buses …double-decker open-topped style and the colour is distinct enough to differentiate them. Gray line buses offer audio guides in 13 languages and that's more versatile than any of their competition. All their buses have detachable roofs and are Wi-Fi enabled.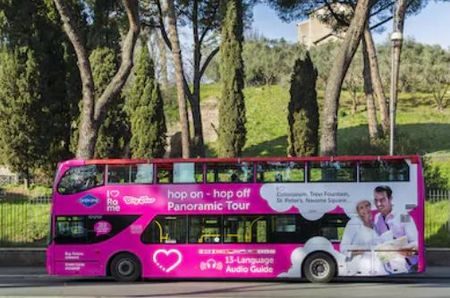 Ticketing
You can book tickets online from this Viator site.
Grayline offers a number of ticket options and this might get confusing. If you just want to go one way of the hop on hop off journey then there is the single ride option (post 3 p.m.) at 14 euros. There is the Panoramic tour daily ticket after 1.15 p.m. which is the cheapest full tour at 20 euros per adult. Book the same tour in the mornings and it is 22 euros.
Then there is the 24-hour Panoramic tour ticket that costs 25 euros.  The 48-hour tour is 32 euros while the 72-hour tour is 39 euros per adult.
'Adults' by the Grayline policy refers to any person over the age of 13. Youths i.e. kids between ages 6 to 12 have discounted rates while children below age 5 can take the tour for free.
Grayline offers ticket bundles of hop on hop off tours with entry to attractions like Roman Zoo Bio Parco, Maxxi (Modern Art), Vatican Museums,  Colosseum etc. These tickets can be bought online, through third-party agents or even onboard the bus.
Rome city cardholders get a free I Love Rome hop on hop off tour included in the pass.
Routes
The Grayline hop on hop off service starts at 8.30 a.m. in the morning and the last bus departs from the Termini station at 6.40 p.m. (Monday to Thursday). From Friday to Sunday the last bus starts from Termini at 8.45 p.m. So in all essences, it becomes a Rome by Night tour. Bus frequency is a little below average as there is only one Grayline bus every 25 minutes and they will whoosh right past you if you don't stand at the exact designated stop.
The Gray Line I Love Rome buses stop at the following points.
Termini Station
Santa Maria Maggiore
Colosseum
Circo Massimo
Piazza Venezia
Vatican City & Castel Sant 'Angelo
Via Ludovisi & Via Veneto
Barberini
Advantages
The audio guide is in a wide array of languages; English, Spanish, French, German, Chinese, Italian, Portuguese, Russian, Korean, Arabic, Hindi, Japanese, Dutch and there are individual headsets. Some of the buses are disability friendly and disabled guests possessing a valid disability certificate can even take the tour for free.
Grayline hop on hop off ticket holders are automatically eligible for their 3 free walking tours on the WW App. The tours explore three zones of the city; historic Rome and city centre, Colosseum and Roman Forum and ghetto to Colosseum and they have detailed audio guides.
Disadvantages
There are only 8 stops as opposed to the standard 9 stops offered by most of their competitors. Sparser stops means more time spent in walking to all the attractions. Also, the Grayline buses stop for inordinately long times at each stop to give the drivers a break or to allow other buses a passover and that can be inconvenient for the tourists.
Contact Details
I Love Rome Office
Vittorio Emanuele Orlando 95. Opposite St Regis Hotel
Phone: 0039-06-4742501; Email: [email protected]; Website
Roma Cristiana
If you are in Rome with a spiritual intent then Rome Cristiana tours are the best hop on hop off service for you. The tour is managed by Opera Romana Pellegrinaggi, a branch of the Vicariate of Rome. The Cardinal Vicar to the Pope oversees the tours and even the double-decker buses are coloured in the official Vatican colour i.e. yellow. ORP has dedicated offices across the city and claims to help pilgrims in both spiritual and practical aspects.
These are all open buses, so the top floor is not covered although the lower deck is air-conditioned. There is an audio guide providing informative commentary in 5 languages. All buses are Wi-Fi enabled.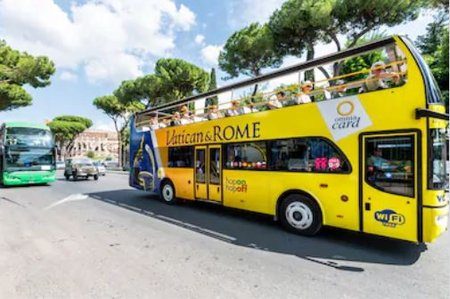 Ticketing
Rome Cristiana hop on Hop off tours are free with the Vatican Tourist Discount Card or the Omnia Card. If you do a comparative analysis you will see that the Cristiana hop on hop off tours are considerably cheaper than their competition. The tours are grouped into 1 day (20 euros), 24 hours (25 euros), 48 hours (28 euros) and 72 hours (32 euros) versions.
There are value-added offerings like Vatican and Rome 24 hour travel card (around 27 euros) that provides access to open buses in Vatican and Rome and many other forms of transport within Comune di Roma (underground and overground) and the Rome Ostia bi-directional train route. The 72-hour card with the same amenities is available for 39 euros. These tickets are however only available from the ORP offices.
Though many shops in the city stock Roma Cristiana hop on hop off tour tickets its best to get tickets from their office in front of St. Peter's Square. You can also buy tickets online from This Website.
There are other offices at Largo Argentina (via Cestari) and Basilica San Giovanni Laterano that sell tickets, help with maps and give out booklets. Both printed and electronic vouchers are accepted.
Routes
The Rome Cristiana buses follow a somewhat unique route that focuses on the Catholic points of interest. It's the only hop on hop off tour in Rome to go up to san Giovanni. However, the route is comprehensive and even if you aren't a Christian you can use this service. The 1-hour 20-minute route covers primarily spiritual destinations plus some city landmarks. The first buses start from St Peter's Basilica at 9.15 a.m. and from the Termini station at 8.40 a.m. The last bus leaves from both the above-mentioned stations at 7.00 p.m.
This service is known for its regularity; the yellow Roma Cristiana buses run every day including Sundays, daily service days and holidays.
The Rome Cristiana hop on hop off tours stop at the following points.
San Pietro in Vaticano
Palazzo della Cancelleria
Santa Maria ad Martyres – Pantheon
Piazza Venezia
Santa Maria degli Angeli
Stazione Termini
Santa Maria Maggiore
San Giovanni
Colosseo
Circo Massimo
San Bartolomeo all'Isola Tiberina
Palazzo Farnese
Advantages
Since the ticket prices are cheaper the Roma Cristiana tours are suitable for anyone who wants to see the eternal city using hop on hop off. Pilgrims, spiritual seekers and people with a special interest in the Vatican, churches etc. also have a strong reason to choose these tours. Also, the 3-day unlimited travel plus tour for 25 euros is a great option for people looking to save some money on local transport.
Also, kids under the age of 10 get to travel for free and that's a considerably more lenient approach than any of their competitors.
They have 12 stops and that's more than any of their competition.
Disadvantages
The audio guide is available only in a limited number of languages i.e. Italian, English, Spanish, Dutch, French, Portuguese, Polish and Russian and it isn't too richly detailed. There is no special discounted rate for teens/ young adults etc. Kids above the age of 10 are treated as adults and have to pay full price for their tickets.
Bus frequency is not all that great and on average the wait for the next bus is 30 minutes or more. Also, the buses start pretty late i.e. 9.30 a.m. and that may be inconvenient for some.
The route is geared towards places of religious interest and can seem uninteresting to some. They sometimes cross off stops from their list without prior intimation. Unlike tier competitors, Rome Cristiana stops aren't marked well so it's a bit of a challenge finding them.
Also Read