What To Expect
Parisian tours on a cruise ship gliding down the Seine can be one of the best experiences ever and probably the most relaxing way to see the city. The cruise offerings, prices and details differ from operator to operator but they are all mostly a hour long with add on variations like lunch/ champagne and snacks and some music etc. being a part of the trip.
Prices vary and the quality of boat used and facilities offered are the main determining points. Usually all famous sights visible from the river like Notre Dame, Eiffel, Louvre etc. are pointed out and a running informative commentary is provided for the benefit of guests. Below are the creme de la crème of Seine cruise operators and you can simply take your pick for a lovely glide down the river waters.
All these cruise providers offer facilities for private cruises too and you can get the boat reserved for a couple or more hours.
You can find excellent array of Sein cruises and book online through this Viator site.
Note: hours of operation and frequency of river cruises are quite seasonally fluctuating. In off season some services run from Monday to Thursday (Batobus) while some run only on weekends (lunch/ brunch cruises). Check with the respective office before you actually book. Usually, you cannot bring a luggage weighing more than 16 kilos on any of the cruise boats. There are security checks at most stops.
Bateaux Mouches Seine Cruise
This is actually the first company running cruise boats on Seine and they began offering services right after the Second World War. These boats are somewhat of an icon in Paris with their huge double decker open topped appearance. Watch out for the somewhat startling orange seats.
These boats are usually packed with tourists so be prepared to share a boat with scores of other tourists.
The boats drift along the Seine slowing down (but not stopping) at predetermined points and tourists can listen to a continuous narrative in multiple languages including English. However information doled out by the overhead speakers in several languages can become a little tiring and confusing.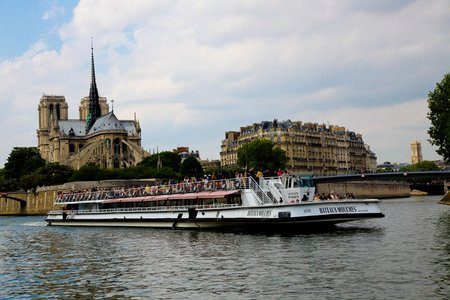 Printed handouts containing essential information about attractions in many languages are provided. Headsets with the option of selecting ones preferred language would have been much nicer. The ground floor of the boats are wheelchair accessible and the toilets on the dock are also friendly towards people with reduced mobility.
Other variations of the cruise are an afternoon leisure champagne cruise that includes a champagne bottle, 2 glasses and an incredibly romantic setting. Live music is also a part of the offer; this kind of cruise is geared towards couples.
Every Sunday the Compagnie des Bateaux Mouches Club Restaurant opens its terrace for a fantastic brunch offering. Sign up for the brunch and enjoy the food, 30's inspired decor and the views (the Eiffel from a good angle is visible) and get a free boat tour (redeemed at your convenience). Brunch is served on the main floor of the pier in the club area.
Also on Sundays and weekends there is the option of enjoying a relaxed lunch (called Douce France) on one of the resto boats operated by Bateaux Mouches. These boats look and behave like a floating restaurant and there is usually live music (accordion). Alternatively there is the option of a lunch cruise and a Jean Paul Gaultier's fashion show combination (at the Folies Bergère).
You can easily bring your own vehicle and park it at the free parking facility offered by Bateaux Mouches for the entire duration of cruise. They provide nice cruise pictures and give out printed copies for a fee.
Tip: try moving to the front area of the waiting facility if you want the best seat for yourself on the regular sightseeing cruise. Expect lots of tour groups in peak season and the best seats will be grabbed fast. Naturally the top deck provides the best views but a jacket is recommended.
Timings
Every 30 minutes from 10 a.m. to 10.30 p.m. from April to September. Additionally cruises depart from 10.15 a.m. onwards on weekends. Timings vary in off season.
Standard River cruises last 1 hour 10 minutes usually. The lunch, champagne cruises etc. last around 2 hours or more…timings need to be checked for availability.
Route
The route for the normal river cruise is Concorde, Musee du Louvre, Hotel De Ville, Conciergerie, Palais de Justice Ile de la Cite, Notre Dame, Ile St Louis etc. The dinner and lunch/ brunch cruise routes vary and are best checked by mailing the company or calling them up. There are lunch/ champagne cruise options where the resto boat takes guests to a specific point on the river from where a particular monument like the Eiffel/ Louvre is visible from an attractive angle.
Pick up and drop is from Port de Conference near Pont de l'Alma on the right bank (8th arrondissement Paris). In case you are taking the metro get down at Alma-Marceau, line No 9.
Indicative Price
Standard prices for the river cruise is 14 euros for adults and 6 euros for kids under the age 12. Cruise is free for kids under the age 4. This is one of the most cost effective yet pleasant way of viewing Parisian landmarks and the lovely bridges.
Champagne cruise prices start from 48 euros onwards.
Brunch on the Seine cruises start from 55 euros onwards while lunch (Douce France) costs 60 euros onwards. The fashion show and lunch cruise combination is about 170 euros onwards per person depending on which show you opt for.
You can buy tickets online from the website and then you can collect the ticket from the Compagnie des Bateaux Mouches kiosk once you present the transaction number.
Contacts & Booking
Compagnie des Bateaux-Mouches
Port de la Conférence, Pont de l'Alma, Rive droite
Email Enquiries: [email protected]
Phone. : +33 (0)1 42 25 96 10; Booking Website
Bateaux Parisiens
The second most popular river cruise operator in Paris; Bateaux Parisiens have mid-sized boats that have only one covered level… the boats are usually fully glazed and are open topped.  The boats score high in terms of aesthetics; they are easily the best looking floaters in Seine and the company operates some sensational looking restaurant boats too.
It can accommodate only a limited number of people on board which is actually a good thing. The absence of an open terrace level in some boats might be a spoiler for some.
The standard river cruise lasts for an hour and has individual audio guides in 14 languages.
There are two stops where you can get on/off; Eiffel tower and Notre Dame and the stop at Eiffel has access via a ramp which makes it easy for guests with reduced mobility. The Bateaux Parisiens has their special restaurant near the Eiffel dock and this has wheelchair friendly toilets inside though the boat toilets are not suitable for the differently abled.  Multiple language commentary is available along with a child oriented version.

There is a limited amount of paid parking but most of it is taken by tourist coaches and large buses. There is a public parking facility at Quai Branly museum.
Tip: in case you want to hear commentary via individual audio guides, catch a boat from the Port de la Bourdonnais near the Eiffel tower….these have a choice of 4 languages. In case you board from Quai de Montebello near the Notre Dame then you only get live commentary in 4 languages including English.
Note: This Bateaux Parisiens Seine river cruise is included for free for people who have the Paris Pass.
There is an 1 hour "enchanted cruise" offering which includes a cruise show hosted by 2 in house actors, pantomimes, anecdotes and some on board fun…a good option for families travelling with kids.
There is a 2 hour lunch cruise too that offers a seasonal traditional French lunch in the encased glass boat (there are floor to roof windows). There are on board artists providing live music.
The Eiffel tower dock has a takeaway space and cruise guests can enjoy snacks (sandwich, salad and pizza menu) and beverages from there between 10 a.m to 10 p.m
Timings
Boats for regular Seine are available from 10.00 a.m to 10.30 p.m every half an hour between April to September. Boats for Enchanted cruise are available at 2 pm and the lunch cruise is available at 12.45 p.m. Timings vary in off season.
Route
The river cruise will allow you to look at the Eiffel tower, Les Invalides, National Assembly, Orsay Museum, French Institute, Hotel de Ville, Notre Dame and Conciergerie, Louvre, Grand Palais etc. The enchanted and the lunch cruises too follow the same route though the later moves at a much leisurely pace and includes a special passage in front of Statue of Liberty.
Indicative Price
Price for the standard seine tour is 15 euros (adults) and 7 euros for children (3 to 13). Kids under age 3 can travel for free. The enchanted cruise prices are the same for adults and kids; 15 euros. The lunch cruise is priced at 59 euros for adults and 34 euros for kids.
Contacts & Booking
Port de la Bourdonnais, Bir-Hakeim Trocadero Champs de Mars – Eiffel Tower
Email: [email protected]
Phone: +33 (0) 8 25 01 01 01; Booking Website
Hop on Hop off Seine Boat Cruise by Batobus
If the idea of zapping around the city in a bus does not appeal to you much then choose a more romantic way of seeing important sights; a boat cruise that you can hop on off from. Batobus provides the most well-known (and exclusive) river hop on hop off cruise and they have good facilities like climate controlled covered roofs, terrace and ample parking. The boats are built more like a conveyance medium than a luxury cruise vehicle though.
The boat cruise logically has lesser stops (about 8 to 10) than a regular bus hop on hop off schedule and it takes a longer time but the journey is way more relaxing and beautiful. So if you hate traffic and love the Seine (who doesn't??) then the Boat hop on hop off is a good option even for mere transport. Plus you get to glide under all the historic bridges of Paris and see the left bank and right bank up close. The Batobus fleet has 6 shiny trimarans. Every Batobus is named after a Parisian landmark like Trocadero or Vendome etc.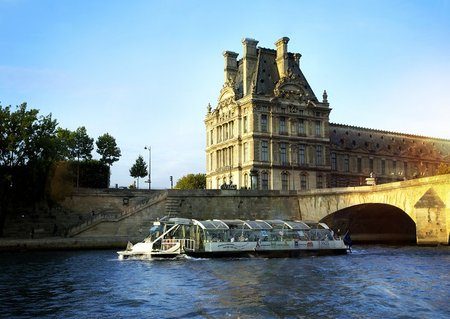 If you are doing a cycling trip around the city then just load the cycle in front of the boat and hop on and off. For photography lovers; this is an excellent trip to take as the river views of Parisian monuments are almost always spectacular.
There are no freebies so no earphones and complimentary beverages etc. The crew provides some information about the major points of interest but there is no running audio commentary. Only the Eiffel tower stop is suitable for wheelchair access to the Batobus.
Tip: Choose from a one day or 2 day boat hop on hop off schedule. The 2 day ticket works out to be more cost effective.
Note: unlimited access to Batobus boats from different points and LOpen Buses are available to holders of Paris a la Carte Pass. These buses can be used both as a convenient transport option via water and a cruise.
Timings
Boats run from 10.00 am to 9.30 pm every day during peak season. You will find a boat every 25 minutes along the 8 designated stops.  Their service extends only till 5.00 p.m. during off season but do check their website timetable.
There is a standard tour offering and a Pass City Tour plus one hour cruise combination. There is a Paris by Night Tour too that operates from 7.30 pm and 9.30 p.m. every day from a spot near the Louvre.
Route
It follows a set route and stops at the UNESCO listed river banks at 8 stops like Champs Elysees, Louvre, Hotel De Ville,  Eiffel Tower, Musée d'Orsay,  Saint-Germain-des-Prés,  Notre Dame Cathedral,  Jardin des Plantes (these are where all the major ticket offices are). These are points where you can exchange your voucher for a ticket and catch the next bus or choose to begin/ end your journey.
Additionally you can see the Invalides/ Pont Alexandre III too as it's on the route though you cannot exchange your voucher for a ticket at this point.
Indicative price
About 17 euros for the one day Tour and 19 for the 2 day tour.  Kids under the age 16 can travel for half the price and babies under the age of three have free access. There are special discounts for group bookings (over 20 people) and Batobus can be hired privately too.
Contacts & Booking

Tickets can also be brought from any of the 8 office bearing Batobus signage. If you buy tickets online…print out the voucher / confirmation email and exchange it at any of the 8 Batobus stops for an actual ticket. Advance tickets cannot be bought online.
Batobus
Port de la Bourdonnais (main office), Paris 75007
Phone: +33 825 05 01 01; Booking Website
Vedettes du Pont Neuf/ Canauxrama
The first Vedettes boat began plying the Seine in 1959 and right now they have a fleet of more than 20 boats and 2 glamorous restaurant boats "Grand Pavois" and "Vert Galant". Their one hour river cruise offering is quite popular; it begins and ends at the famous Pont Neuf. The Vedettes boats are white usually and though their configurations differ most of them have two floors with the upper one being an open terrace.
Live commentary in English and French is delivered by tour guides on board. Alternatively guests can download their free mobile app and listen to commentary in other languages including Spanish and German… they have a special 1.5 hour lunch cruise (same route) that departs from the front of Orsay museum and offers a seasonal tasting menu.
The lunch tours are operated in partnership with France Tourism and a more discreet narration about important attractions is provided by the team on board. Keep checking the company website for special event related offers like mother's day, valentine's day etc.
In 2007 Vedettes du Pont Neuf brought the leading canal tour company of Paris 'Canauxrama' and since then they have become a major provider of Seine river cruises and Saint Martin Canal cruises plus history tour that Canauxrama were initially famous for. Information and cruises of both companies can now be procured from the same website and same offices though boats carrying signages of both companies still run on Parisian waters confusing people. If the canals of Paris intrigue you then the 2.5 hour long Canal St Martin Bassin Villette tour (along with a 2 hour walking tour) may be attractive… they also have bar and snacks on board.
The vedettes boats can only allow access if passengers are able to climb a minimum of 3 steps with assistance. Mobility scooters aren't allowed on board but wheelchairs are.
Timings
Departures for the whole day are as follows:
10.30 a.m., 11.45 a.m., 1.00 p.m., 2.15 p.m., 3.30 p.m., 4.45 p.m., 6,18 p.m., 7.45 p.m. and 9.15 p.m.
The lunch cruise is offered once a day at 12.30 p.m. …it lasts for 1.5 hours.
Canal cruise takes off at 9.45 a.m. and finishes by 2.30 p.m. i.e. if you opt for the walking tour canal tour combo.
Route
The Seine route follows Musee du Louvre, Place de la Concorde, Trocadero, Eiffel Tower, National Assembly, Orsay museum, Notre Dame/ Ile de la Cite, Monde Arabe Institute, Bastille, Ile Saint Louis. Tours after 4.45 p.m. have a special passage in front of the Eiffel so that guests can enjoy the twinkling glory of the monument.
Get on and off at the Pont Neuf pier (access via Pont Neuf metro and RER Chatelet/ St Michel). There is paid vehicle parking in front of the Louvre museum and courthouse.
The Canal St Martin Route crosses 4 double locks (La Villette, Deaths, Temple and Recollets), 2 revolving bridges, the Hotel du Nord pretty shops and retro bistros, Parc de la Villette (Cité des Sciences, the Géode, Cité de la musique, the theme gardens), Bassin de la Villette and the Rotonde de la Villette, lift bridge of Crimea.
Departure and arrival from Arsenal Port and Bassin de la Villette (this isn't a closed circuit tour).
Indicative price
Ticket prices for adults (for 1 hour standard cruise) is 12 euros and for children between ages 4 to 12 it is 5 euros. For the lunch cruise prices are 41 euros for adults and 29 euros for kids. For the canal cruise prices are about 18 euros per person. Buy tickets online and you might get hefty seasonal discounts.
Contacts & Booking
Buy tickets from the website (recommended) and from their office at green gallant square. You can also get tickets from Pont Neuf dock subject to availability (not advisable in peak season).
Green Galant Square, 75001 Paris
Phone:  +33 (0) 1 46 33 98 38
Email:  [email protected]; Booking Website
Also Read