Nice, located in French Riviera at the foothill of Alps is the 2nd most visited place in France after Paris. Nice is well connected with the rest of the world by air, road and rail. Nice Cote d'Azur airport is located south west of the city's central square Place Massena at a distance of 7 kilometres.
Getting to the City
The best option of getting to the city from the airport is by Airport Express Bus. There are two routes to get into the city. One is bus number 98 that goes to old city via all the beach resorts and has a service frequency of 20 minutes. This service is available from 5:20am until 11:50pm. The other is bus number 99 that moves along the picturesque coastal area before entering the city to reach Nice Ville train station (the main Station).
It's a good idea for a tourist to take the second option. The service is available from 8:00am until 9:00pm with a frequency of half an hour. The single journey ticket (Aero ticket) is 6 Euros and can be purchased at the manned bus desk, ticketing machines on tram station's platform or from the driver. This ticket is valid for 74 minutes and also gives free access to city trams & buses. Bus can be boarded outside both the terminals.
Another option is availing local buses which is economical too. It costs 1.50 Euros to get to the city. The bus stand is located at Promenade des Anglais and you need to walk through the parking lot to reach there. Bus number 23 goes to main railway station via Gambetta Boulevard. Bus number 52 goes to Promenade hotels and bus number 59 to Place Massena (city's central square) while bus number 70 reaches out to the old city. The airport is scheduled to be connected to the city by tram service as well by 2019.
There is a train station near airport (about 15 minutes walking distance from Terminal 1 or gate A1). Nice St. Augustin station (near airport) to Gare de Nice Ville station (main station) is a 6-7 minutes journey by local train. There are no signages along the way to station. So you might need to ask for directions from passing commuters. Tickets are available from the ticket vending machines. The ticket price is 1.90 Euros. First train leaves at 5:52am and the last one departs at 10:54pm.
Taxi takes around 20 minutes from airport to the city centre. Fare is 32 Euros (fixed) both in morning and night hours, and includes luggage. You can dial +33 4 9313 7878 to call a taxi but it has a charge of extra 4 Euros. Another way is to download Uber app and avail one outside the airport. It will cost around 16 to 20 Euros. Unlike in local taxi you don't have to pay cash in Uber.
You can choose from a wide range of private transport and transfer services (including airport transfers) and book online from this Viator site.
Nice is well connected by railways with all major cities of France and other international destinations. TGV… the high speed railway network connects Nice with over 230 destinations within France as well as countries like Belgium, Italy and Spain. One can reach Nice Ville station by TGV directly from Charles de Gaulle airport of France.
The state owned national railway company of France SNCF also has various services to connect Nice Ville with rest of France. By road Nice is well accessible from various parts of France as well as international destinations.
Nice Transports
Bus Service
Bus service in Nice is extensive with over 130 day time bus routes reaching all the 49 towns of Metropole Nice Cote d'Azur. Night bus or the Noctambus has 5 routes and operates between 9:10pm to 10:10am. You can take 100% Snow (Neige) bus from city centre to visit Isola 2000, Auron, Roubion or Le Boreon. These are winter sport resorts. You can also visit Valberg, famous for Skiing in the Southern Alps. There are 4 different bus lines 730, 740, 750 and 770 that go to these destinations.  Check your route and purchase your ticket at least two days in advance.
Trams
Presently there is only one tram line in Nice. This 9.2 kilometres route runs from north to east through the city centre from 4:25am till 1:35am 7 days a week. The service operates every 3-5 minutes during daytime and every 12-20 minutes at night.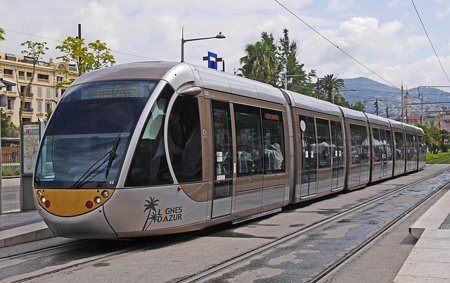 Commuter Trains (Local Trains)
TER trains run by SNCF are good option to get around Nice and the coastal Riviera. The four stations in Nice are Nice Ville, St. Augustine (airport), Nice Riquier (port) and Nice St. Roch.  The last two stations are regional stations. Trains operate from early morning until 10:00pm on weekdays and until near midnight on weekends.
Running frequency is around half an hour in both directions. TER trains give you easy access to Villefranche-sur-mer, Monaco, Ventimiglia, Antibes, Cannes, Grasse, Saint Raphael, Marseilles, and Aix En Provence. You can download SNFC app on your smartphone for more information on coastal trains and other train services.
Carte Zou weekly rail pass, TER summer day pass and Carte Isabelle family pass are good options while travelling by trains along the French Riviera coast.
Carte Zou weekly rail pass is arguably the best option, especially to explore the coastal region of French Riviera. The best way to use this pass is to buy a weekly pass for Theoule-sur-mer to Ventimiglia. It covers three (Nice Ville, St Augustine and Nice Riquier) of the four stations of Nice as well as gives a chance to enjoy gorgeous beaches along the Riviera coast. You can optionally include Cannes as well. It costs 33 Euros and offers unlimited rides for a week. You can calculate fares and buy this pass online at www.ter.sncf.com
TER Summer Day Pass is a one-day pass and available between 1st June to September end. The cost is 16 Euros. Apart from coastal line it can be used for inland bound TER trains. You can hop on & hop off the trains at multiple stations. Moreover this day pass does not require validation at every ride. A day pass costs 32 Euros for two persons and 10 Euros per additional passenger. This pass also offers some attractive discounts at various attractions.
Carte Isabelle Family pass is a good option for a family of two adults with up to two children. A day pass costs 35 Euros and a 3 day pass is 80 Euros. It offers unlimited travel by TER trains from Ventimiglia to Frejus in coastal area and in inland up to Tende.
All the above mentioned rail passes can be purchased from the ticketing machines or from the SNCF manned ticket office. Note that machines do not accept bank notes (bills).
Ferry
There are numerous options of taking a ferry trip. Here are two popular routes…
Nice to St. Tropez round trip– Cruising along the French Riviera coast for 2 and half hours each way. Spend some beautiful time at St. Tropez. Cost per person is around 76 Euros.
Cruise to Monaco– A 45 minute relaxing cruise to Monaco from Nice along the Mediterranean coast. Per person cost is 42 Euros.
Other boat trips include solar boat tour, mammal photo safari, cruise to spot Dolphin and Whales etc. An exciting yet a short cruise is by Lou Passagin (small ferry boat) to cross the water body at Nice port. This boat ride is absolutely free and rides are available from 10:00am to 07:00pm during the months of May to October. These ferry boats are heavily used by the locals. These boats are in operation since 1960's.
City Taxi
Taxis have a red 'Taxi' sign on the roof followed by the word 'Nice' written in black. Nice taxis are available 24hours. You can take a taxi from a designated taxi rank or can hail one on the streets. Download Taxi Nice app for free to call a taxi or to find the nearest taxi rank, and also to calculate fare. You can dial +33 (0) 899 70 08 78 to book a taxi over phone within Nice. While not mandatory, a tip of 1 Euro would be a good gesture.
The normal taxi fare is as follows… The base fare is 6.50 Euros; per kilometre fare is 1.50 Euros and the waiting charge is 10 Euros for one hour.
Alternatively you can avail Uber taxi by downloading Uber app.
Tickets & Transport Passes
Various types of ticketing options and travel passes are available for public transport.
A Solo ticket costs 1.50 Euros and valid for 74 minutes. It gives access to both bus and trams other than some lines within the 49 towns of Nice Cote d'Azur region. Return journey is not allowed.
One Day Pass is valid for 24 hours on all routes of Lignes d'Azur and takes effect on first validation of the pass. It costs 5 Euros.
A Multi ticket is a bunch of 10 solo tickets for bus and trams. The price is 10 Euros. It can be either used for 10 different rides of 74 minutes each or 10 commuters together can use it for 74 minutes only. This ticket does not allow return journey.  
7 Day Pass and 31 Day Pass are valid for 7 and 31 days respectively with unlimited rides on all Lignes d'Azur routes. The prices of these passes are 15 & 40 Euros respectively.
Note:
Airport Express bus routes 98, 99, 110, 210 and 250 have higher ticket prices, thus above mentioned tickets & passes are not allowed in these routes. Rando Bus and 100% Snow Bus also do not accept these tickets
Once folded, tickets cannot be exchanged
Validate ticket during every single ride
Tickets can be purchased from bus drivers, ticketing machines and bus desks.
Ticketing machines accept cards or coins only
Some tram stations have validating machines on the platforms
French Riviera Pass: There are 3 types of French Riviera Passes available for three different validity periods, i.e. 24 hours, 48 hours and 72 hours. Prices of these passes are 26, 38 and 56 Euros respectively. Apart from free entries at different sites & attractions, loads of discounts are offered by this pass.
The main advantage of this pass is, it allows the holder to access Metropole Nice-Cote d'Azur public transport (bus and tram) unlimited times during its validity period. However Antibes and Monaco transports are not free. This pass can be used on the public transports to and from airport as well.
It can be purchased online from nicetourisme.com. One can choose for home delivery, collecting from the company's office or download the PDF e-ticket. The PDF e-ticket allows an option of purchase without 'transport'.
Car Rentals
Major car rental companies have offices at all the important places in Nice… i.e. Airport, main railway station and city centre. Parking in Nice is free although it is not widely available especially around city centre. Minimum per day car rental is 45 Euros. The minimum driving age in France is 18 years and the following documents are required… Driving License, credit card and proper ID (like passport). While your home country driving license suffices if your stay is up to 90 days, it is better to carry an IDP (International Driving Permit) if you are from a non-EU country in order to avoid any confusion.
Following are a few well-known car rental companies…
Enterprise Rent a Car (www.enterprise.fr)
Sixt (www.sixt.fr)
Europcar (www.europcar.fr)
Ada Location de Voitures (www.ada.fr)
Bicycle Rentals
Nice has a good cycling network with dedicated bicycle tracks. Biking in Nice is becoming increasingly popular especially among tourists. The most beautiful biking track is along the coastal area from Promenade des Anglais to Cagnes-sur-mer and beyond.
There is a self service bike rental system in Nice known as Velo Bleu with over 175 docking stations located almost at every corner. There are over 1,750 bikes to hire. The hire charge is 1 Euro per day and first 30 minutes is free. For next 30 minutes it is 1 Euro and thereafter 2 Euros per hour.
There are several other rental companies also available. The minimum rental rate for a basic model is 14-15 Euros per day. Indicative rental rate for one hour is 5 Euros, 2 hours is 9 Euros and 4 hours is 12 Euros. Rate is higher for e-bikes and mountain bikes. Following are a few well-known bike rental companies in Nice…
Roller Station (www.roller-station.net/pages/tarif/velo.html)
Holland Bikes (http://locations.hollandbikes.com/en/ville/visit-nice/#Rent)
Bike Trip (www.rent-bike.fr/)
Holiday Bikes (www.loca-bike.fr/en/index.php)
Scooter/Motorcycle Rental
There are multiple companies in Nice that offer scooters and motorbikes on rent. The per day minimum hire charge starts from around 25 Euros for a 50 cc scooter, 35 Euros for 125cc, 75 Euros for 400cc. The minimum hire rate for motorcycles start from 50 Euros. Note that rental companies have different discount policies based on rental duration. Following are a few well-know rental companies…
Cooltra (www.cooltra.com/en/scooter-rental-nice/)
Moto Roads (www.motorcycle-rental-europe.com/nice-airport-scooter-rental)
Bike Trip (www.rent-bike.fr/en/scooter-rental-nice.html)
Getting To Major Attractions
Directions below are shown from Place Massena (the city centre) unless stated otherwise.
Promenade des Anglais is a 7-kilometre stretch along the sea. This place is located around 4 kilometres southwest of city centre. The best way to reach there is to take a line 09 bus from J. Medecin bus stop towards St. Laurent du Var Gare, get down at Promenade, then walk for around 150 metres to reach the seaside. J. Medecin bus stop is a 200-metre walk from the city centre. Journey time would be around 13 minutes. Alternatively you can take line 08 bus from Station J. C. Bermond (300 metres from Massena square) towards Place St. Marguerite and get down at Promenade.
To watch the best view of bay of Anglais (angels), Nice Port and Promenade des Anglais, the ideal place is Quai de Rauba Capeu. This is the highest altitude point of old Nice and you can also visit the nearby lovely Castle Hill located in the Castle Park. This place is located little over a kilometre southeast of the city centre. You can enjoy the 15 minute walk. Alternatively take the only tram line (T1) towards Hospital Pasteur and get down at Vieille Ville. Tram station is located 130 metres from Massena square. Journey time is around 1 minute but you need to then walk for 850 metres to Quai de Rauba Capeu.
Another option is to reach Castle Hill by taking the free elevator service (operates until 06:00pm) from the Rue des Ponchettes located 850 metres southeast of Massena Square. From Vieille Ville tram stop this place is around 500 metres away.
For hikers Mount Boron (191 metres) is a great hiking destination. You can also visit the Lazaret Grotto and the Mount Boron Park located on the slopes of Mount Boron. The foothill of Mount Boron is located around 2 kilometres east of the city centre. Take the T1 line tram towards Pasteur Hospital and get down at Garibaldi (6 minutes ride) and then hike for around 1.5 kilometres to get on the top of the mountain and enjoy the breathtaking view of Villefranche sur-Mer bay.
The 350 BC archaeological site Terra Amata is located on the western slope of Mount Boron. Walk for little over a kilometre west of Mont Boron to visit the Human Paleontology Terra Amata Museum. Alternatively walk 60 metres towards Fort Thaon and take a line 30 bus towards Promenade des Arts and get down at Carnot. From Carnot the museum is only 130 metres away. Journey time would be around 10 minutes.
Fort du Mont Alban (Mount Alban Fort) is a 16the century fort and offers spectacular view of Villefranche bay and Cap Ferrat peninsula. This place is located 4 kilometres east of the city centre. Take a line 14 bus towards Mont Boron and get down at Chemin du Fort and walk for 700 metres. The bus journey time is little over 15 minutes.
Designed by Emmanuel Costa Opera de Nice was built in 1882 and famous for its exquisite interiors. This place is located within the city centre area 350 metres south of Massena square.
The prettiest Russian Orthodox Church outside Russia is located at Nice and around 2 kilometres northwest of the city centre. You can take a line 04 bus from Alberti (400 metres from Massena square) towards Henri Sappia and get down at Thiers, and then walk for 400 metres. Bus journey time is around 8 minutes. Alternatively you can take the tram (T1) towards Henri Sappia and get down at Thiers Station but from there you need to walk for 1.3 kilometres.
Garibaldi Square is known for elegant ochre collared facades and lines of albizia trees. Do visit the Baroque chapel located at the south of the square. This is the oldest square of Nice. You can either walk down in 10 minutes from the city centre or take the T1 line tram towards Pasteur Hospital and get down at the Garibaldi stop. Journey time is around 8 minutes
There are lots of activities in and around the old port town of Nice which is located at the foothill of Castle hill. Dated back to 1749 this place is also known as Port Lympia. After you complete your Castle hill visit you can take a stroll through this place to explore its past culture and tradition. During summer you can take the Lou Passagin ride for free (details under Ferry section).
Transport tips
Do not forget to raise your hand at bus stops to stop a bus otherwise it might not stop
Press the red button to disembark when your bus approaches your destination stoppage or else the bus driver might not stop the bus
Do not forget to validate your ticket during every ride by bus, tram and train
Spin the wheel to select a language in ticketing machines
Remember ticketing machine accept coins & cards only, no bills
You can change your bicycle every 30 minutes to save money (in self service scheme)
Also Read