The capital of the Alps Maritime zone on the French Riviera… Nice is on the southeast Mediterranean French coast. This is the second biggest French city in the famous Provence- Alpes-Cote'd Azur area. Nice is very near Monaco (13 km) and the airport here serves both regions.
Nice is all about lovely promenades, old school French mansions and enticing boulevards and you will agree to its informal anthem "Nissa La Bella" or "the beautiful Nice". This is the famed French Riviera's biggest city and all of its parts from Italy inspired old quarters to the natural beauty of the riverside are gorgeous.
Nice is distinguished by its lovely light that has inspired many painters like Marc Chagall, Henri Matisse, Arman and Niki de Saint Phalle (each of them has separate museums to their name in Nice). Incidentally Nice didn't become a part of France till the Turin treaty in 1860… it was owned by Italy and there is a strong Italian influence in its architecture, cuisine and even dialect.
Attractions & Local Tours
Don't mistake the Promenade des Anglais for a normal seaside walk… for the French, it's as important as the Eiffel. The 1820 built charming embankment that stretches for 7 km is flanked by exquisite palaces and fragrant gardens and lines of pergola trees… it's the dream destination for a romantic long walk or a soul searching wander.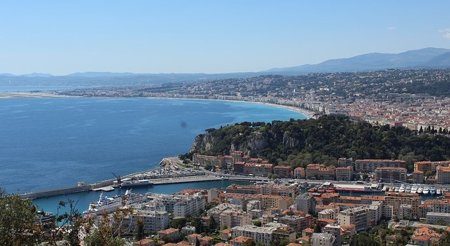 In contrast, the 2003 built Quai de Rauba Capeu has a much higher elevation and a better view of the Bay of the angels. This is a lovely road section delineating the seashore curvature right before the port entrance… ideal for walkers and bikers. Around this area, you can visit the Monument to the Dead and the lovely Castle Hill.
The Hill is in the Castle Park (Parc du Chateau) and it's the highest altitude point in the old part of Nice and here you can watch one of the best views of Nice all towards the bay of the angels (to the west) and the Nice port (to the east) while the Promenade des Anglais can also be seen.
Incidentally, you can go up to Castle Hill in 3 minutes… there is a free elevator from the Rue Des Ponchettes (operates till 6 p.m.) while the Promenade des Anglais and the Place de Garibaldi have free stairs leading up to Castle Hill. Inside the park, there are the ruins of Chateau d Nice, Tower of Belanda, 3 sectioned cemetery and a lovely waterfall cascade called cascade Dijon. There are numerous kids' playgrounds inside the park and there is a lovely mini train (ascenseur du chateau) that will take you right up the castle hill.
Another famous promenade is the Quai du Midi that's between the Promenade des Anglais and the Rauba Capeau and this 19th century stretch will give you easy access to Eastern Nice beaches. From this area you can wander into the Nice port, old town and Mount Boron or go off in the direction of the Opera de Nice and the Ponchettes Gallery.
Mount Boron (191 meters) is a nice hiking destination and its slopes hold attractions like the Lazaret Grotto and the lovely Mount Boron Park. Inside the park there are a profusion of olive and carob trees and a lush leisure complex with picnic zones and walking paths and a wonderful view of the Villefranche sur mer bay.
Go north and you will arrive at the spectacular Fort du Mont Alban that's a 16th century excellently preserved fort that has a gorgeous view of the bay of Villefranche and Cap Ferrat peninsula (left). Walk to the opposite side of the castle and you can see the City of Nice… this is a medieval castle that's in great shape so you can see all its features right up to the details of its multicolour tiles.
Opera de Nice is a historical monument that dates back to 1882 and its exteriors are as exquisite as its interiors… look out for the lovely ceiling frescoes designed by Emmanuel Costa. There are numerous other promenades and scores of churches and museums in Nice but one attraction which is a standout is the Russian cathedral that's the prettiest Russian Orthodox Church outside Russia.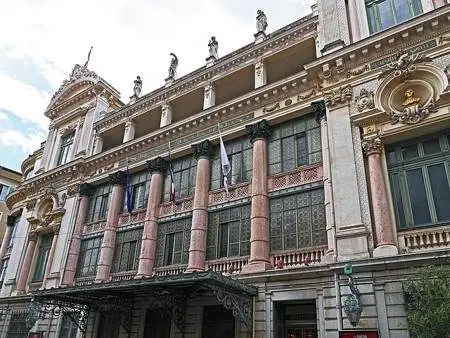 Interestingly the earliest use of fire happened in the region of Nice and that zone is called Terra Amata. This archaeological site dates back to 350 BC and right now you will find this site on the west slope of Mont Boron. The findings from this site like large bones, several basic tools, flintstones, etchings etc. have been gathered and displayed in the Terra Amata Museum of Human Palaeontology on the eastern side of Nice Port.
Very few tourists know that Nice is a critical archaeological site and the Archaeology Museum here (right beside the Matisse museum) displays several objects right from jewellery to pottery to tools to coins all of which are relics of the Neanderthal population.
The beaches of Nice are pretty but not suitable for sunbathing… some sections are private and some even have sand layered on them. If you are travelling with kids then the beach on the side of Mont Boron and Villefranche Sur Mer is good… the waters are shallow and sheltered.
In Nice town, there is the historic place Garibaldi Square with elegant ochre collared facades and lines of albizzia trees. To the south of the square is the Baroque chapel that belongs to the Holy Sepulchre. You will find umpteen cafes, restaurants and boutiques lining this square and there are benches and seating's arranged under shaded covers… a good place to people watch and converse.
The old town of Nice is indulgently called the Vieux Nice… labyrinthine streets crisscross the whole place and olive oil bottles (the Italian influence), freshly made lamb trotters and vintage-looking frocks are sold everywhere. There are numerous Baroque churches (the Eglise St Jacques is memorable), restaurants, cafes and houses that are all packed together tightly….visiting the old town is a good cultural experience.
The Sundays at Nice are always special ….at 3.30 p.m. there is a free concert at Orchestre d' Harmonie de Nice. The Promenade du Paillon has a gazebo at its end and this is where concerts happen open air in spring. The Nice Opera house hosts a symphony orchestra at super low prices on Sundays. Old Nice has a bar called Bar B*tch that organises a free drag show in the lanes above Place Rossetti… you will find a large group of locals and tourists openly dancing here from 10 p.m.
The birthplace of the culture of the Nissardes, Nice Hinterlands is lovely and full of valleys and dales with pinewood covered green slopes and peaks rising up to 1000 meters. This is probably the most visually stunning part of France… visiting the banks and the valley of the Roya River that swims between France and Italy in the extreme east alpine region is a must. There is the La Brigue medieval village and the lovely fresco dotted Notre Dame des Fontaines that's also known as the Sistine Chapel of the South Alps. From this area, it's entirely possible to visit Turin in Italy creating a nice cross border holiday experience.
There are lots of tours you can avail to experience Nice. Choose something basic that lets you enjoy the major attractions of Nice or choose a long wine and cheese tour that takes you all around Provence or go on a river cruise on the Riveria. Alternatively, you could go on a museum and history-oriented tour.
The Riveria Tours generally proceed in two directions… you can either go to St Paul De Vence, Antibes and Cannes or you can choose to go Eze, Monaco, Fragonard and Monte Carlo. There are also basic 1-hour sightseeing tours which generally begin in Baise des Anges and then move around Cap de Nice while the famous Citadelle and umpteen hilly hamlets are pointed out.
Incidentally, the Old Port of Nice dates back to 1749….it a picturesque place that once housed commercial vessels. Regular ferries leave from here to throughout the Mediterranean. There are also regular ferries to Corsica and Sardinia along the Nice Bastia ferry route. You can opt for crossings to Ajaccio, Porto Vecchio, Ille Rousse etc. from Nice… the routes have great scenic value.
Local Cuisine
Nice has a very cosmopolitan atmosphere and you will get all kinds of food here right from continental to Asian to regional food to molecular cuisine. In fact, the food of Nice has a good influence on French cuisine but there are some Nice specialities that you cannot miss like the Salade Nicoise (eggs, beans, tomatoes, anchovies, olives etc.) and Socca (pancake marries flatbread) and the famous Ratatouille vegetable stew along with the Daube Nicoise beef stew and the tasty fougasse bread.
Another speciality is the Aioli that's a delectable spread of vegetables with garlic mayonnaise and the Petit Farcis that's basically stuffed vegetables if you want a picnic lunch then ask for the Pan Bagnat that's basically a Salad Nicoise enclosed in a bun and the Pissaladiere tarts (they taste exactly like mini Italian pizza).
The house wines of Nice that are grown in the grape covered hills behind the city are renowned
The period chandelier and antique furniture enhanced Le Chantecler that holds a Michelin 2 star and the Le Meridian terrace restaurant (La Terrasse) are great places for sophisticated French meals. The L' Acchiardo in Nice old town offers hearty Italian fare and some French dishes along with barrels of Provence wines… this is a family-run jolly place.
Voyageur Nissart serves local delicacies like chicken in lemon sauce and lamb in Thyme…this is a budget place. Most local restaurants and bars are closed on Sundays and Mondays and Le Petit Resto (old nice), La P'tite Cocotte, Chez Juliette (only dinners), La Griglia, Banthai and Les Garcons are few places that can get you a good meal on these days.
Nightlife
There are lots of bars, pubs, live theatres, cinema houses in Nice but the special focus is on rock and roll bars and jazz clubs and most of them have a vintage feel about them. Interestingly Nice has a quiz tradition… Ma Nolan's has a pop quiz on Thursdays and the Blue Whale has Dave's quiz night on Wednesdays.
There is a lot of communication and ideation happening at the bars and clubs like the French-English language exchange meets in the bar at Boscolo hotel on Wednesdays. The nightlife in Nice is old school, hearty and refreshingly non-rowdy.
Shopping
The old quarter of Nice has a very good market Marche aux Fleurs that sells flowers and fresh produce which is there every day apart from Mondays. In case you are staying in an apartment-style place with a kitchen stock up on fresh produce like socca, cheese, meat and vegetables along with fresh wine and flowers (Nice is France's biggest exporter of cut flowers) from here. You will be offered fresh fruit and cheese tastings for free and then you will almost certainly load up your bags.
Other things to buy here are handmade soaps, locally grown olives, jars of honey etc. On Mondays, an antique market crops up here and you can buy French furniture, jewellery and old books. All these places are in The Cours Saleya zone that's the biggest pedestrian area in Nice and is famous for its small fish market too… you will get the freshest catch for the most affordable price here.
The street behind Cours Saleya is Place du Palais de Justice and it also has multiple local markets i.e. the book market and the postcard market and the lovely art market. These happen by rotation each Saturday. The local market zones are surrounded by cafes and you can see nouveau artists inside sketching… the antiquities of Nice make it special.
Right beside the Cours Saleya, there is the affordable shopping zone Rue Francois with touristy boutiques, art shops, curio shops and confectionery stalls. For jewellery, evening gowns and the chic perfumes of Provence target the Carre d'Or / Golden Square zone which is near Rue Paradis. Avenue Jean Medecin is also a good place to shop if you have a fairly high budget.
Hotels and Inns
The great thing about Nice is that it caters to budget cautious travellers too besides ones seeking to immerse themselves in luxury. Some hotels that offer elegant luxury are Boscolo Exedra (19th-century palace in Center of Nice), Nice Excelsior (boutique hotel with period French furniture), La Perouse (perches on a cliff), Hotel Suisse (fantastic view of the Bay of Angels).
There are many quaint affordable hotels in Old Nice like Villa La Tour (inside a medieval convent), Hotel Rossetti (right beside the Grand Cathedral) and Hotel Au Picardy (family-run place right above a delicious bakery). There are many apartment-style accommodation options in Nice and the Palais Saleya Apartments and suites are the newest addition to Old Nice with apartments that have all hotel amenities.
How to reach
Nice has Nice Cote d' Azur airport that's the third busiest airport of France right after Orlly airport and Charles de Gaulle airport and there are air connections to Nice from almost all major cities of the world. Once you have landed at the airport, best way to reach your beach resort is to take the airport express bus. The bus 98 will take you to all the beach front resorts and Old Nice while bus 99 will take you along the lovely seafront till Gambetta Boulevard before moving back to Inland.
Trenitalia trains from Genoa, Rome, Milan, Venice and some other cities will directly run to Nice. Russian Railways runs weekly trains from Moscow to Nice. The major railway station is Nice Ville.
There is Auto Train service here… deposit your car on the train and take other conveyance to your resort and when you reach, your car waits for you. SNCF networks connect Nice to the rest of France and you will require advance reservation even if you have a Eurail pass.
Paris to Nice is a popular route that will take you about 6 hours and Marseille to Nice is 2.5 hours. Take local trains to the other parts of the Riveria like Cannes, Monaco, Villefranche, and Antibes etc. but for Saint Tropez you need to take a boat trip.
Local Transport
Local commuter trains run through Nice Ville (main station) and Nice St Augustin, Nice Riquier and Nice st Roch (regional stations). TER tickets will get you a discount on the coastal train lines and so will the daily, weekly and monthly train passes. Coastal trains that wind through the entire coast of Riveria leaves every half an hour towards both directions.
Villefranche sur mer, Monaco, Ventimiglia, Antibes, Cannes, Grasse, Saint Raphael, Marseilles, Aix En Provence are all easily accessible via local coastal trains from Nice. If you wish to explore the French Riviera via coastal trains then downloading the SNCF smartphone app on your phone is a good idea.
Local train passes like Zou weekly, TER summer day pass and Carte Isabelle family pass (2 adults and 2 kids) are good for local travel along the coast. Incidentally if you want to get a different holiday flavour then take the coastal train on Friday to Ventimiglia… alight at the station and walk 10 steps to reach the famous ventimiglia Friday market (copies of designer bags and shoes and loads of leather goods and jewellery).
One of the best parts of Nice local transport…. the Lou Passagin (small ferry boat) will take you from one side of the Nice port to the other for free. This happens every day from 10 a.m. to 7 p.m. in the months of May to October. Supposedly this ferry boat is one of the warmest memories of the locals here… its operating from the 60's.
There are 130 bus routes spanning 49 towns that make up the Metropole Nice Cote d' Azur so basically you can wander around a lot in the Riveria belt using local transport. There is only a 9.2 km tramway though and it crosses the city along Jean Medecin avenue and then inside the Place Massena.
It's possible to buy everything from a 1 day pass to a 7 day pass in Nice and they include bus and tram ride combinations. A great thing about Nice is that you can leave your car in stopover car parks where the car is taken care of for free and you can take the tram to Nice city centre and explore the city at your will.
If you wish you can take the Bus 100% Neige from Nice City Center that takes you to the lovely winter sports resorts of Isola 2000, Roubion, Auron, and Le Boreon. Alternatively you can go to Valberg  and Isola 2000 that are very big Ski resorts in the southern Alps near Nice…. trekking, spinning around in the ice rinks, snow biking, cross country skiing are all done here.
Read: How to get around Nice easily.
Best time to visit
Winter i.e. December- January was the traditional "Riveria season" and this was when European celebrities and the royalty descended here in all their decadence. Come February and there is the ravishing nice carnival which is full of exuberant festivities.
Summers in Nice are rather hot but the lovely cool Castle hill area, lots of air conditioned museums and the tempting shops and boutiques still make it worth a visit. This is when you will get massive discounts at hotels and transport options too.
France has any beautiful destinations but Nice and in fact the entire Riviera zone is unmatched for its easy glamor and unlimited potential. You could easily spend weeks here without getting bored… Nice is a place where almost everything seems nice just for the virtue of being located there.
Read: Important weather information for major cities of France
Also Read