Geneva international airport (also known as Cointrin Airport) is located around 4 kilometres northwest of Geneva City Centre. The airport is located close to the Switzerland's international border with France. It receives direct flights from most of the European cities like Manchester, Newcastle, Edinburgh, Bristol, London, Paris, Amsterdam, Moscow, Lisbon etc. Over 50 airlines operate at Geneva airport and there are nearly 30 daily flights.
The airport is well connected to the city centre by buses. There are regular trains as well to Geneva Gare Cornavin (central station within the city centre area).
Note: The currency of Switzerland is Swiss Franc (CHF). 1 CHF is around 0.88 Euro (conversion rate may vary).
Getting to the city
The bus stop is located in front of the airport building at the checking level. There are buses to the city centre every 7 minutes during peak hours and every 15 minutes during off-peak. Bus operates from early morning until post midnight. Bus line number 5, 5+ (express line) and 10 go to the city centre (Gare Cornavin) taking around 21 minutes.
The train station is just beside the bus station. Train operates from early morning until 1:42am every day. Journey time from airport to Gare Cornavin (Central station) is only 7 minutes. You will get a train every 12 minutes during peak hours.
You can collect the free UNIRESO (details under Public Transport) ticket from the ticket machine at the airport baggage reclaim hall if you are flying down to Geneva. This ticket is valid for 80 minutes and for zone 10 (Tout Genève, i.e. central Geneva) as well as the airport area on buses, trains, trams and boats (mouette). You need to produce your valid airport ticket or boarding pass of the same day when a checking is done on your journey.
In case you are not flying down you can purchase a regular single journey ticket for zone 10. Ticket costs 3 CHF and is valid for 60 minutes. Ticket can be purchased from the ticketing machines at the bus and train stations. You can also buy your ticket by sending sms from your Swiss 'SIM card'. Type 'tpg1' and send it to 788 before your journey. The ticket will arrive immediately on your phone. The price will be deducted from your phone balance if it is a pre-paid SIM and for post-paid connection the cost of ticket will be added in your next bill.
There is a free shuttle bus service available at the airport to 10 select hotels. Visit Geneva Airport's official website to know whether your hotel is enlisted.
There is a taxi rank just outside the terminal building. The fare to the city centre is 35 to 45 CHF depending on time and traffic condition. Car rentals too are available at the airport (details under car rental section).
You can choose from a wide range of private transport and transfer services (including airport transfers) and book online from this Viator site.
Public Transport
UNIRESO is a common transport platform for travelling in and around Geneva with its seven partner companies. TPG (Transport Public Genevois) operates buses, trolley buses and trams. SBB (Swiss Federal Railway) is responsible for train service. Mouettes Genevoises operates yellow water taxis.
Other four companies operate regional and suburban transports that include long distance coach service, taxi, regional trains etc. Public transport system in Geneva is integrated and commuter friendly, it also gives easy access to every part of the city. 80% of Geneva's population can reach a bus/tram station within 500 metres from their residence.
Bus
The main Bus station is Gare Routiere which is located in Place Dorciere and that is the principal departure zone for both domestic and international buses. This is from where guided city tours and day trips also commence. There are total of 52 regular bus lines, 6 articulated trolleybus lines, 4 express lines and 12 night lines (Noctambus) that operate in the city and its surroundings daily. Regular bus service operates from 4:45am until 1:30am.
Tram
Presently there are 4 tram lines that cover 33.5 kilometres of route and compliment the bus and trolley bus services in the city. The 4 lines are 12, 14, 15 and 18. Trams are low floored and wheelchair accessible and the fleet consists of 44 articulated trams. By tram you can reach most of the popular attractions at ease.
Minimum fare for riding a tram is 2 CHF but with a complimentary Geneva Transport Card (issued by hotels as explained later) you can take free unlimited rides. The most popular routes are line 12 (to reach Museum of Natural History and St. Pierre Cathedral) and line 15 (to reach Palais des Nations, Paquis Baths and Botanical Garden).
Train
Geneva's main train station is Gare Cornavin (central station). The station is well connected to the airport, suburban areas, nearby towns and cities and also international destinations that include France and Italy. Swiss Federal Railway or SBB/CFF/FFS network is also a part of UNIRESO. Other train stations within the city limits are Lancy Pont Rouge and Eaux Vives (located on the other side of Lake Geneva).
Geneva to Lausanne is the main railway line and it has some important rail links such as Euro City (EC), Inter City (IC), Inter Regio (IR) and Regional Express (RE) which further extend to Bern and Bienne and then to Rhone Valley. Eurostar trains run to and from Geneva linking it to other important European cities. TGV Lyria trains connect Geneva to different parts of Switzerland and Europe. There are few more railway lines that connect Lake Geneva to popular tourist resorts and the mountains.
Intercity Trains mostly originate from Geneva airport, run along the northern shore of Geneva lake en route Geneva's central station towards Lausanne. Geneva Cornavin to Lausanne takes around half an hour to one hour depending upon number of stops. The nonstop IR and EC trains take the least time. There are several commuter trains (mostly run by IR) to and around Geneva. There are also several trains of tourist's interest like Vineyard train, Funicular Train, Train of Golden Pass line, The Chocolate Train etc. To know the detail timings you can download the SBB mobile app.
Water Taxi
Mouettes Genevoises Genève operates yellow shuttle water taxis from left shore of Lake Geneva to the right shore. Water taxis are known as Mouettes or Geneva gulls (in french les mouettes means seagull). Service frequency is 10 minutes. There are four lines M1, M2, M3 and M4. Between Monday to Friday it operates from 07:00am until 9:10pm (the last boat for some lines departs at 9:00pm or 9:05pm).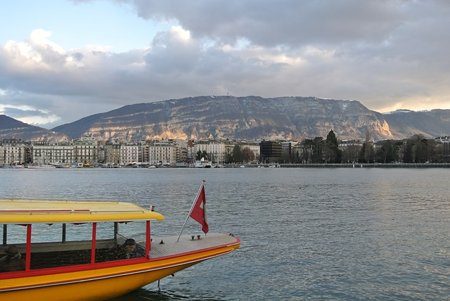 First boat leaves at 10:05am on Saturday, Sunday and holidays. Line M1 connects Paquis to Molard, M2 connects Paquis to Eaux-Vives, Line M3 goes to Port-Noir from Paquis and line M4 connects Port-Noir to De Chateaubriand. 1st October to 27th May is the winter season when the last boat leaves at 7:30pm on weekdays and 5:30pm on weekends and holidays. You can visit Mouettes official site for further details. Single trip ticket costs 2 CHF and 60 minute ticket is 3 CHF.
Taxi
You can not usually hail a taxi on the street in Geneva. In most cases booking online or calling over phone is recommended. There are several taxi companies here (Numbers: +41 22 320 2020, +41 22 562 0686, +41 22 320 2202, +41 22 331 4133.). You will find official taxis at few dedicated taxi ranks such as at the airport, Gare Cornavin (central station) and at Place du lac (city centre area). You can also book a Uber taxi using your smart phone Uber app.
Note that taxis are very pricey in Geneva. The base fare is 6.30 CHF and thereafter 7.40 CHF per kilometre (additional 0.60 CHF is charged per kilometre from midnight until 6:00am). There is extra surcharge for luggage.
Tickets and Passes
One can travel by all UNIRESO public transports (i.e. bus, tram, SBB commuter trains and yellow water taxi) using a single ticket. There are 10 travel zones in Geneva Canton area. Zone 10 is most important for tourists… it is the Geneva city area that includes the airport and all major tourist attractions. Other zones are for Canton of Geneva, Canton of Vaud, departments of Haute-Savoie and Ain (France neighbour).
A 60 minute ticket costs 3 CHF and it is valid for 1 hour. You can purchase it on your mobile phone through sms. For sms ticket you should have a Swiss SIM and you need to sms a code to 788… the code for 60 minute adult ticket is tpg1, a child ticket (6 to 15 years) for 60 minute costs 2 CHF and the code is tpg2, adult day ticket (valid for a day) is 10 CHF and the code is cj1, child day ticket is 7.30 CHF and the code is cj2. All these tickets are for zone 10 only.
You can purchase these tickets directly at the same price from ticket vending machines, TPG approved agencies (Bachet agency at Bachet-de-Pesay, Cornavin Station agency and Shore agency), SBB stations, TAC & TPN offices, French national railway stations, Mouettes departure points and Transdev stoppages. To know the exact purchase locations visit www.unireso.com.
Hotels, youth hostels and even campsites within the Geneva Canton area provide a complimentary Geneva Transport Card for free unlimited travel by Geneva public transports (buses, trams, CFF trains and Mouettes) within Zone 10 only. This card is non-transferable and remains valid for the entire stay duration in Geneva (departure date included).
Geneva Pass is a good option to explore Geneva. This card offers 53 free or discounted activities that include museum entries, cruise on the lake, Segway travel, rafting and lot more. You can buy 24, 48 or a 72 hour pass depending upon your duration of stay. 24 hour pass costs 20.80 CHF, 48 hour pass is 29.60 CHF and a 72 hour pass costs 36 CHF. To know more and purchase it online, visit www.geneve.com.
There are also few other passes and travel cards offered by TPG and SBB (Half Fare Card and Swiss Travel Pass) for travelling within Switzerland.
Popular Day Trips
Vineyard Train or the Train des vignes is a very popular tourist attraction. The train runs through terraced vineyards of Lavaux. This journey through the UNESCO world heritage site starts from Vevey and terminates at Puidoux-Chexbres. Train running interval is one hour. You can change a train at Lausanne and then catch a train for Vevey. There are also direct IR/RE trains to Vevey from Geneva Central station (check the official time table). Journey time is roughly 50 minutes and single journey ticket costs 14 CHF. Single journey fare from Vevey to Chexbres village is 2.40 CHF.
Another memorable experience would be a ride on Train du Chocolat or the Chocolate Train. This service is available during May to October. You need to board this train at Montreux. It will take you to a cheese factory and to a chocolate factory. Note that in May, June, September and October this train trip departs on every Monday, Wednesday and Thursday. Daily trips are available only in July and August. This package trip costs 138 CHF per person without using any discount card (the price will be half with Half Fare Card and even lesser with a Swiss Travel Pass). Take an IR train from Geneva central station to reach Montreux Gare. Journey time is  around 1 hour and 10 minutes. A single journey ticket is 15.50 CHF.
Golden Pass line train ride offers views of some of the best Swiss landscapes through a scenic train journey. From Geneva you can take this journey up to Interlaken Ost. One way journey time is around 5 hours and the ticket costs 38 CHF. Alternatively you can take a day trip up to Zweisimmen from Geneva central. This journey takes around 3 & half hours and costs 29.50 CHF. You can purchase tickets online using the website www.sbb.ch/en/. The Golden Pass line starts at Montreux and terminates at Lucerne via Zweisimmen and Interlaken.
Another lovely day trip is Geneva to Chamonix located at the foothill of Mont Blanc. You can either take a train (requires minimum of two changes) from Gare des Eaux-Vives located on the other side of Lake Geneva or take a bus from the airport or Gare Routiere (the main bus stand behind the English Church). Journey time by bus is around 90 minutes while train takes around 2 hours. By car it would take around 60 minutes.
There are also numerous options of private tours that would cost roughly 100 CHF per person. You can avail Key Tour's package trip (a major tour operator in Geneva). At Chamonix you can take the cable car ride from outside the town towards Aiguille du Midi which is a neighbouring peak of Mont Blanc. The view from this peak is breathtaking. Avoid the cable car ride if you have vertigo problems because the last part of the ride is real steep.
Getting To Major Attractions
Several attractions are within walking distances from the city centre area and for others you need to use public transports.
The best way to enjoy the cityscape, the snow-capped Alps on the backdrop of Lake Geneva and the spectacular Jet d'Eau (water jet) at Eaux-Vives is to sail around the Lake Geneva by mouettes.
Temple de Saint Pierre, Geneva or the Saint Pierre Cathedral is a 900-year old church and has eye catching architectural beauty. You can get a wonderful bird's eye view of the city from one of its two towers. Take bus line 1 towards Thonex from the city centre (Rue de Monthoux) and get down at Cirque (takes around 9 minutes), then walk for 10 minutes to get to the church. You can also avail tram line 12.
Like Jet d'Eau the large flower clock in Jardin Anglais (English Garden) too is a famous landmark of Geneva. You can walk to this place (1.1 kilometres from city centre) or take a line 25 bus towards Thonex, Vallard and get down at Metropole. It takes only 10 minutes by bus and from there Jardin Anglais is at a stone's throw distance. Within 500 metres of Jardin Anglais is another landmark… the popular Place du Bourg-de-Four. This is considered the oldest square of the city.
You can walk to Palais des Nations (the European head quarter of United Nations) from the city centre but three of the 4 routes require walking for over a kilometre. To walk the least, take a line 25 bus from Rue de Monthoux (city centre) towards Thonex, Vallard and get down at Cornavin (4 minutes). At Cornavin switch to F line bus towards Ferney, Mairie and disembark at Appia. Then walk for 5 minutes (around 400 metres) to Palais de Nations. Tram line 15 also goes to UN centre.
Car Rentals
Note that the airport is located on the border of France and there are car rental desks on both sides of the border. Ensure that you hire a car from the Swiss side. Hiring a car from the French side would attract extra toll charges while driving in Geneva, and you must return the vehicle at a drop point in France.
Driving in Geneva requires IDP (International Driving Permit). However IDP is not required for EU, US or Canadian driving license holders. The minimum age requirement is 21 years. The minimum rental rate is around 30 to 32 CHF per day. Following are few well-known car rental companies…
Hertz (https://www.hertz.com/rentacar/reservation/)
Enterprise Rent a Car (https://www.enterprise.com/en/home.html)
Sixt Rent a Car (https://www.sixt.com/)
Europcar (https://www.europcar.com/location/switzerland/geneva)
Avis (https://www.avis.com/en/home)
Boat Rentals
Renting a boat for family cruise or hiring a speed boat for adventure tourism is very common at Lake Geneva. To rent a speed boat you must be minimum 21 years old and a boaters license is required for those who are born after 1988. Rate for a speed boat starts from 170 CHF per hour. For family or group cruise (up to 6 people) the minimum rental rate is around 245 CHF for 2 hours. Following are few well-known boat rental companies…
Elmer's Boat Rental (http://www.boatelmers.com/)
Gordy's Marine (https://rentals.gordysboats.com/)
Marina Bay Boat Rentals (http://lakegenevaboats.com/)
Lake Geneva Boat Rentals (http://www.genevalakeboatrentals.com/)
Bike Rentals
Geneva is very bike friendly with over 90 kilometres of dedicated bike lanes in and around the city. The company Genève Roule offers free lending of bikes between 23rd April and 1st October to promote eco-friendly transportation. For renting a free classic bike you need to deposit 20 CHF and for a free electric bike 100 CHF. You need to provide a photo ID. They also offer paid bike rentals round the year. For further details, visit www.geneveroule.ch.
There are other bike rental companies as well. The minimum per day rental rate is 50 CHF. You can also take guided bicycle trips. Below are few other bicycle rental companies…
Bike Switzerland (http://bikeswitzerlandrentals.com/)
Bcyclet (https://bcyclet.com/)
Scooter/Motorbike Rentals
Minimum rental rate is 49 CHF for 1 hour, 59 CHF for 2 hours, 69 CHF for 3 hours and around 99 CHF for full day. A credit card is required to hire a scooter. You don't need any license to hire a single seated 50cc scooter but a proper motorcycle license is required to rent a 125cc two-wheeler or above. Following are few well-known rental companies…
 Scoot Jockeys (https://www.scootjockeys.com/scooter-rentals.htm)
Best of Lake Geneva (http://www.bestoflakegeneva.com/categories/bike-scooter-and-scootcoupe-rentals)
Also Read