The first word that will come to your mind while visiting Geneva is "Elite"…this classy city is home to superior scientific research organisations like the CERN (European Organisation of Scientific Research) and WMO (World Meteorological Organisation) besides most of the world's security and peace-promoting governing bodies.
Arguably the safest and the most organised city in Europe, Geneva is breathtakingly beautiful in both its natural as well as cultural aspects.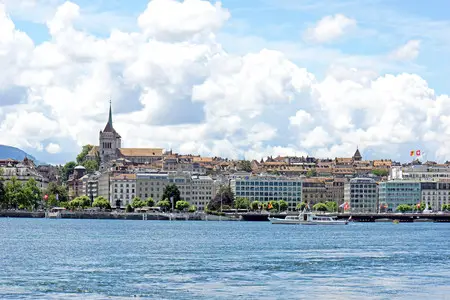 The other word that strikes you is "Important"….after all this is the world's favourite meeting place for diplomats and most plans that have changed the peace and security landscapes of the world have been hatched here.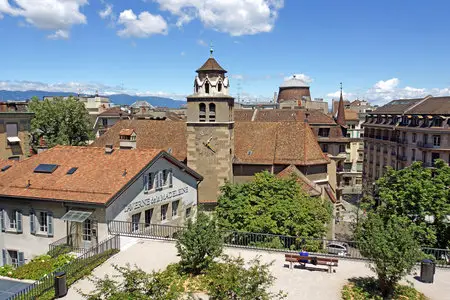 A short video
Attractions
Geneva is cut by the lower lakes basin and the lovely river and it exhibits the original pattern of traditional European cities… its neighbourhoods lie in belts around the centre.
The upper city (Haute Ville) that's on the original hillside of the city contains the famous St Pierre Cathedral and is actually the historic epicentre of Geneva. St Pierre's has a vast collection of archaeological exhibits ranging from historical times to the middle ages. Here you will find renaissance style houses and ornate medieval structures crowded together on very narrow streets.
The neighbourhood is now fuller of artsy galleries, antique shops and government buildings than citizen's homes. Watch out for the beautiful view of Bastion Park and the mountain range Jura.
The base of the hill contains a piece of reclaimed land and the Rhone river segment…this is a shopping site. Beyond the southern side of the river are 19th-century suburbs and then working-class residence zones cantered around the railway station. Walk towards the north of Rhone and you can view the impressive official buildings of the Red Cross and World Health Organisation and the European home of the UN.
The Conservatory and Botanical Gardens of Geneva is now a well-acclaimed centre of botanical research.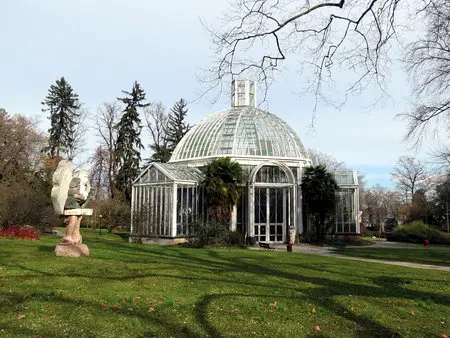 Geneva has quite a few wonderful museums… there is the museum of art and history, MAMCO (Museum of modern and contemporary art) the Natural History Museum, Red Crescent Museum, Ariana Museum. The Red Cross and Red Crescent museum have a huge permanent exhibit that traces the volume of humanitarian work done by the organisation for the last century and more.
In the centre of the international zone of Geneva is Place des Nations that contains the iconic Broken Chair which is designed by Daniel Berset (local Geneva artist) and it represents a battle against anti-personal mines. It's a large public square in front of the United Nations Building in Geneva.
The Natural History Museum had stuffed animals across the globe (including 8 kinds of tigers) and a special bat section along with a replication of the Dodo….a great place to take kids of all ages.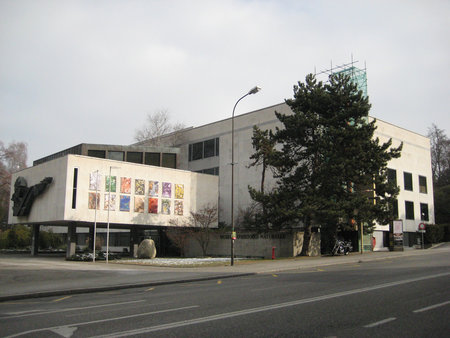 Also of special mention is the Barbier Mueller Museum that has coaction of antiquities sourced from civilizations and tribes that lie as far as South America and the Pacific islands. Look across the road from the museum at Rue Jean Calvin and you will be able to see the home of John Calvin the well-known reformation leader.
The oldest private building of Geneva is called Maison Tavel which was originally built in the 12th century by the Maison family and it stands at Rue du Puits doubling as a museum. Located in the historic old town of Geneva, this is a great example of medieval civil architecture in Switzerland.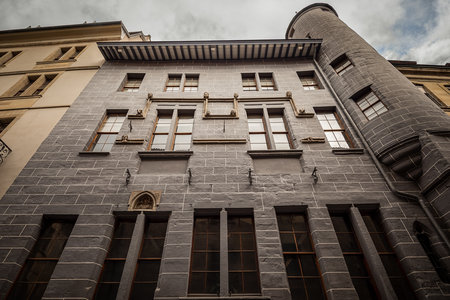 You should visit Maison Tavel if you want to learn how Geneva metamorphosed into a diplomacy hotspot. Don't miss the 3D carved miniature of Geneva's look in the 19th century that's on the top floor. There is a vaulted cellar and strong room here and the best thing is that it's a free visit.
Place de Neuve is one of the main public squares in Geneva. It once used to be an execution place. It is now a bustling place and is bordered by the Conservatory of Music, the Grand Theatre, the Rath Museum, and the Bastions Park. It's located between Old Town and Plaine de Plainpalais… it's a great place to start your exploration of the Old Town of Geneva. You can get to the square by tram #12, 18 or by bus #36.
Bastions Park is filled with lovely trees and plantations and is a nice place to escape from the concrete of the city. There is a popular café here whose outdoor terrace is converted into an ice skating rink. The park contains the Reformation Wall that details the transformation of Geneva into a hub of Protestants. Reformers Wall represents 4 major preachers; Jean Calvin, John Knox, Guillaume Farel and Theodore de Beze. Many giant chess tables are set up here and people are often found locked in silent combat.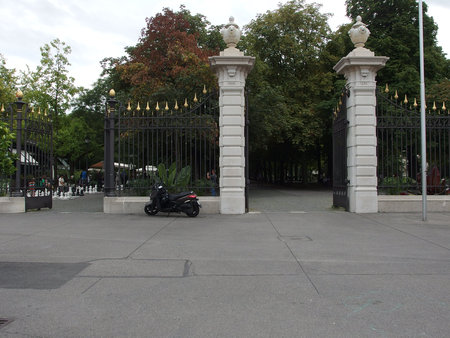 Go down to the Treille Promenade… this is a lovely green park located behind Geneva's City Hall. One of the key attractions here is a green coloured wooden bench which is claimed to be the longest bench in the world. This 120-meter bench was constructed in 1767 and has 180 wooden boards. Sit on the bench and spend some time in a romantic ambience surrounded by chestnut trees and looking at the Salève and Jura mountains.
Then there is Jardin Anglais or a pretty harborside park styled after an English garden. The reigning attraction here is the L'Horloge Fleurie ….Many clocks are found in the public area of Geneva but the most iconic of them is this…the Flower Clock that's literally made of flowers. More than 6,500 flowering plants are used for making the clock's face and it lies on the west side of the Jardin Anglais Park. The clock keeps changing its colours as seasonal plants and flowers are planted on an ongoing basis.
Look out for the nearby Boat Geneva which's a rescue boat converted into a community centre for vulnerable adults….breakfast and lunch are offered to people who want to eat on its decks.
The lovely Grand Theatre is a good venue for watching operas and the music conservatory that hosts famous competitions and shows. Another musical venue of great repute is the Orchestre de la Suisse Romande.
Watch out for the world's tallest fountain… Jet d'Eau that's a jet of water that rises 145 meters above sea level. This creates the best selfie opportunity ever especially if you position yourself along the Promenade du Lac and the Pont du Mont Blanc. It's possible to get even closer to the fountain by taking a boat ride on Lake Geneva or take a standard Moulette taxi boat and whizz from the right bank to the left bank all the while clicking pictures.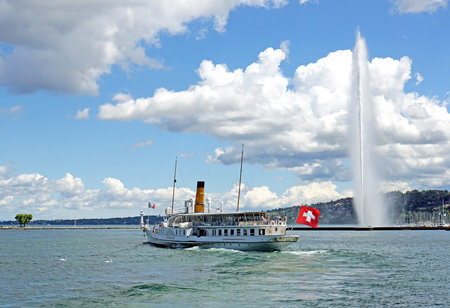 Like most Swiss towns Geneva is also dominated by a lake… Lake Geneva and this one is the biggest lake in West Europe. The lake shares its borders with Geneva, Lausanne, Nyon, Vevey, Morges and Montreux in Switzerland along with Yvoire, Thonon Les Bains in France. So taking a cruise (plenty of streamer cruise operators run here) offers you the option of exploring all these lovely places.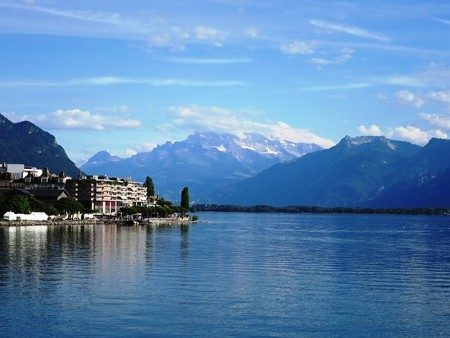 Lake Geneva has these quaint 1930 made public swimming baths that are an affordable version of the spa. You can get everything from a relaxing massage to a sauna bath to a delish fondue on the banks of Lake Geneva. Events are held here all year round and this includes musical sessions in the early mornings and lovely poetry readings in summers. This is one of the best areas in Geneva to people watch.
Incidentally, the spectacular Lake Geneva is a cruiser's paradise with the best views offered by cruises that go to the upper east portion of Geneva Lake. There are many photographic opportunities here and the dramatic Castle of Chillon is just one of the things. Lausanne to Montreux stretch is especially pretty. Geneva itself has 4 docks; Eaux Vives, Paquis, Jardin Anglais and Mont Blanc with plenty of water transport options. Cross country travel to France is super easy from here.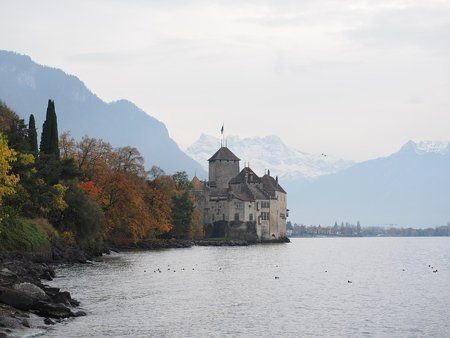 Another interesting place to check out in Geneva is the Bains des Paquis peninsula that contains a lakeside beach. Dawn concerts are often held here starting from 6 a.m. and they are free. Enjoy the Turkish bath facilities here…a good way to beat the nip in the air in winters. There are nice views of the lighthouse and you can stroll along the boardwalk.
If you are visiting Geneva for the first time, then you must visit the Smurfs Buildings… it's a housing complex located behind the main railway station. Right at the first look, you will be sure to exclaim 'Wow'. The colourful houses have relief balconies, curved walls with no linear surfaces, wrought iron railings and many other strange structures.
Inspired by the Spanish artist Gaudi, three architects designed and constructed these buildings between 1982 to 1984. The whole complex looks like a township of comical characters that popped up straight from the cartoon books.
Take a short bus trip to Saleve Mountain that's actually near enough to be the city's own local hiking spot though geographically it's past the French border. Take a cable car from Veyrier and go up to 1379 meters for a grand view of Geneva city and the lake. The summit is a good place to indulge in bird watching, hiking and paragliding and to stare admiringly at the Mont Blanc.
Take a tram ride out of town to CERN (the mecca of particle physics). A world-famous laboratory that's busy solving the mysteries of the universe is surprisingly free for exploration and a guided tour is highly recommended if you have school going kids or are a science lover. The 27-mile gigantic ring of magnets that's accelerating particle matter at light's speed will lie beneath your feet somewhere when you roam the corridors of CERN.
There are plenty of Ski Resorts that are easily accessible from Geneva and you can even whizz of on a helicopter to some of them. St Cergue in the Swiss Jura is very near and so are the Samoens, Chamonix and La Clusaz (all French resorts). Summers are good for mountain biking, hiking, tobogganing and paragliding while in winters you can ice skate on the lovely lac de Joux (only 90 minutes away) besides cross country skiing and snowshoeing.
Food and Drinks
Geneva is filled with Michelin starrers. Having a fondue is a must while you are in Geneva and one of the best places to have it is the vintage Les Armures (attached to a five-star hotel of the same name and boasting of diners like Bill Clinton). Also good fondue hubs are Le Gruyerien and La Buvette des Bains des Paquis.
And one must not forget Café du Soleil in Place du Petit that serves the traditional fondue made with cheese sourced from La Roche village and the other Swiss speciality dish Malakoffs (cheese balls fried to perfection). This place has tourist value… the building is centuries old and the interesting looking du petit Saconnex temple stands opposite.
Another interesting café in Geneva is in Rue des Bains… the Café des Bains is fashionable and serves world cuisine (leaf and zucchini salad with bacon and porcini and egg poach). Café du Centra is inside an antique brewery in Place du Molard and offers an excellent rare opportunity for a Sunday brunch.
L' Adresse in Rue du 31 Décembre is a huge urban chic lounge that offers an organic menu and a wonderful wine list along with an eclectic range of garments.
The restaurant Bayview at President Wilson Hotel in Quai Wilson area flanking Lake Geneva offers Michelin stars and eclectic food like sea snails with sausage along with the best wines in the country. The city centre-based Mandarin Oriental hotel has Rasoi that serves ethnic Indian cuisine with a twist like tandoori cloudy salmon and open chicken samosas.
The Domaine de Chateauvieux was a former noble castle and is now a prized restaurant that serves a lovely seasonal menu… try the ginger marinated Brittany lobster with generous portions of coconut green apple and Zita pasta. The du Parc des Eaux Vives is located in yet another wonderful 18th-century building and it offers an interesting menu composition…there's an earth menu and a sea and lake menu and a cheese and sweets menu (try the sautéed veal and whole sole grilled to divinity).
The 1930 themes ice cream parlour Remor near Plainpalais flea market is a great place to enjoy and watch the world flit by as you dig into their delectable sundaes and ice creams. The Tapas and cocktail bar Le Cheval Blanc in the Italian centre of the town is fashionable and delicious.
Nightlife
The relatively low on tourist zones of Carouge, Eaux Vives and Plainpalais have fashionable cocktail clubs like La Verre a Monique, Boulevard Du Vin (the birthplace of wine and tapas party in Geneva), Le Rouge Le Blanc (on the riverside), Bottle Brothers and L'A Tellier Cocktail Club.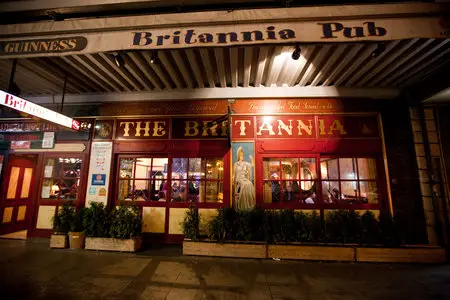 Or you could visit the L'Usine which's a variable arts venue that hosts everything from punk to rock to disco to house music….all things loud. The sophisticated Chat Noir in the Carouge region is a laid back club place with lots of friendly locals who are fans of the frequent comic gig nights and live music sessions that are held here. The Qu Importe in Carouge offers awesome tapas and wine and large outdoor tables. While on the subject of clubs do check out the Baroque Club on Rue du Rhone and Le Garconniere in the old town as well as the Mambo Club in Paquis.
If sunset cruises interest you then Lake Geneva offers nice options ranging from just the view and a glass of bubbly to 3 hours elaborate trip with 5-course meals and live music while you take in the beauty of the setting sun.
Shopping
The scenic old town of Geneva has many independent boutiques like Septieme Etage, La Muse, Jewels Jill Wolf etc. The expensive Rue du Rhone is a place for splurge shopping as there are lots of jewellery shops including L' Apollliaire and the iconic watchmakers Les Ambassadeurs. The huge departmental store Globus is located at the centre of the city and it has an excellent collection of cosmetics, clothes and homeware while the Bon Genie (conic Swiss brand) lifestyle store in Gerdier has 7 floors and everything fashionable.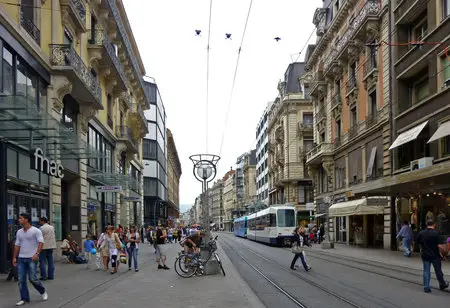 Plainplais is also an excellent shopping destination and there is an impressive collection of vintage home accessories at stores like Le Panape de Camela and Les Enfants Terribles. One of the few places to find affordable bags and dresses in Geneva is Le Grand Magasin and vintage collections hub, Ossie Clark. And if you love all things Chanel then Chanel Couture at Julia's Dressing is the perfect place.
Saturday mornings see the biggest flea market on Swiss lands here and you can get all sorts of stuff right from artefacts to second-hand toys to ethnic jewellery to pieces of vintage furniture.
Visiting the Italian centre in the French-dominated Geneva is a must and you can get amazing vintage things in the Numero 6 (it only sells carefully preserved second-hand stuff). If you have kids then a stop at Boutique O Little Top for treats and clothes is a must. This area has lots of glassblowers stores, Swiss watchmakers and stores selling Indie clothes.
And can a trip to any Swiss city be complete without buying a bag full of chocolates?? You need to visit Chocolate Auer …a 5th generation family-owned business that makes decadent luxe chocolate filled with cacao and alcohol.
Geneva is one of the cities where even blowing up a lot of money feels like a conscientious act….after all, you are in the epicentre of the world's peace….a place that deserves every bit of its wealth!!
How to reach
Geneva is a good business and holiday destination and few places which have nonstop flights to Geneva are Manchester, Newcastle, Bristol and Edinburgh as well as London. There are nearly 30 daily flights running to it. The airport of Geneva / Cointrin Airport is to the northwest of Geneva city that's close to France border. The airport to the city centre is only about 4 km and takes 6 minutes to reach by train.
Getting around
You can simply rent a car upon arrival at the airport, or make a more intelligent choice… go for free public transport option once you check into accommodation of your preference. A Geneva transport card comes free when you check into a youth hostel or a hotel or even a campsite inside Geneva!!
The transport card is non-transferable and personal to the holder and allows the holder to make unlimited use of the public transportation system in Geneva including the TPG bus, CFF trains and the yellow taxi Mouettes Genevoises (water taxis) totally free of charge.
UNIRESO which is the name of the Geneva Public transport network includes an interconnected and efficient system of trams, buses, mouettes or yellow transport boats and trains to travel within the city.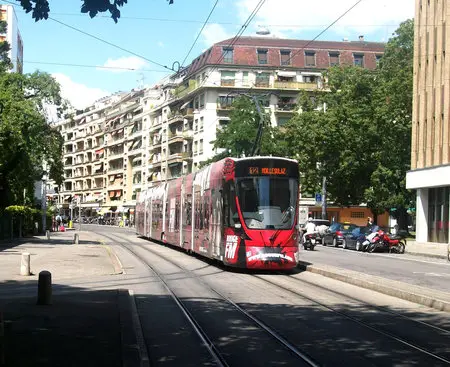 The core system of this intricate network of UNIRESO is TPG – Transport Public Genevois, which includes the local trolleybuses, trams and autobuses that go around the city, while the Swiss Federal Railway provides for the regional rail transportation. A single UNIRESO ticket is valid to travel through bus, tram or lake boat within a given UNIRESO zone. Tickets can be bought from ticket machines available at local bus or tram stop.
The main Bus station is Gare Routiere that's located in Place Dorciere and that's the principal departure zone for both domestic and international zones via bus. This is from where guided city tours and day trips etc. also commence (Key Tours is a major tour operator here).
The main train station is Gare Cornavin and it's extremely well connected to the airport, nearby cities, towns and suburbs. Other stations are Gare de Lancy Pont Rouge and Eaux Vives train station (city outskirts). SBB/ CFF Trains are a part of the TBG transport network.
Geneva to Lausanne contains some important rail links (euro city (EC), InterCity (IC), Inter Regio (IR) and Regional Express (RE) which further extend to Bern and Bienne and then to Rhone Valley. Eurostar trains run to and from Geneva linking it to other important European cities. TGV Lyria trains connect Geneva to different parts of Switzerland and Europe.
Several tourist-oriented train journeys like the Golden Pass line, Chocolate Train, Vineyard Train encompass the Lake Geneva region. The funicular rail lines also offer excellent sightseeing and mountain exploring opportunities if you wish to travel for pleasure.
Ferry shuttles transport people from left to right banks of the city. A shuttle can be found every 10 minutes and this is a delightful and cheap way to admire Geneva. Yellow water taxis are a part of the TBG network and these are called Mouettes/ Geneva gulls. There are 4 lines; M1 to M4 and you can use them free of charge.
Renting a boat for a personal long ride on the lake is also possible though that's not included under the transport card.
Geneva is bike-friendly to an extent of providing everyone with free bike rentals from April to October for 4 hours…you just have to contact the Geneveroule Association. At other times bikes can be rented at nominal rates from umpteen providers. The city has almost 90 km of cycling lanes and it's a great way to explore around. Electric bikes will allow you to ride through the countryside with minimum hassle. Guided tours are also available.
Read: How to get around Geneva easily using public transport
When to Go
The city of Geneva organises "La Fete de La Musique" a huge open-air music festival characterised by a string of concerts happening all through the old town and the lake banks. This usually happens in late June marking the beginning of the summer festival making it a good time to visit.
In summer end there is the extravagant firework display in August second week that defines the end of the summer festival (fetes de Geneve). The summer months are warm and breezy although the city is packed with tourists and you will have to pay premium prices everywhere. Sunbathing at Paquis Baths and hiking at Mont Saleve are best done in summers while skiing at the pretty resorts nearby is best done in winters.
December second week is when the Escalade or "pre-Christmas party" happens and this marks the failed siege of Geneva that happened in the 17th century. The old town and everywhere else sees hordes of costumed party people who sing and dance and then everybody joins in with lots of vin chaud and melted cheese items….obviously a good and super busy period to visit.
If you arrive avoiding Christmas and Easter in winters you might get some discount on hotels and airfare though there are icy strong winds in the city.  September-November and May-June are when you get the best combination of adequate weather and chance of rebates though you will be skipping all major festivals.
Read: Important weather information of Geneva and Switzerland.
Also Read