By the 13th century there was a sudden change in the fortunes of the rocky Gotthard pass region in Alps as it became a prosperous North South Crossing point. The verdant valleys of Schwyz, Uri and Unterwalden at the northern base of the Gothard began to see a lot of European power politics and this was how Switzerland was conceptualised.
Today Switzerland is the tourism and diplomatic capital of the world and the Swiss have separate and distinct stances in religion, politics and culture. This multicultural country has Germany as its northern neighbour, Austria and the Liechtenstein as its Eastern neighbour, Italy as its Southern neighbour and France as its western neighbour.
It equally recognises all 4 names; Schweiz (in German), Suisse (in French), Svizzera (in Italian) and Svizra (in Romansh) and in official signage like stamps and coins the name is Helvetia. All major European powers have always lauded Switzerland's neutrality and it was not involved in any of the world wars.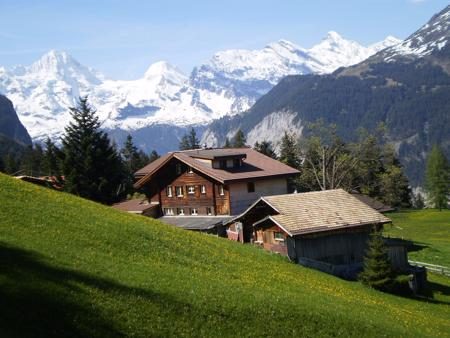 Switzerland had abstained from war since 1815 since the reformation era right after its military success against Burgundy and Austria and its escape from the clutches of the Roman Empire. Till 2002 the Swiss Confederation did not even join the United Nations group so you can imagine its strong stance on neutrality.
The social harmony and non-discrimination stands are strong in Switzerland… the Swiss had the first Jewish president Ruth Dreifuss. Understandably the non-discriminative attitude attracts more tourists. However the place has become a top tourist destination for many more reasons apart from its incredible beauty.
Interestingly tourism in Switzerland has its roots in the 19th century when British mountaineers climbed the mighty peaks of Bermese Alps (Bermese Oberlands). If you are a Holmes fan you will notice that the spectacular 7 tiered Reichenbacch falls in Oberlands was the site of Sherlock's death in 1893.
Geographically, the Swiss Confederation is land locked and it has three zones; the Swiss Plateau (lovely green stretches dotted with pretty farms and Swiss cows), Alps (mountainous picture postcard skiing heaven regions) and the Jura (verdant rolling mountains flushed with greenery). The famous Swiss Alps occupy the maximum area but the maximum population is found in the Swiss plateau.
Switzerland is a major source of two rivers; there is the Rhone that empties into the Mediterranean Sea and the Rhine that empties into the North Sea. The Swiss plateau is home to two powerful economic hubs of the world; Geneva (part of French zone) and Zurich.
The Cities & Attractions
The Italian zone of Switzerland has major cities like Lugano and Bellinzona; the the German zone has Basel and Lucerne, while Lausanne is another important city of the French zone. Zurich (north central Switzerland) is a wildly expensive city filled with classic museums, designer hotels, high end boutiques and an artsy urbane edge… it's set at the junction of River Limmat and lake Zurich and its heart is a small iconic hill called Lindenhof.
Read: Secrets of tourism in Zurich
Geneva (no, this isn't the capital city) is in the bay of Rhone as it leaves the lake Geneva and has a distinct cosmopolitan edge though all its citizens mostly speak French. This is more known for being the Red Cross headquarters and the capital of peace apart from the famous Lake Geneva and its iconic 140 meter high fountain…a place you should go to if Swiss urbanism interests you.
Read: Secrets of tourism in Geneva.
Basel offers a german-swiss border experience and is a conveyance hub besides sporting the feel of a medieval university town filled with 40 museums. Lugano in the Ticino zone offers an Italian- Swiss experience with mild Mediterranean climate, a calendar full of festivals and gardens full of spring camellias.
Bellinzona is more Italian than Swiss and has 3 magnificent castles, neo classical architecture and oodles of charming cafes, boutiques and curio shops.
The rather laid back Bern (this is the Swiss capital) offers the best peek into Swiss city life and some interesting experiences like shopping on its 6 km long arcade (Lauben) and a medley of cabaret stages, underground vaults and boutiques. Bern is an UNESCO heritage city with lots of heritage restored buildings, museums etc and its River Aare offers a rather amusing bathing experience while you look up at the Houses of Parliament.
The name Switzerland immediately conjures up an image of the Swiss Alps and obviously breathing in the fresh mountain air is one thing you want to do. One of the best places to base your visit around if the Alps are your priority is Interlaken that's a scenic town between two grand lakes…. having two convenient railway stations with direct links to Lucerne and Bern. All the amazing views of Switzerland Alps can be seen from the picture perfect villages right above Interlaken; you just need to drive up for 20 minutes.
In case you are in Switzerland during summers, the journey from InterLaken to Jungfraujoch (Europe's highest railway station stands at 11,371 feet above the sea level) will expose you to fantastic Alps views and superlative engineering.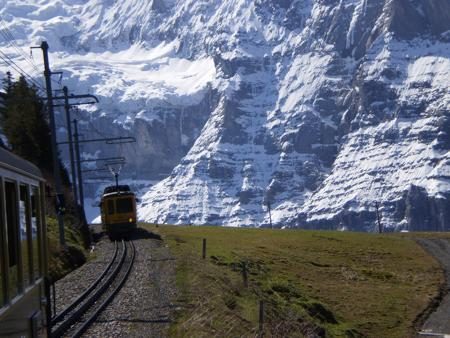 If you take the train then Lauterbrunnen with its profusion of mountainous waterfalls and hiking zones will be the last stop on this line. Gimmelwald with its magnificent mountain setting and Murren (reachable by cable car) with its package deal of mountains, resorts and restaurants are some of the best places to experience Alps in all its splendour. Don't forget the cable car experience (this will take you to the destinations listed above) and at the very end of the line there is the Schilthorn observation deck and rotating restaurant that will give you crystal clear Alps views (this was filmed in the bond movie "her majesty's secret service").
If the Alps are not your priority but Switzerland Mountains are still on your list then basing your holiday around Lucerne is a great idea. This is a resort town which is surrounded by small mountains and lovely hiking zones apart from shops filled with chocolates, watches and designer apparel… the entire Swiss offering in a nutshell!!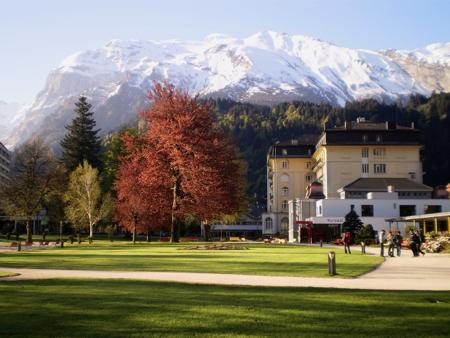 The older part of Lucerne has a majestic Lion statue that's totally instagram worthy. A nice activity here are the lake cruises on the 38 km Lake Lucerne… its worth spending at least a couple of hours in the cruise and then if you want you can get off at the lakeside villages or at Vitznau and then hike up-to Mount Rigi.
This peak is actually amongst the easiest mountaintop to explore in the area and you can take the train from Vitznau to its summit or the cable car from Weggis. Mount Pilatus, right behind Lucerne town is another great Swiss hiking spot though taking the Gondola/ cable car right up to the summit is also a grand idea.
Read: Great insights to tourism in Lucerne.
Another superb alpine peak to explore is the Mount Titlis and the Titlis Cliff Walk at its summit is the highest suspension bridge walk (3000 meters) in the world. Titlis is also reachable by a 45 minute train ride from Lucerne followed by a cable car ride.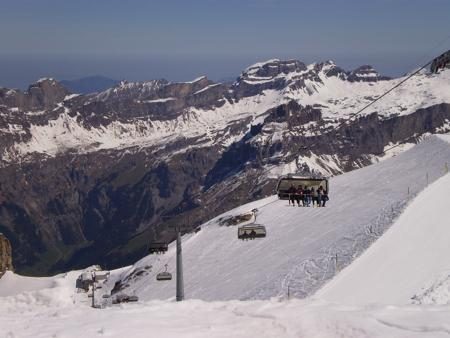 Jura falls on the French side of Switzerland and is the brand new canton member of the Swiss confederation and it's relatively virgin on the tourist heavy Swiss landscape. So a visit to this region is a great idea especially if you are coming from Paris (Euro line train will take you from Paris to Porrentruy Jura in about 2.5 hours). No traffic lights, a robust population of Freiberger horses (this area is famous for its races) and an atmosphere of serenity is found here.
You can also visit Delemont (Jura's capital) that's 40 minutes away from Bienne …its full of ravishing gorges and trailing streams along with galleries and museums that dot the ancient town. Near ponteburry you will find the green plains of Ajoe that's known as Switzerland's orchards…. a multitude of Damson trees, caves and vineyards mark this area. The nature reserve of Clos du Doubs (great canoeing and kayaking experiences along with fishing and biking) and the spiritual town of Saint Ursanne are other interesting areas in Jura.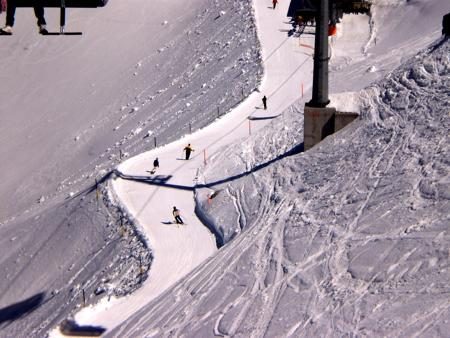 Between the serene Jura and the majestic Alps lies the Canton of Vaud (also known as wine country) that holds Switzerland's major attraction; the Lake Geneva. In fact this area has numerous lakes. Another nice attraction here is a museum dedicated to Charlie Chaplin at a 14 hectare estate on the slopes of Vevey (one of Chaplin's homes). Vaud is a gastronomic hub and offers unparalleled standards of hospitality and luxury so this is the region you should target if you are in the mood for some self-pampering.
Lake Geneva; Europe's largest liquid attraction is in Vaud and this lake actually shares the Swiss and French borders. This 7 mile long lake is flanked by many beaches and sumptuous resorts and you can take grand cruises on restored vintage yachts that will take you past the Victorian estates that line the shores. Nearby, you can find the Yerkes Observatory with the world's biggest refracting telescope and the Mountain top ski hotspot.
Lake Joux (Lac de Joux) in Vaud is one of the loveliest Swiss lakes and it attracts many windsurfers, yachters and tourists. The nearby area is great for biking and hiking and in winter when the lake freezes, it becomes a huge ice skating rink… the area becomes a real skiing paradise. Snow excursions with real dog sleighs is a huge event here in winter.
Espace Horloger is one of the top Swiss watchmakers and they have a center in Joux that demonstrates the art of watchmaking; this is a good diversion if you are passionate about Swiss watches.
You will be intrigued to know that the Swiss have their own Riveria i.e. the Montreaux Riveria that encompasses the borders of Lake Geneva right from Lutry to Villeneuve. Heritage castles (Chillon) and colourful towns dot the Riveria which also sports the Lavaux vineyard (Switzerland's largest vineyard and an UNESCO site). Montreux is one of the favourite destinations of the glamour world and you will find fantastic hotels, restaurants and clubs here.
If you arrive in Vaud in winters near Christmas then exploring the Montreaux Christmas market, the winter land and lumberjack villages are a must. And do not miss a visit to the grotto on top of Rochers de Naye in Montreaux; this is rumoured to be Santa Clause's original house and there is even a special train dedicated to him.
If you are the adventurous type then the exploring the peak walk that's a suspension bridge on glacier 3000 which connects two mountain tops …this is organised by Tissot and you can get clear views of the Jungfraum Matterhorn, Monch, and Mon Blanc Massif etc from here. Incidentally the walk is a free activity…one of the few budget experiences in Switzerland.
Very few know about the abundant salt mines of Switzerland and the fact that these mines had given 15th century Switzerland its power is a fact forgotten by mainstream tourism guides though the mines still produce more than 30,000 tonnes of salt annually. A visit to the salt labyrinths in Bex and a journey on the salt train to the salt museum will expose you a different facet of Switzerland.
Do not miss a visit to Lassaune that has been the seat for the International Olympic Committee and the famous Olympic museum, there are 17 parks in this town and it has been named "Europe's greenest city". The mountainous town has amazing metro train rides…a cheap way to explore the magnificently steep terrain of the places. And of course you can always splurge at the five star spas, restaurants and hotels here… you will find an abundance of Michelin starred chefs working here.
Shopping
A Swiss visit is incomplete without dollops of shopping and the country simply brims over with shops and boutiques. Handmade artisanal chocolates, jewellery and Swiss watches are the top things…. omega, Cartier, swatch etc all manufacture their products here. Cheese fondue, Swiss knives, cuckoo clocks and Swiss designer apparel are also best bought here.
Enjoy the atmospheric boutiques and vintage designer shops…there are virtually no malls in Switzerland. The country is so clean and uncluttered that you could almost follow James Joyce's advice "you can drink minestrone soup off the Bahnhofstrasse of Zurich"!! Well, even if you don't drink soup off the streets…you can surely try traditional Swiss fare like raclette, fondue and rasti here along with a nice bottle of wine (swiss wine is seriously underrated).
The Swiss chocolate and swiss watches and swiss cheeses are probably a permanent fixture in your shopping list.
Weather
Switzerland enjoys cool temperate climate generally while its mountains have glacial conditions and the south tip has Mediterranean climate (some southern areas even have palm trees). Switzerland has a lot of Fohn i.e. a warm wind that brings very low relative humidity to northern Alps and rainfall to Southern Alps. The inner recesses of alpine valleys are generally dry and the wettest areas are the Ticino canton and highest points of the Alps though these areas are also rich in intermittent sunshine.
You can visit Switzerland on every day of the year and your preferences should be shaped by our favourite experiences. For skiing go in December-January, for hiking go in April-May (spring) and for enjoying natural foliage and splendid festivals go in September-October. Summers (starts from June) have daylight till 9.30 p.m. are perfect for experiencing sports, sightseeing …this is again a busy season like winter.
Read: Important Switzerland weather conditions including Zurich, Geneva, Jungfrau etc.
How to reach
If you are flying into Switzerland then you will be landing either in Geneva or Zurich or Lugano or Basel Airports. For convenience and connectivity purposes Geneva and Zurich airports are better as Swiss Air operates flights from 43 countries to these airports.
One of the best things about visiting Switzerland is that you can easily target the state from various other European countries via trains. For example you can easily drop in to Zurich from Konstanz and Waldshut in Germany while checking out the lovely Rhine falls enroute. Munich to Zurich is also a pictersque 5 hour train ride and Freiburg (near the famed Black Forest) to Basel is less than an hour.
You can also drop in from Strasbourg and Colmar  (nearest Swiss city is Basel), Dijon (nearest swiss city Lausanne), Lyon (nearest swiss city Geneva) and  Riquewhr in France as there are direct train/ bus links connecting them to Zurich. Italy's Milan (3 hours 20 minutes from Laussane and 4 hours from Geneva) and Corno are also linked by train to Zurich.
Getting Around
The tram, bus and train networks are highly developed here and bicycles are an easy and popular method of local conveyance. Get the Swiss Travel Pass if you are making good 3 day or more use of the rail networks otherwise the Half Fare Card (gives 50% discount on cables, trains etc) is a good option.
In fact like Scotland and Ireland, scenic train rides are a superb way to explore and commute in Switzerland. If you have to shuttle between major destinations like Lucerne and Lake Geneva then avail the Golden Pass Line (another budget activity in Switzerland) that's free if you hold a Eurail pass…you can see mountains, vineyards, lakes and mansions in one journey. This is a great way to cover the Lucerne Interlaken Zweisimmen Montreux belt.
From Montreux i.e. the last stop in the Golden Pass line you can take another pretty 2.5 hour ride to Zermatt and here you have the option of availing the Glacier Express (voted the best scenic swiss journey) to St Moritz (an 8 hour journey). En route you can see rivers, lakes, villages and majestic glaciers and the Matterhorn in Zermatt (if you hold a Eurail pass you can get a 50% discount).
If you had enough of glaciers then take the Bernina Express from St Moritz to Italian border town Tirano (4.5 hour journey)  …its fascinating to see the landscape changing from glaciers to mountains to lakes to villages and fertile valleys.
Parting note…
There are a lot of reasons behind the immense popularity of Switzerland and on top of the list is its capacity to offer a happy, clean and immensely beautiful package of cultural and scenic experiences. The country is an example of cultural harmony; different zones in Switzerland use German, Italian, French and Romansh almost exclusively but there are no differences or dissents amongst them and the national identity is embedded in a common historical background with shared democratic and federal values.
Perhaps this is why Switzerland has been voted as the happiest place in the world according to the happiness index. This is one of the richest zones in the world and one of the most intellectually developed, well governed and economically competitive construct… a journey to the Swiss confederation is not only a fantastic tourism opportunity…it's a peek into excellent governance and peaceful and liberated existence.
Also Read