Getting into the City
Frankfurt am Main Airport is about 12 km southwest of central Frankfurt and it's near the Autobahn intersection (Frankfurter Kreuz) that's the junction of A3 and A5 motorways. The airport is a major hub for Lufthansa and is the 3rd largest airport in the world besides being one of the busiest travel hubs.
Airport to the city by bus
Bus stops are located opposite Terminal 1 (arrivals level) and Terminal 2 (level 2).
You can easily reach Frankfurt City centre by buses (61, 77, 72, 58 and 62) if travelling by day and buses (N81, N7) if travelling by night. Different buses will take slightly different times to reach but the standard time is 30 minutes. The ticket prices are 4.35 euros. You can buy the tickets from the bus driver just before you board. These tickets don't have to be punched.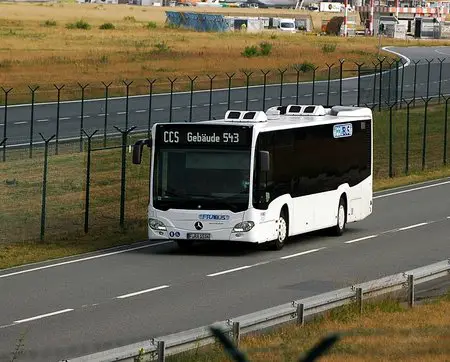 Holes near the Frankfurt airport offer direct shuttle links and there are two signposted hotel shuttle tracks near the airport. P 32 is located in front of Terminal 1 (level 1 arrivals) and P17 is located in front of Terminal 2 area D/E level 2 Arrivals.
ACHAT Comfort, Comfort Hotel, Best Western Amedia, Element, Holiday Inn, Hyatt Palace, Leonardo, Intercity, Ibis are some of the hotels that offer direct shuttle services. To know their timetables and exact schedules check the hotel shuttles section of the Frankfurt Airport Website.
Airport to the city by taxi
You will find taxis round the clock at both terminals and even in front of a long-distance train station. The trip from the airport to the city centre will take around 30 minutes depending on traffic flows.
Taxi fares from the airport to the city centre will range from 25 to 35 euros depending upon traffic.
You can book your taxi/private car transfer from the airport to the city centre or your hotel via this Viator website.
Airport to the city by train
Many urban trains stop at Frankfurt Airport's regional Train station that's located below Terminal 1 Ground floor. It's easy to reach areas A, B and C of the Arrival's area of Frankfurt airport from the train station. The station is served by RMV (Rhine-Main Transport Association) and has direct connections to Frankfurt, Hanau, Aschaffenburg, Mainz, and Wiesbaden.
You can avail of the S Bahn lines (S 8 & S9) or the Regional Express (RE 59, RE2 and RE3). The S8 and S9 will take you to Frankfurt City Centre Hanau/ Offenbach OST in about 15 minutes. If you get off at Frankfurt Hauptbahnhof then you can easily hop on another connecting train to another part of the city or take a taxi to your destination. Connections are available to other major cities or
Get your tickets from the blue ticket machines with the RMV sign on the Reisezentrum ticket office Terminal 1 ground floor. The tickets need to be punched otherwise you can get fined heavily. A one-way ticket will cost 4.50 euros.
Frankfurt Main Train Station
The Frankfurt Main Train station (Hauptbahnhof) is located west of the city and is counted amongst the biggest stations in Europe. There are 25 platforms here so things can get confusing but there are restrooms and currency exchange counters at each platform. Hauptbahnhof is well connected to major European cities like Paris, Berlin, Amsterdam, Vienna, Brussels etc.
The city's S Bahn (city train) offers quick access to city outskirts and surrounding cities like Hanau, Mainz and Wiesbaden. In peak hours, S Bahn can be found every 3 minutes and service starts from 4 a.m. on some lines. Some lines like S8 and S9 run all day. More information on S Bahn routes is available on the RMV website.
You will get maps on the platform and the electronic board and the S Bahn stations are identifiable by the green and white S symbol.
You can choose to ride to the long-distance train station at Frankfurt Airport operated by Deutsche Bahn (German Rail) if you plan to catch a flight.
Long-Distance Buses to City
Buses are available to Frankfurt from Strasbourg, Brussels, Munich, Berlin, Graz, Warsaw etc. All important European cities like London, Paris, Amsterdam, Manchester, Vienna, Salzburg, and Zurich are connected to Frankfurt by bus. Euroline, FlixBus, Flico, BlaBlaBus are the major international bus providers.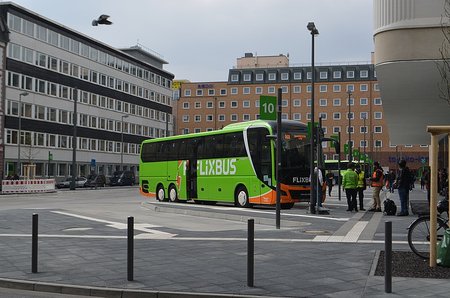 The central bus station in Frankfurt (both domestic and international) is on Mannheimer Strabe, a little south of the main train station. You can reach the bus station with tram 17 or can take the local train to the train station and walk some hundred meters to the bus station.
Driving a Car to the City
The German Autobahn has a legendary mystique and you might decide to take advantage of it and drive into Frankfurt. However, remember that there is a speed limit of 80 k/ph to 130 k/ph on the Autobahn once you approach Frankfurt. Remember that German drivers tend to be aggressive!!
You will find P+R (Park & Ride) car parks at the many access roads leading into Frankfurt. You can simply park your car and then use the bus and the train services to whichever part of Frankfurt you want.
Public Transport
The Verkehrsgesellschaft Frankfurt am Main/ Frankfurt Transport Authority (VGF) is Frankfurt's main public transport operator and it manages the intercity rail, metro as well as tram lines. VGF runs the public transport system in Frankfurt along with RMV (Rhine-Main Transport Association).
Transport systems are tightly integrated and biker friendly as trains, metro and trams all have bike racks. There are different fare zones that you can study further from the VGF/ RMV website but Zone 50 covers most of the city (not the airport). A single ticket will allow the use of tram, metro and rail and will be time stamped.
Metro, Trams and InterCity Rail
Trams in Frankfurt are called Strassebahn and they are tightly integrated with the metro system and rail lines. This tram-metro-rail network is commanded by the RMV and allows travel via a single ticket all across Zone 50.
The metro system of Frankfurt consists of the S Bahn (9 routes of suburban trains) and U Bahn (9 routes of tram and underground line combinations). If you are about to use the metro extensively then download the RMV app on your phone and use its navigation service to quickly plan your journey.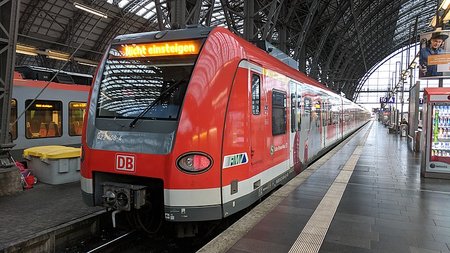 The U Bahn (underground) works hand in hand with the tram system. 9 tram lines are cutting across the city and 90 stations. Metro/ tram runs every 2 to minutes till 8 p.m. and then every 15 to 20 minutes after that.
Travel costs in Frankfurt will depend on how many zones you travel across by this integrated system but it's about 2.75 euro for a single adult one journey one direction integrated ticket (train, metro, tram, bus). If you are travelling for less than 2 km using the metro then select Kurzstrecke' i.e. a short trip ticket that's priced at 1.85 euros per adult. If you are biking your way inside the city then know that metros allow bikes free of charge though not in peak hours.
Calculate your fare from the RMV website here.
The Frankfurt Card can help you get great discounts on metro travel. Or else you can buy the all-day ticket (this costs a little more than the fare for 2 journeys) for 5.35 euros per adult. This will let you travel as much as you want within a chosen fare zone in a single day. The All da ticket is also available as the Group Day ticket (5 people including kids and adults) and this will help make heftier savings. There is a weekly pass (can be used for 7 consecutive days) that's sold at the airport, tourism offices and some ticket machines… it costs 25.70 Euros.
You can buy metro/ tram tickets from any VGF/DB ticket machine or the bus drivers. If you are buying tickets for travel within Frankfurt from the automatic ticket machines then press the Einzelfahrt Frankfurt 'button. If you are buying the all-day ticket then press the Tageskarte' button. Use the RMV website to plan your trip and check timetables of the UBahn, S Bahn and Strassenban. Most transit stops have ticket machines and these accept euro coins and notes besides chip and pin cards.
Note: The RMV controlled transport systems are mostly honour-based. This means ticket checkers will not check every single person but if you are caught without a ticket you will straightaway be fined 60 euros.
Bus Service
Buses are used as fillers in Frankfurt's rail and tram/ metro dependant transport system. Bus stops are close together and they can serve as a city orientation guide for the tourist and can help them get from their hotel to the metro station. The northern part of Frankfurt has sparse S Bahn stations and their buses are useful. Between 1 a.m. and 4 a.m. U Bahn and S Bahn frequency are sparse and night buses become useful. These Nachtbuses have numbers preceded by N and fares are the same as day buses.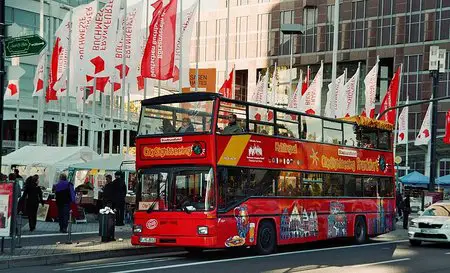 You can use the different hop on hop off bus services to get around the city. Some of the popular hop on hop off bus services are Frankfurt Skyline Hop on Hop off tour, City Tour Frankfurt and City Sightseeing. There is usually the choice of 2 routes and 16 stops and a free walking tour is also offered.
Bus rides are included in the combined ticket (train-metro-tram).
Taxi Service
Taxis are available throughout the city but dense concentration can be found in front of airport and train stations. Taxis in Frankfurt are cream coloured and display TAXI roof signs. For trips up to 2 km, there is the option of Kurzstrecke (flat rate of 5 euros) while long journeys (more than 2 and less than 7) cost 1.50 euro per km.
Frankfurt's TAXI RUF, Main Taxi Frankfurt and Taxi Frankfurt 55 are some popular taxi operators. Below are their calling numbers.
TAXI RUF: 069 23 00 0 1
Main Taxi Frankfurt: 069 733030
Taxi Frankfurt Now: 069 55 88 00
You can also book taxis online from the respective websites of these operators
Tickets & Passes
The all-day tickets, weekly tickets and all-day group tickets are a good way to save money. Apart from that, there is the Frankfurt Card that comes for around 22 Eros. Up to 5 visitors can use all transport systems in Frankfurt (train, metro, bus) for 24 hours. Additionally, they can travel to and fro from Frankfurt Airport.
The Frankfurt Card also includes discounts on entry fees to certain attractions. Note that day tickets and group tickets that allow unlimited use of Frankfurt fare zone 50 are not valid for travel to the international airport (fare zone 5090).
Frankfurt Card is available in 1 day and 2-day versions and the end of operations hours is 5 a.m. This date-specific pass can be printed at home and will have the registered participant's name mentioned on it.
You can buy a Frankfurt Card online or from Tourist Information offices (train station and airport too).
Walk
Take a map from Romerberg Tourist Office and go on a sightseeing walking tour as most of Frankfurt's main attractions are closely punched together. You can walk around the 5 km Frankfurter Wallanhage (luscious parkland ring around the city centre). Walk along the north bank of Main towards European Central Bank or walk along the south bank and admire the boats moored by. Frankfurt is ideal for self-guided walking tours.
Car Rental
The narrow streets of Frankfurt and chaotic flows of traffic may seem unwelcoming but remember that you can rent luxury vehicles here at much cheaper rates than in most European cities. 
Buchbinder, Europcar, Dollar Car Rental and Hertz are some of the best value car rental companies in Frankfurt.
You can also use an umbrella car rental website like AutoEurope that allows you to compare rates for different cars provided by different service providers and then choose your vehicle. Rental rates will depend upon the car you choose and duration but the base per day rental rate for an economy vehicle is 14 euros. Remember that German cars come with manual transmission and if you need automatic transmission inform in advance.
You will need a valid license from your home state and ideally an International driving permit. Check with your credit card company to see if your card covers insurance and bring a copy of the terms and conditions that state your coverage. Pick up points are found all over the city and near the airport and train stations.
Bike Hire
Frankfurt is a designated biking city and is crisscrossed with bike lanes. 'Einbahnstrassen' or roads in which cars can travel in one direction but cyclists can travel in both directions run through Frankfurt. Then there is a bicycle street in the centre of the city Goethestrasse). The city's main offering to cyclists is the 600 m Cycling path along the river Main
You can use Deutsche Bahn's shared bicycle scheme and pick up a bike from any of the Call a Bike stations. All you have to do is to register and then book a bike.
Alternatively, download the Call a Bike app and select the bike number, make the payment and get the lock/ unlock code. Pick up the bike from your preferred pickup point…they have more than 100.
The moment you register and pay for the service a lock code is provided that will allow you to use the bike.
A similar service is offered by Next Bike and Listnride and they have many pickup points across the city from where you can pick up a bike after getting the lock code.
The usual fare is 9 euro per day and 1 euro per half an hour. There is a cheap monthly scheme too where you can rent a bike for 10 euros per month.
Bike Tours are very popular in Frankfurt and so are schemes in which a bike tour is combined with a rental plan for the entire day. This means that you can do a guided tour of the city and then bike around the riverbank (or wherever you please) on your own.
You can ride across the 14 km city centre route and admire the skyline (10 of Germany's tallest skyscrapers are here). Or you could be more ambitious and ride from Sachsenhausen (south of Main) to Frankfurt City forest to Kelsterbch and then back to Main River… a 28 km trail. The edge of the Tannus mountain range is 25 km away from Frankfurt city centre and experienced bikers love the thrill of heading off here.
Also Read