Getting to the City
The city of Florence is served by two airports. One is Florence Airport known as Aeroporto di Firenze-Peretola (FLR) located little over 4 kilometres north-west of Florence city centre. The other (also in Tuscany) is Pisa Airport also known as Aeroporto Internazionale Galileo Galilei Pisa (PSA). This airport is located around 80 kilometres west of Florence city centre.
You can choose from a wide range of private transport and transfer services (including airport transfers) and book online from this Viator site.
From Florence Airport
There is a shuttle bus service known as 'Vola in Bus' operated by BusItalia that connects the airport with Florence city centre. First bus leaves airport at 5:30am and the last one departs at 12:30am. Service interval is 30 minutes and the journey time is around 20 minutes. A single journey ticket costs 6 Euros, you can purchase tickets from the bus driver (drivers do not sell return tickets though).
Taxis are available at the taxi rank outside the airport building. The set taxi fare from airport to Florence city centre is 22 Euros. Note that during nights and holidays the fare is higher.
Private car transfers and car rentals are also available, for more details and taxi calling numbers see the relevant sections below. Note that a tram line (#2) will be operative soon which will connect the airport with city centre.
From Pisa Airport
Bus station is located outside the arrival area. You will get Autostradale shuttle buses run by Airport Bus Express to get to the Main railway station of Florence. First bus leaves airport at 4:45am and the last one departs at 12:30am. Journey time is 1 hour 10 minutes and the fare is 14 Euros. Service interval varies from 1 hour to 1 hour 45 minutes. You can purchase ticket online from their website as well as from the Information Desk located at the airport arrival area.
Another shuttle bus service that connects Pisa airport with Florence train station is Sky Bus Lines Caronna. Buses run from 8:50am until 7:00pm from Monday to Saturday at an interval of 1 hour 10 minutes to 1 hour 25 minutes (total 9 shuttles per day), from 8:50am to 5:45pm on Sundays (total 5 services). Journey time is 1 hour 10 minutes and the ticket costs 14 Euros. You can purchase tickets online from their website as well as from information desk at the airport.
Florence main railway station is well connected with Pisa central railway station by train. Pisa central railway station is located at a distance of 1 kilometre from Pisa airport, and they are connected by automated high speed trains. This service is available from 4:30am until 1:30am at an interval of 5 minutes. The journey time is 5 minutes and a single way ticket costs 2.70 Euros. There are 46 daily trains from Pisa Central to Florence starting from 4:30am daily. For details see the Day Trips section below.
Taxis are available outside the airport building. Fare is around 140 Euros and it will take one and half hours. You can book a radio taxi by calling 050 541 600. Private transfer options are available too.
Getting To Florence By Train
Florence Santa Maria Novella (Firenze SMN) is the main railway station of Florence. It is well connected with other parts of Italy as well as Some European destinations. This station receives trains from Rome, Naples, Bologna, Milan, Turin, Venice, Padua and other places of Italy. You can reach Florence by trains from Zurich or Geneva via Venice and from Paris via Milan.
Public Transport
Bus is the main transport to get around Florence. However there is one tram line and commuter train services to reach the suburbs.
Bus
Azienda Trasporti Area Fiorentina (ATAF) or the Transport Company for Florence Area and Li-Nea operate the public transports in Florence. Their fleet of buses/minibuses (orange, deep purple, white and blue) connects almost every part of Florence (other than Pedestrian areas i.e. Duomo, Tornabuoni and Piazza Pitti areas).
There are almost 100 lines that include 4 night lines. Line 12 and 13 (regular size bus) are useful for tourists. Both the routes connect Piazzale Michelangelo (Michelangelo Square) and San Miniato al Monte Basilica. Buses generally operated from 6:00am until 1:00am.
Mini electrical buses connect almost all major tourist attractions from the city centre area. These buses operate from 8:00am to 8:00pm. The four minibus lines are C1, C2, C3 and D.
Tram
Presently there is only one tram line T1. The second line T2 will soon connect the city centre with the airport. A third line is also under construction. T1 line connects Scandicci with Careggi covering a distance of 11.5 kilometres. There are 26 stops but this route is not quite useful for tourists. First tram departs at 5:30am and the last one leaves at 12:30am. Service interval is 4 minutes during peak-hours (7:30am to 8:30pm) and 6 minutes during off-peak.
Hop on Hop off
This is a good option to explore Florence. Commentary in 8 different languages are available that include English. This service is operated by ATAF and Li-nea companies. A hop on hop off bus ticket also allows you to travel free by city buses operated by both these companies. There are three different routes- line A, B and C with a total of over 30 stops covering all major attractions (presently Line A and B are operative). The service is available daily and you have an option of purchasing tickets for 24, 48 or 72 hours.
Ticket validity starts from the first time you board a bus. First bus of line A departs at 9:00am throughout the year while the last bus leaves at 6:00pm during April to October and at 4:30pm during rest of the year. Total route duration is 60 minutes and service interval is 20 to 60 minutes depending upon time of travel.
Line B operates from 10:05am from April to October and from 10:15am for rest of the year. Last bus departs at 5:05pm during March, April, October and November. During April to June the last bus is at 6:05pm, during July to September at 7:05pm and during November to March at 2:15pm. Service interval is around 1-2 hours. Ticket price is 24 Euros for 24 hours, 28 Euros for 48 hours and 33 Euros for 72 hours. You can purchase ticket online or through its mobile app as well as directly from ATAF office at Piazza della Stazione.
Taxi
Florence taxis are white in colour with a taxi signage on the roof. Taxis are metered and you will find vehicle's registration number inside the taxi too. Taxis in Florence cannot be hailed on the road. You need to get to the nearest taxi rank to hire one (you may ask locals), you can alternatively call a taxi over phone (extra surcharge applies). The base fare is 3.30 Euros from Monday to Saturday (6:00am to 10:00pm), 6:60 Euros from 10:00pm to 6:00am and 5.10 Euros on Sundays and holidays. Per kilometre charge is 1.64 Euros and waiting charge is 24 Euros per hour.
There is a minimum charge of 5 Euros when you hire a taxi around the city centre area. There is a 10% discount on total fare for a lone woman hiring a taxi between 9:00pm to 2:00am and since it is not automatically calculated, ask the driver for the discount before you pay. Following are a few taxi calling numbers… 055 4242, 055 4390, 055 4798 and 055 4499.
Train
Florence Santa Maria Novella Station is the main station and located at the heart of the city but there are two more stations… Florence Rifredi and Florence Campo di Marte are located at the outskirts of Florence. If you are travelling by intercity trains check your ticket as some of the intercity trains do not have stoppages at Florence main station, instead they stop either at Rifredi or Campo. Campo di Marte is located west of the main station at a distance of around 3 kilometres. Rifredi station is located around 3 kilometres north of the main station and reachable by RV and regional trains.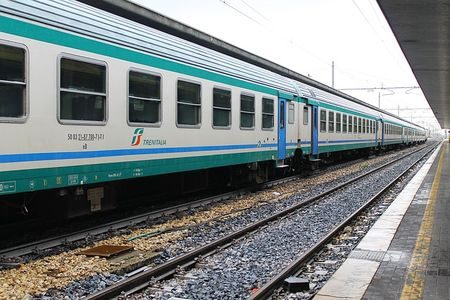 Tickets and Passes
There are various ticketing options available in Florence. Following are the ones most useful for tourists…
A Single Ticket costs 1.50 Euros and works for 90 minutes after validation (however purchasing on board from the driver costs 2.50 Euros). Single ticket for a night bus is 5 Euros. You can also purchase a 4-ride ticket (economical) for 4.70 Euros.
Tickets are available at ATAF offices near main station, ticketing machines, Tobacconists, Coffee shops, News Stands and bus drivers. Look for the ATAF sticker on the shop windows. Tickets from machines are usually stamped and need no validations while all unstamped tickets require validation. Note that ATAF tickets are accepted on trams. You will find ticketing machines at all the tram stoppages.
A Firenze Card along with a Firenze Card+ is a nice option if you plan to stay up to 3 days at Florence. Firenze Card costs 85 Euros and remains valid for 72 hours after your first entry to any museum (covered under the card). You can additionally pay 5 Euros to purchase Firenze Card+. This card offers unlimited travel within the city limit by ATAF and Li-Nea buses and trams.
The main benefit of this card is you can jump the long queues at the various attractions (72 of them are covered under the card). Note that the usual entry fee at Uffizzi and Accademia (the two main museums) is between 15 to 24 Euros each. The card however doesn't allow multiple entries to the same museum. The city centre area of Florence is compact and you can see most attractions on foot; so if you are staying within the city centre area then buying a Firenze Card+ is not essential.
Getting To Major Attractions
Florence is full of beautiful architectures and arts. Main attractions can be reached on foot. All trips below start from Piazza della Stazione (the Station Square area) which is the main transport hub.
Uffizzi is one of the finest art galleries and museums in the world. It's located 1.3 kilometres south of Piazza della on the bank of Arno River. Walk down the road Via delle Belle Donne or Via Panzani. To get there by bus take a C2 towards Piazza Beccaria from Stazione Via Panzani bus stop (250 metres walk), disembark at Clarks Orsanmichele then walk for around 400 metres. You can also take a C4 to Pecori Duomo and then walk for around 750 metres. Combine your trip with Loggia dei Lanzi (an open Gallery) located adjacent to Uffizzi.
The Gallery dell Accademia is another great museum showcasing the master pieces of Michelangelo. It's located little over a kilometre to the east. You can reach there on foot by taking the roads Via Nazionale and Via Guelfa. Walk time is 15 minutes. Combine your trip with Riccardi Medici Palace located 350 metre south west of Accademia. This is another palace with stunning architecture. Reach there through Via Camillo Cavour and Via Degli Alfani. It's a 4-minute walk.
Piazzale Michelangelo is a great place to watch the fabulous cityscape and if you are here during April to June, do not forget to visit the Iris garden to see the vibrant colours of Lilly. This place is located around 2 and half kilometres south-east and across river Arno. The best transport option is to take a line 13 bus from Fratelli Rosselli (650 metres) to ll David. Bus takes 22 minutes.
You should visit the biggest bell tower in the world, Duomo (Santa Maria Cathedral). It's located around 900 metres south-east of Piaza della and quite walkable. The walk takes 10 minutes along the road Via Panzani. Combining this trip with Uffizzi, Loggia dei Lanzi and Palazzo Pitti or the Pitti Palace is a good idea. See the Ponte Vecchio (Old Bridge, the oldest in Italy) while getting to Pitti Palace. Visit the nearby Baptistery Pitti Palace is famous for its diverse group of museums and located only 1 kilometre south of Duomo across the river Arno. Take the road Via dei Calzaiuoli to reach there. Also visit Boboli Gardens right behind the palace and explore the classical sculptures.
There are also guided walking tours available to explore Florence.
Horse Drawn Carriage Rides
Horse drawn carriages in Florence are known locally as fiaccherai and the carriage driver is known as fiaccheraio. There are a dozen of such horse drawn carriages that take tourists for a local tour in and around the city centre area. The carriages are usually available between piazza della Signoria and piazza Duomo where they wait for the tourists. You can ride one on the spot (if free) or book in advance. The tour usually lasts for 20-25 minutes and costs 50 Euros. The carriage driver often offers commentary and points at the important landmarks and buildings.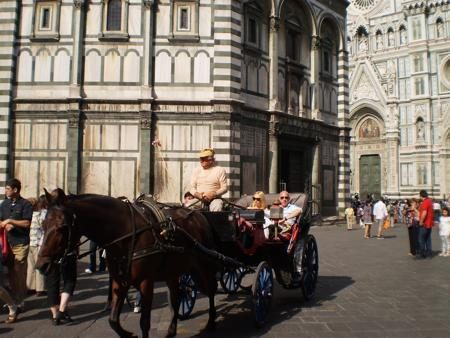 Day Trips
All day trips below start from the main railway station (Florence Santa Maria Novella) unless mentioned otherwise.
You can easily get to the Leaning Tower of Pisa by train. There are trains almost every half an hour and it takes around 48 minutes to little over 1 hour to reach Pisa Central Station. You can avail regional or express trains. Check train schedules here on the website. Ticket costs minimum of 10 Euros (depending on the type of train). For slower trains you can buy tickets from the ticketing machines at the station. The Leaning Tower is around 2 kilometres north of the Pisa central station. It's a pleasant 25-minute walk or you can take a bus (Lam Rossa) just outside the station. Try to purchase the bus ticket at a shop inside the station (1.20 Euros). Purchasing on-board the bus would be costlier (2 Euros). Taxis are also available.
Cala Violina is known for its charming beach resort. It's located around 138 kilometres south-west. First take a regional train to Piombino. One-Way journey time is 2 hours 20 minutes. Ticket costs 16 Euros for single journey. From there Cala Violina is around 34 kilometres. There are public buses (you can also hire a car). You need to walk for the last 2 kilometres to get to the beach.
The entire town centre of the ancient city Siena is on the list of UNESCO world heritage sites. Siena is located at a distance of around 63 kilometres to the south. Take a direct regional train to Siena. One-way journey time is one and half hours. Ticket costs 9.30 Euros.
Livorno is a seaside resort town on the coast of Tyrrhenian Sea and located almost 90 kilometres west of Florence. You can combine the Pisa trip with Livorno. From Pisa Livorno is 22 kilometres towards south. Florence to Livorno Central station is 1 hour 10 minutes journey by RV trains (some trains might take 10 to 15 minutes longer). Train ticket is 10 Euros one way.
Volterra is a great little town and known for its Etruscan origins. It's located around 70 kilometres south-west of Florence. Take a regional train towards La Spezia Centrale and disembark at Pontedera (takes 45 minutes to one hour, one-way ticket costs 7 Euros). Then take a line 500 bus to Volterra. Journey time is 1 hour 20 minutes and ticket is 4 Euros.
Beautiful landscapes, tongue tickling food and great wines are the main features of Chianti region. Southern Chianti is directly reachable from Siena, and Northern Chianti from Florence. Siena and Chianti day trips could also be combined. The small town of Casa Chianti Classico is located 26 kilometres north of Siena. There is a line 125 bus from Siena to Radda in Chianti. One-way journey time is one hour. A SITA operated bus from the main bus station of Florence (100 metres from the main station) will take you to Greve (a place in Northern Chianti and takes 1 hour). From mid June to end July on Tuesdays and Thursdays there is a bus service from Florence to Siena via Greve. Check the SITA website for further details.
Bike Rentals
Motor vehicles are restricted in the historical city centre area of Florence. However biking around the city centre area is fun and hassle free. There are no dedicated bike paths in the city centre area so take the main streets. Outside the city centre there are over 90 kilometres of dedicated bike paths. You can easily hire a bike and pick it up from a bike rack. A popular bike rental scheme here is known as "Mille e una bici". You can pick up a bike either from central station area or from Piazza Ghiberti. It is estimated that by 2020-end there would be around 1000 bike racks in and around the city. For non-residents the bike hire charge is 2 Euros for 1 hour, 5 Euros for 5 hours and 10 Euros per day.
Since 2017 another bike rental scheme has been launched by the Chinese company Mobike and known as "free flow" bike sharing scheme. You need an Italian SIM card to download the Mobike app (in near future international SIMs too would work). There are over 100 racks from where a bike can be picked up (the number is increasing). After downloading the app create an account and register your debit or credit card. You can spot the nearest bike rack with the help of this app and can immediately reserve a bike. After finding the bike unlock it by scanning the QR code on the handle bar. The introductory hire rate is 30 cents for every half an hour and there is a deposit of 1 Euro (it would be 5 Euros in future). After use leave the bike at any rack and lock it using the lever.
Note the following points carefully before riding a bike on Florence roads.
Do not park your bike sideways especially at the city centre area
Strictly follow one-way street rules, violation may attract a fine of 41 Euros
If it is unavoidable to enter any one-way street from the wrong direction, then get down from the bike and walk.
Do not ride the bike along crosswalks.
Car Rentals
Florence city area allows public buses, taxis, and cars of local residents only; the city is a restricted traffic zone (Zona a Traffico Limitato or ZTL). Outside cars with only special temporary permits are allowed. Note that in Tuscany many cities and towns follow this motor vehicle restriction especially in and around the city centre area. ZTL in Florence is active from 7:30am until 8:00pm on weekdays and 7:30am until 4:00pm on Saturdays. You can however drive a car here whole day on Sundays. ZTL hours are extended during summer (Please check with their official site for more details). The car rental companies located within the city centre area can arrange for a temporary permit.
The minimum age required in Italy to drive a car is 21 years (for larger cars 25 years). A home-country driving license along with IDP is required apart from passport and credit card to rent a car. Car rental companies are available at the airport area and at the main railway station of Florence. The minimum per day rental rate for small cars starts from 19 Euros and the rate for SUVs start from 31 Euros. Following are the few well-known rental companies…
Hertz- https://www.hertz.com/rentacar/reservation/
Avis- https://www.avis.com/en/locations/it/florence
Alamo- https://www.alamo.com/en_US/car-rental/locations/it/flrc73-firenze-dt.html
Europcar- https://www.europcar.com/
Scooter/Motorbike Rental
Scooters/Motorbikes are ideal to explore the outskirts of Florence and Countryside of Tuscany. Minimum age for riding a light scooter is 14 years. A driving license, passport, credit card and minimum 1-year old driving license are must. Minimum rent starts from 30 Euros per day for a 50cc and 55 Euros for 100 and 125 cc scooters. Following are some well-known scooter/motorbike rental companies…
Florence by Bike- https://www.florencebybike.it/
Florence Station Rental- http://www.florencestationrental.com/
HPMotorrad Motorcycle Rental- http://www.hpmotorrad.rentals/en/
Florence Motorcycle Rental- http://www.cimt.it/florence_motorcycle_rental.htm
Transport Tips
Validation of your bus ticket is a must. Validate it immediately after boarding because fine is hefty
Purchasing tickets from drivers are costlier and you have to tender exact fare as drivers do not dispense changes
It is possible that a driver is out of ticket so try to purchase tickets before boarding
There are 3 doors in regular size buses, front and back doors are for boarding and middle door is for getting down
Always wear helmet while riding a scooter/motorcycle.
Also Read