The capital city of the Tuscany area, Florence is one of the highest populated cities of Italy. The Renaissance movement first reared its head in Florence and it's often referred to as "Athens of the Middle Ages"….the Florentine dialect formed the base of what is known as "standard Italian" today.
Florence had a tumultuous political history interspersed with periods of rule by the Medici family, and it was the capital of Italy between 1865 to 1871. UNESCO has declared the historic city centre of Florence as a world heritage site and the city has many galleries and museums that are of world fame besides possessing a lot of Renaissance architecture…Forbes has ranked Florence amongst the most beautiful cities in the world.
The city has a convenient and picturesque setting… it's only about 230 km away from Rome and has gentle hills overrun by farms and wineries. The city possesses the most convenient north-to-south crossing of the river Arno and there are two slim streams called Mugnone and Affrico that meet the river giving the city a good water supply system.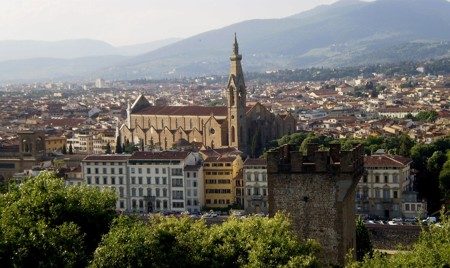 Interestingly the local coin here i.e. the florin later became a world monetary benchmark. This is the city of Amerigo Vespucci and Dante and Machiavelli and Da Vinci apart from the powerful Medici rulers…the glory of Florence is mostly in its past and its citizens still relive their history every day.
Attractions
Most of the attractions of Florence are art Centric and the city is dotted over with lovely architecture. Any one of the galleries in Florence can contain more high-value art than a standard European city can offer from all its entirety.
Uffizzi is one of the finest galleries in Europe and it's worth braving the queues just to catch a glimpse of Botticelli's "Birth of Venus"…the horseshoe-shaped gallery contains many more gems made by the masters. While you are here do admire the palace structure too…it used to contain government offices, natural science and alchemy laboratories and a theatre. The facade is Romanesque and uniform but the interiors demonstrate a mixture of styles.
Loggia dei Lanzi (also known as Loggia della Signoria) is an open gallery with huge arches facing the street. It's located right adjacent to Uffizzi gallery and at a corner of Piazza della Signoria (an L shaped popular public square). There are magnificent Roman sculptures here some of which date back to the 1500s and have been restored.
The sculpture in the picture below (titled 'Rape of Sabine Woman') was first discovered in 1541 in Rome and brought here in Florence in 1749. It has however gone through a major restoration.
The Galleria dell' Accademia bursts with fine work of art but the Adonis sculpture carved out of a single marble block by Michaelangelo 500 years ago is the star here. The Accademia area is a great area for people watching and coffee drinking.
Standing at the Michelangelo Square will give you a sweeping view of the whole of Florence and great exposure to the local coffee and art culture…you need to cross the river and go into the Oltrano district for this. And while you are here the Iris garden that sports hundreds of Variants of Florence's official symbol should be a part of your schedule especially if you are visiting around blooming season i.e. April to June.
En route to the Michaelangelo Piazzale, there is a lovely little stop in the form of the Rose Garden Giardino delle Rose which has more than 350 variants of roses. This is a great place to have a glass of wine and some nibbles.
The Duomo area, i.e. the Piazza del Duomo will command a lot of your time and you need to plan ahead for this visit. The Florence Cathedral or Cathedral of Santa Maria del Fiore dominates the whole city and commands you to walk up its 463 steps Giotto's Bell Tower. This was the biggest Bell Tower in the world till 1881 and is spectacularly beautiful.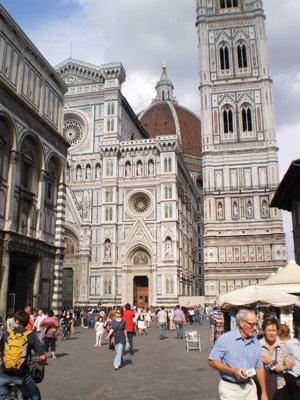 The 277 feet tall and 15 feet wide Giotto's Bell Tower has several paintings and statues made by Andrea Pisano and Donatella. Look closely and you can see 3 different architectural styles in it… some locals say that the view from the Bell Tower top surpasses that of the Duomo.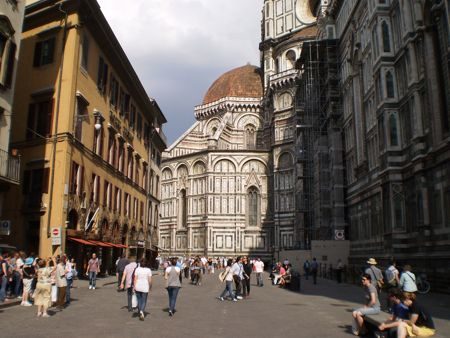 Right near the Cathedral is Florence's oldest building i.e. the Baptistery commands massive crowds. Cross over from the Gates of Paradise (the entrance gate is covered with exquisite etchings by Lorenzo Ghiberti) and keep staring up…the entire ceiling space is full of frescoes.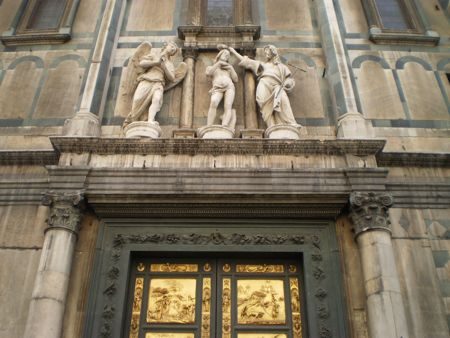 The Palazzo Pitti or the Pitti Palace has the most diverse group of museums in Florence probably because of the fact that this was the home of renaissance art collectors. There is a mind-boggling array of work created by Titian, Rubens and Raphael here apart from period fashion and household goods used by the powerful Medici family.
When you are tired of all the sightseeing head off to the Boboli Gardens (right behind Pitti palace) to relax…it was once the back garden of the Medicis and is now a public park full of classical sculptures. Sit by the angelic Grotta di Buontalenti for a moment to rejuvenate your soul. Together the palace and the gardens can rightfully claim an entire day of your time.
Peer across the palace complex and you will see the Ponte Vecchio Bridge which is the oldest bridge in Italy to straddle the Arno. Its volatile history of surviving wars and floods makes it a tourist attraction…this bridge will mostly be crowded with tour groups.
An interesting activity will be to sign up for an hour-long River Cruise under the Ponte Vecchio Bridge across the gleaming Arno. You need to hop on to your Barchetta that's a tiny traditional boat and the oarsman will point out city sights like Uffizi and Duomo to you while you sip on Prosecco.
One free restful activity in Florence is visiting the Bardini Gardens that can be approached from San Niccolo street or Costa San Giorgio street and is near the Pitti gardens. The Giardino Bardini garden has a maze of walking paths, fountains, shrubbery and a café with amazing ice cream.
Santa Croce Basilica has similar design sensibilities as the Duomo and holds the tombs of Galileo Galilei, Machiavelli and Michelangelo along with some outstanding artwork (watch out for the frescoes penned by Giotto). This along with Museo dell opera di Santa Croce contains many objects found inside the church.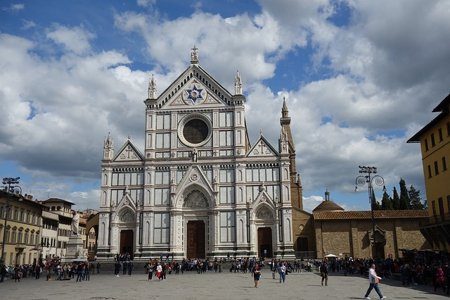 The Piazza della Signoria was a Florentine power hub and its iconic Palazzo Vecchio will give you an exhaustive look into the history of the city….the palace which hosted the Medici's offices now hosts the city office. Florence has many palaces (palazzos) but the 5 storeyed Davanzati in Via Porta Roza is a standout. This has the most comprehensive collection of utensils, furnishings and household objects that belong to the 1300-1500 period though most of the displays here have come from the Museo Nazionale del Bargello.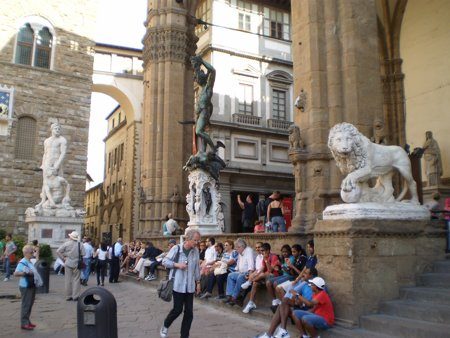 The palazzo owners were prosperous wool merchants and not royalty so you can see a different perspective of Florentine wealth here….the paintings and the design of the house is masterfully restored to their original glory.
And if royal palaces fascinate you endlessly then go on a spree covering the Palazzo dello Sttrozzino and Strozzi (the Strozzi family used to compete fiercely with the Pitti's)…Piazza Strozzi is named after this wealthy family. The Bargello palace on Via del Proconsolo and Palazzo Medici Riccardi in Via Cavour are visit worthy too.
Exploring the Chianti Classico sub-region could be an interesting diversion. There are specialised Wine Tours that will help you. It's a commonly known fact that the area between Florence and Sienna produces exquisite wine, so vineyard hopping is definitely recommended.
Another great activity is to drive up to the Hot Springs of Petriolo that are near the banks of River Farma in the Monticiano district. The springs are beautifully surrounded by chestnut and oak trees and flanked by ancient mansion walls…a nice location for a healthy soak. Many travellers decide to check out the historic town of Pisa and the Cala Violina Beach from Florence.
Food and Drinks
Like most Italian cities Florence too has its indigenous dishes that must be tried out on your holiday. When you are feeling especially ravenous try the Bistecca alla Florentina or the massive t-bone steak with its smoky flavour and meagre accompaniments like lemon, pepper and salt. Don't try to instruct the chef about your preferred steak style…the Florentine steak has its own fixed process.
While you roam around on the streets of Florence, you can observe that Lampredotto or the intestine seasoned sandwich (consumed with herby green sauce or hot red sauce) is a local favourite. Another local favourite is Pappardelle al Cinghiale or pasta with heavy sauce and wild boar meat. And almost any restaurant in Florence will serve you Tagliatelle Funghi Porcini e Tartufo or thin pasta with truffles and porcini mushrooms.
The Tuscan bread is typically crispy and salt less and everywhere in Tuscany the Crostini appetisers i.e. little pieces of the bread topped with cheese, vegetable puree, meat etc are made. The hearty Ribollita soup conjured out of leftover vegetables, stale bread and copious quantities of tomatoes and beans is Tuscany's favourite comfort food.
The Tuscan version of Focaccia i.e. the Schiacciata bread is very try-worthy… especially the version that's baked with grape. All over Florence, it's easy to find light meat (usually salami) and cheese platters (usually sheep cheese) and it's wonderful to have the Tagliere (Italian name for it) during midday for a light meal.
While in Florence…drink in the bold red wines of Tuscany….Chianti produces great value extremely high-quality red wine. Just order local wine in Florence and you won't be disappointed… Montalcino (red) and Vernace (white) are good choices. Your sightseeing in Florence will automatically expose you to some great trattorias and wine bars. For example, the tourist dense Duomo (Florence Cathedral) area has the inviting Coquinarius Wine Bar (pigeon roast beef and innovative salads) and right beside the Uffizi gallery there is Ino with its gourmet Panini and cold platters.
Should you visit Piazza della Signoria then the sophisticated Caffe Rivoire with its delectable confectionery is a must-stop spot. The Santa Croce area has the celebrated Florentine chef Fabio Picchi's Cibereo and Ciberiono both of which offer fine dining. And a spot of shopping at Sant' Ambrogio market is never complete without the thin-crust pizzas at Pizzeria Santarpia.
Similarly, a visit to Piazza della Repubblica (one of the main squares in Florence at the centre of the city) demands a visit to Gilli (supposedly the oldest café in Florence). Procacci is a small little eatery here with only 6 tables but serves amazing rolls stuffed with truffle cream… you can find mostly locals here, staff are polite and speak English. A walk beside the Arno riverside is beautifully complemented by a meal at 4 Leoni/ Enoteca Pitti/ Borgo San Jacopo.
If you are looking for cheap yet authentic Tuscan food, then go to da Nerbone behind Central Market where you can be among the locals in a casual relaxed atmosphere. The eateries here serve pasta, salads, sandwiches etc from the stands on the ground floor of a building. Lampredotto (a typical Florentine dish) served with salsa verde in bread is extremely popular. People come here simply to eat cheap & good food quickly and go. While they open at 8am daily, they close down at 2pm.
There are a number of nice restaurants upstairs in the same building serving all sorts of food starting from wood-fired pizzas, pasta to vegan & vegetarian food, to seafood & steaks. These restaurants here remain open till dinner time and are usually full of tourists. There is also a long bar there at the centre.
The centrally located Cantinetta Antinori is owned by the well known Antinori wine family from Tuscany. They serve excellent Crostini with baby liver and fine Tuscan wine. The place is cosy and comfortable. Try to visit IL Borro Tuscan Bistro owned by the Ferragamo's – the first family of Italian fashion. While the food served here is simple and average, the range of fine Tuscan wines served here are produced at the II Borro Estate in Tuscany and a wine connoisseur's dream.
Nightlife
The La Terrazza Rooftop Bar stands on the top of Hotel Continentale in Piazza dela Signoria and is one of the most sought after places for an aperitif. The atmosphere is chic and expensive and you can see Florence's skyline and the Arno from the window.
The Santa Croce area has a 13th century restored Palazzo called Concini which has a fantastic sky-lit ceiling and a vertical garden in its first-floor bar called Locale. It's worth spending an evening here for the creative cocktails like mescal infused Negroni and the moody ambience. Just some steps away from the main square is Moyo that's an approachable nightclub.
The San Lorenzo area has the Westin Excelsior hotel which sports the Se.sto an elegant rooftop bar that allows a 360-degree view of the skyline and the hills. The setting is the 1970's and it's a treat to sit on the terrace tables and sip the signature IL' Saggio (a peach and gin bitter).
Enjoy your evening old Florence style on the Procacci that stands on Via Tornabuoni….it blushes with marble interiors and mahogany accents. The in-house dry wine Spumante is interesting and so are the Panini tartufati. Le Volpi L'Uva is an interesting (and affordable) wine bar in the Oltarno area…they source wine bottles from all over the country and serve the wine with bite-sized crostini and cheeses.
80 different kinds of gin and an array of cocktails are offered at Ditta Artiginale (doubles as a café at daytime)…there are two branches (Santa Croce and Oltrarno). And for some serious (and innovative) drinking head off to Borgo S Frediano presided by star mixologists Julian Biondi and Fantechi Neri….they have cocktails with names like "Donald is a Trump". Oltrarno also has Volume that plays live music and offers great apertivos.
Should you arrive in Florence in the evening stop by Tenax that's Florence's most eccentric nightclub ….it's near the Peretola airport (Saturday nights are hot here).
Lastly, don't think that your nights in Florence must necessarily be spent inside a club. There is a beautiful Street Music culture here…international music is played by local artists between the stretch of Loggia dei Lanzi and the Uffizi Gallery. The Ponte Vecchio area has great Italian street music while exotic Balkan music is played at Piazza della Repubblica…stroll on for a musical adventure.
Shopping
One great place to shop for fresh produce and wine in Florence is the 19th century Mercato Centrale (i.e. Central Market) that's a picturesque attraction in itself. Great things to pick up here are Italian cheese, fruits, vegetables, olive oil, spices and cuts of cold meat (it's a daily market for the locals). Central Market is also known as Mercato San Lorenzo because it's located close to the San Lorenzo church.
The Piazza Santa Croce area is another historic shopping site…the leather school (Scuola Del Cuoio) was started here and it's the best place to shop for leather souvenirs. The Piazza is full of other leather shops too and you can get quality bags, jackets, shoes, belts and wallets here. Here on a small lane off the Piazza, there is a shop, studio and factory owned by the Gori family who are well known for leather goods. You can avail a 15-minute free tour, experience the making of leather accessories and purchase what you may like.
The open-air markets of Piazza Republica, San Lorenzo and Piazza del Nuovo are great for leather good shopping too.  However, note that San Lorenzo (i.e. the Central Market) is surrounded by numerous stalls selling leather bags and goods that do not always seem to be of authentic origin… so shop carefully here.
The Medici family was passionate about gold jewellery and this is why Florence still has lies of fascinating jewellery shops…find handmade Etruscan jewellery in the Ponte Vecchio shops.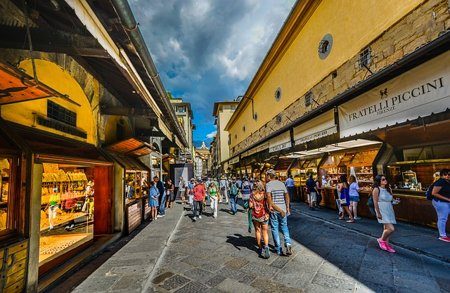 A totally unique Florentine art piece that you can buy is the "Commesso Fiorentino" that's a tiny mosaic made of roof marbles and semi-precious stones. Artisan perfumes, luxurious creams, handmade soaps and gorgeous ceramic ware are other things that you can shop for in Florence.
If you want to shop for edgy Italian fashion then Palazzo Pitti with its umpteen fashion fairs and flagship stores in its vicinity is a good place to go. The Via Tornabuoni area once housed the rich nobles of Florence and now the fashion jewel brands like Cartier, Bulgari, Prada, Gucci, Pucci etc. are found there.
For luxe shopping, the Via della Vigna Nuova with its Lacoste, Etro stores is a good bet along with the Via del Parione which has mostly speciality stores and boutiques. Florence has a lot of antique shops….Via Maggio and Via de Fossi teem over with treasures and exude a definite museum-like vibe. Loggia di Pesce in piazza Beccaria is also a great haunt….if you are lucky you might be able to visit the Florentine antique markets that happen on fixed dates.
Getting there and around
Florence has a tiny but well-connected airport….Amerigo Vespucci (also called Peretola) that's just 3 miles away from the city centre. The Santa Maria Novella train station and the Vola in Bus Line Coach Station are near each other and both send vehicles to and fro from the airport.
Another better connected and the larger airport is Pisa's Galileo Galilei airport that's 62 miles away from Florence. The Autostradale bus service connects the airport to Florence 20 times per day. There are many trains connecting Pisa Centrale station and the Santa Maria Florence station and many private bus companies like Trenitalia and Terravision run vehicles between these points.
The latest addition to the transport system is a nice driverless train candidly named "the People Mover"….it connects Pisa Centrale Train station and Pisa Airport and literally moves hordes of people to and fro these points
The Santa Maria Novella station (one of the busiest Italian railway stations) is quite well placed…if you are staying in any of the Centro Storico hotels you can walk to your chosen accommodation option. From Santa Maria you can take a train ride to the Firenze Campo Marte, Rifredi, Firenzi Statuto stations depending upon which part of Florence you want to go to.
One of the best ways to get around in Florence is to use the "bussini" or the ATAF New City Lines….these are electricity run small busses zipping through the city. You can buy ATAF tickets from tobacco shops, newsstands and even through text messages…buying them in multiples is recommended (get the Carta Agile or the discounted bulk ticket).
As of 2018 Florence has just one electric tram line T1 that has its exclusive station at Via Alamanni (near Novella train station) and then it travels through 14 stops till it reaches Scandicci suburbs.
Another nice way to get around is to rent a bike from Campo di Marte / piazza Ghiberti/ Rifredi stations and ride around in the city. If you prefer more comfort then take the city sightseeing bus meant for tourists….it is open-topped, you can hop on and off and there is a multilingual audio guide.
Read: Florence transports and how to get around easily
When to visit
Florence has a rather humid subtropical climate which is similar to the Mediterranean. The summers here are hot and interspersed with light rainfall and winters are cool and damp with occasional snowfall. Florentines love their summers and celebrate its onset in style with the famed Notte Bianca that sees hordes of bands and film stars and artists descending upon the city….every street and bar becomes a stage.
May to September sees a lot of art and music festivals, open-air dining and warm balmy weather though the peak summer can turn hot and uncomfortable. Fall and early winters mean lower room rates and shorter queues at Duomo and Uffizi. Choose to go during Fall if you can brave a dipping Celsius and early summer if budget isn't an issue.
Read: Important weather information of Italy
Also Read