Brighton's favourite adage must be "let's do it"… here the unusual is the norm. Art is displayed in bars and theatre is performed in restaurants. People get along fantastically and everyone loves the hippy culture. This is the single most important talent hub of England in all domains of fine arts, music, literature, theatre and there are a staggering number of production houses here.
This lovely coastal city has great places to bike around but you will keep stopping and admiring street art or you will probably laugh out hard at a grass root comedian performing a stand-up act or you may be bewitched at any of the hundreds of curio shops around it. And the buzz of seagulls fleeting around adds to the relaxed bohemian vibe that pervades the city.
One of the least religious places in UK, Brighton is vociferous in its support of the LGBT's and unwavering in its solidarity towards ethnic minorities and against racial discrimination. What makes Brighton special is not dazzling natural beauty nor man made wonders…it's the creativity and loveliness of the human spirit.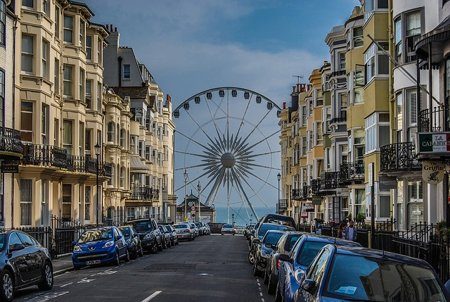 The attractive location of Brighton (it's sandwiched between the English Channel and the lovely South Downs Park) and its proximity to London (only an hour away by train or car) makes Brighton easily accessible. The fact that Dr Russell heartily recommended a vacation in Brighton back in 1750 for rejuvenating people who were sick and depressed was just the beginning of a wave of love for Brighton amongst tourists.
Attractions
One of the few outstanding monuments in Brighton is the 19th century Royal Pavilion … the beautiful former royal home of the Prince Regent Sports Indo Saracenic architecture with oriental designs in its interiors. It sort of looks like a smaller version of the Taj if you know what I mean…take the audio tour if you can. Incidentally this Grade-I monument was once the holiday home of Prince of Wales. Check out the lovely art gallery and the replica rooms. The Natural sciences collections here is super interesting…about half a million insects are frozen in time here.
An underground tunnel connects the Royal Pavilion to the Brighton Dome which brings together 3 separate cultural venues; Corn Exchange, Studio Theatre and Concert Hall. Music, dance, poetry readings and lots of other programs happen here and the whole complex is pretty impressive to look at. Interestingly the underground tunnel was used to transport an overweight Prince of Wales from his holiday home to entertainment venue.
If you are with your kid's then visiting the Sea Life Aquarium is a must…it was built in 1872 and is the world's oldest aquarium. The building is lovely and Victorian and there are massive arches that reach up the glass enclosures. It's delightful to see the colourful marine life and there is even an interactive rock pool where you can touch a sea anemone or a star fish.
Checking out the Duke of York Cinema is also a good idea…after all it is the oldest picture house of England (dated 1910). Arthouse movies are still screened here though two more screens are operating under the banner in separate locations now.
The Brighton Marine Palace and Pier has an amazing funfair, arcade halls and lots of restaurants….it's also referred to as the Palace Pier or Brighton Pier. The West Pier is another heritage construct…it was built in 1866 and is a Grade I listed pier.  Look out for the west pier arches that glow at night with their creative ocean themed lighting…white, sea green and blue.
The Brighton Marina will make you spend at least a couple of hours in its charms; don't miss the Globalls which is a toon infested glow in the dark golfing venue. The whole family can have a crazy time playing Jurassic glow golf and Tropical Glo Golf. There is also a 26 lane bowling zone and a casino and electric bike rental agencies.
Walking along the marina and staring at the fishermen and their seagull friends or enjoying the eclectic organic food at any of the scores of cafes and restaurants here can easily be the highlight of your trip. If you want you can also avail the free chess and ping pong tables or fill up your bags in arguably the best shopping zone of the city.
Watch out for the Brighton Clock Tower that was built in the year 1888 for the event of Queen Victoria Jubilee. The Brighton Toy and Model Museum is a lovely ode to childhood nostalgia; it sports above 10,000 items ranging from miniature cars to plasticise kits to puppet theatres to railway models to Barbie dolls in a stunning array of dresses. The star of the show is a rare 1930s rail layout with vintage train.
Now that you are done checking out all the interesting buildings here dive straight into the throbbing art and culture scene here. The challenge is to find out where to start and stop. ONCA in St George's Place has art that is geared towards bringing in change and addressing societal and environmental concerns. Learn all about synthetic ecology here and realistic theatre in artsy caves. The building in itself is Grade II regency listed and beautiful to look at.
Marlborough on 4 Prices Street is an 18th century pub that has now its LGBT favouring theatre production company Pink Fringe…it hosts excellent shows all throughout the day. Comedy, satire and literature readings keep on happening here.
Fabrica on Duke Street is reconverted church that now has artist communities that keep holding screenings, exhibitions, talks, workshops etc. Phoenix on Waterloo Place is a giant artist studio complex and exhibition venue that has curated art displays and screenings of new age cinema. Coachworks on Hollingdean Terrace is a huge building that has everything…gallery, brewery and film and event hub.
The largest artists free festival called Open House Festival happens in Brighton (between 6th to 20th may) and so does the biggest music festival of the country (Great Escape) and one of the biggest fringe festivals (between May to June). If you love music and the arts, falling in love with Brighton is as natural as breathing.
You can take a ride in the Volks Electric Railway Line that was established in 1883. This is supposedly the world's oldest operating electric railway and runs from Brighton Pier to Brighton Marina via Black Rock.
The 532 feet tall British Airways i360 tower looks a little odd on the lovely seafront because of its resemblance to a tent pole but you can get a fantastic view of Brighton and the Channel (on a clear day the Isle of Wight). It has an observation deck which rises till 452 feet…this is Britain's highest observation deck outside London. A rather sophisticated afternoon tea session is also available here.
A rather interesting way to get a fast and detailed view of Brighton is to take the Brighton Quickie Helicopter ride….roughly a 15 minute ride that will give you a bird's eye view of the city and its surroundings.
Another interesting option is to take a short 40 minute cruise from the Brighton pier…you can admire the city and its attractions. The sunset cruise with champagne is the best way to do this. Charters for hosting hen/ stag nights and wild parties are common here …there are many who travel to Brighton specifically for this.
You can also take a LGBTQ history tour of Brighton….many local tours provide guided walks that take you around the 200 year old history of the city and point out the achievements and landmarks that make Brighton so proud of its rainbow colours.
While visiting Brighton a trip to its western cousin Hove is a natural move. Hove has many interesting French open air markets and the Hove Museum and gallery besides the Adelaide Crescent. The Hove Green Park has BOAT (Brighton Open Air Theatre) that emulates the Grecian theatre concept.
If chilling on the beach is your agenda then choosing Hove rather than Brighton is a good idea. Though Brighton has a fair 8.5 km shingle beach with some brick chalets towards Saltdean and Rottingdean and nice crowds, Hove's share of the coastline is well known for its colourful timber huts and better aesthetics.
However if you aren't visiting Hove at all then the Brighton Pier beach stretch (this has the blue flag status) is a good place. Look out for the Madeira Drive beach part. There is a gorgeous sports complex there where you can enjoy everything from vigorous water sports to Frisbee.
If you want to have an interesting day trip from Brighton, South Downs National Park (1627 km2) with its fantastic biking and hiking scope and rich luscious woodlands, chalky heaths and grassland is the place to go. Attractions are Devils Dyke, vineyards, stunning white cliffs of the seven sister's country and lots of interesting birds and animals can be spotted throughout the area.
Food and Drinks
Brighton is all about collaborative eating spaces that host gigs and band performances with their menus and charming little eateries that grow their own food and are strict about ethics. Almost every restaurant here tries to be innovative and most are worth visiting.
On Western Road there is Rootcandi that serves plant based free of meat dishes that its owner describes as "Pan Asian food". Go there for different tasting bao buns… a pure vegan fry ups. FatoManPizza on London Road serves classy Neapolitan pizza (try the pork salumi version) and locally sourced beers. Troll Burger bear the Brighton station, looks very humble but serves some of the best burgers in town. Everything from the ingredients to the wages of the waiters are ethically created. Nearby is Hash House and Curry Leaf serving American casual and Indian food… all on similar principles.
On Vine Street there is this niche Italian diner called Cin that serves octopus pasta, ricotta truffles and Jerusalem style artichokes…chefs rustle up all dishes right in front of you. Bincho Yakitori serves grilled lamb skewers, Korean style chicken wings, skewered livers and hearts and an extra special Bincho Pork Belly.
The Plateau is a small organic food restaurant bar in Bartholowmews which is French owned and serves 17 different types of wine by glass. The idea of returning to those days when wine was hand produced and not machine produced is sure to intrigue anyone.
For some nice English afternoon tea try the Metrodeco (1930 themed tea salon with decadent cakes) or the iconic Grand Hotel with its expensive homemade scones. Try tea tails (tea, gin and vodka) and crab scotch eggs/ squid ink buns at the inspiring Salt Room. Food for Friends with its vegan tea and Riddle and Fins with its romantic champagne and oysters and 64 degrees Isaac (name inspired by boiling temperature of egg) are infinitely visit worthy.
Nightlife
The city that's associated with modern icons like Fatboy Slim, Tim Booth and Kirk Brandon will naturally have an exciting musical nightlife scene. The whole of Brighton and its cousin Hove can be classified as one big night entertainment venue. There are very few places here that don't offer night entertainment.
Keeping with Brighton's tradition of mix and match, try visiting clubs, studios, open air venues and watch as many independent band performances as you can…this is an atmosphere you will not find in most of the other parts of this world.
Patterns is an art deco hotel that has a great forward looking music scene with distinctive music experts like Princess Nokia, Move D and Joy Orbison…. basement contains the main club. The bar on the ground floor remains open all day while the terrace hosts DJ Parties and barbecue events.
A good place to see local DIY Gogs is West Hill Hall …you need to carry your own alcohol here. The Rialto theatre hosts touring bands and Latest Music Bar and Marwood all hold assorted performances that go on till the wee hours of the morning.
Prince Albert on Trafalgar Street has a grunge look and stocks an unlimited array of beers sourced mostly from Sussex. The upper floor has loud gigs featuring metal and hard rock. The local favourite label "Love thy neighbour" puts up many shows here.
On Queen's Road there is a wonderful place called Hope & Ruin that has amazing glittery décor and lights and magically named beer like Magic Rock and Cloudwater. Only vegan food is served and amazing performances by assorted artists are on offer.
There is also another venue called Sticky Mike's Frog Bar that has pysch music and grime nights along with mainstream events. The Brunswick has indie music and jazz performances along with beer festivals …a natural thing considering that its owner co owns a popular raft beer shop called Bison.
The Dark Dove Kemptown Bar on St James Street will first intrigue you with its décor…it's all burnished wood and dark accents and eccentric artefacts. Craft beer, numerous versions of jazz, hip hop and heavy duty funk is played here till the wee hours of the morning.
Shopping
There is plenty by way of retail therapy in Brighton. One of the best areas to indulge in is The Lanes that is a collection of chic residential and retail streets near the lovely seaside. The thin streets form a maze like structure that's inspired by the original fishing village that once stood there.
You will find jewellery shops, antique stores, clothing stores, restaurants etc. here. Don't miss Choccywoccydoodah (chocolate specialist), Creased Cards (innovative greeting cards), Baroque Bespoke Jewellery, Vinyl revolution music shop, Farah (specialist men's fashion) and Frames in the Lanes (awesome eyewear). If you are a man, Franco's barbers for a shave and a head massage and if you have kids then Loula and Deer with their practical toys and accessories are good stops.
Churchill square is another big shopping hub with a sprawling floor space over 44,000 m2 and over 80 shops and a large parking space. Western Road and London road are other good shopping hubs. The redeveloped Open Market on London Road has a staggering selection of organic food, farm produce and ethically made handicrafts, clothes, jewellery and home décor.
While you are walking on the Palace Pier there are the fishing quarters and artists quarters. The latter has artists selling their original artwork directly to public and the former has fresh fish straight from the Chanel. And near the West pier are a collection of assorted retail outlets plus nice beauty salons and some of Brighton's best hairdressers.
Snoopers Attic in Kensington Gardens North Laine is a collective of core designers and independent boutiques. It's a good place to go to if the unusual intrigues you…expect vegan shoes and ethical apparel.
Nearby Hove has the best markets that combine high street and boutique wear. Go hunt in the Hove Town Centre or peek into the Saturday Monthly community market that sells everything from kosher food to vintage lingerie.
How to reach
By Flight
Brighton is quite near London so all of London's airports are nicely utilised by tourists who wish to get into Brighton. The London Gatwick airport is only half an hour away from Brighton by train. Gatwick has lots of national and international flights from most European and non-European cities. Easyjet, Monarch, British airways and Aerlingus.
Heathrow airport is 90 minute journey from Brighton by train/ coach. If you are taking an intercontinental flight to London then this is where you will land…you can choose between exploring London first and then moving to Brighton (the more popular option) or the other way round.
Southampton airport is 2 hours away from Brighton and isn't really preferred for arrival by flights and Stanstead airport sees low cost flights from Mediterranean and European countries.
The Brighton City/ Shoreham airport in Shoreham by Sea (sandwiched between Worthing and Brighton) mostly sees private flights by light carriers. This is where you can get the Helifly helicopter rides.
By Train
All major London stations have excellent connectivity with Brighton. Victoria station is 52 minutes away, London Bridge is 58 minutes away and London St Pancras is 1 hour 16 minutes away. Thameslink and Southern operate trains from London to Brighton and most trains arrive on Queens Road station in Brighton…you can also get down at Hove station that's a few minutes away. All major towns along Kent and South Coast have good train connectivity to Brighton.
You can take Eurostar from Paris and Brussels to enter Brighton at St Pancras international and a subsequent direct train. This is a quick, easy and relatively expensive travel means.
Coach
You can hop on any of the National Express/ Megabus/ Crewflyer coaches from the Gatwick, Stanstead and Heathrow airports from London and arrive at the Pool Valley Coach Station (minutes away from Palace Pier Brighton). Coaches take longer than trains but they are super comfortable with Wi Fi and toilets.
Getting around
3 separate bus services link Brighton with the pretty Sussex countryside i.e. you can travel by east bound buses to Birling Gap and seven sisters chalk reefs and Marine conservation areas along with Cuckmere River. Buses to the west of Brighton will let you discover River Adur and RSPB Nature reserves and Shoreham beach and its nature reserve.
Watch out for the Talking Bus Stops network… a boon for visually challenged people that allows them to electronically decipher travel information. Travellers can hear about bus arrivals, departures and local information while they are on this network. Notice that buses are sometimes named after famous citizens like Max Miller, Earl of Egemont and Zoe Ball.
Taxis are plentiful in Brighton and so are electric powered bikes which you can rent and breeze through the city. Using a rented car to move around is not recommended as parking is very expensive.
You can take the Plusbus scheme that's a discount bus ticket scheme which allows you to take public transport in Hove and Brighton and Shoreham by Sea. Take the Plusbus when you are buying the train ticket from London to Brighton.
As any local will tell you the compact Brighton and its cousin Hove are best enjoyed on foot. The railways station is just 15 minutes away from the center of the city and most great shopping hubs and restaurants are 10 minutes away from the sea. If you can walk a lot then just download a Brighton Map from the official tourism website and go for it!! Alternatively take a walking tour… there are so many interesting things closely packed together here that speedier modes of conveyance won't do justice to them.
Read: How to get around Brighton easily on public transport 
When to Go
Brighton has something amazing happening on all months. February has the Brighton Science Festival and April has the Brighton Marathon while May is packed with artist open houses, Fringe festivals, Music festivals etc besides the Great Escape which is now UK's biggest event for upcoming musical talent. June has Brighton beer weekend, July has Paddle round the Pier (waterfront festival) and August has the iconic LGBT pride events (city is packed in this month).
September has Digital Festival, Speed trial Madeira Drive, Fiery Food Festival etc. and October has the Comedy festival and vintage vehicle drives. Winters are rather low in activities comparatively though Ice Rink skating in Royal Pavilion, shopping sales and splendid Christmas and New Year celebrations are big advantages. Also accommodation and travel expenses are lower in winter.
The thing about Brighton is that weekends are full of some or the other special events and activities so if you are planning to visit for a couple of days…the weekend is the best option.
Check out Important weather conditions in England before you travel to Brighton.
Parting note…
A visit to Brighton is sure to get your creative juices flowing…keeping it for the last leg of your Europe trip is a grand Idea if you want to return back to work with your pockets full of enthusiasm and ideas!!!
Also Read