Getting to the city
Barcelona International Airport (BCN) or the El Prat de Llobregat Aeropuerto is located 13 kilometres south west of city centre. This airport has direct flights with major airports of USA, Asia and UK. Along with Madrid, Barcelona is the largest air hub of Spain. The airport offers secured luggage drop and transfer services, and is well connected with the city by buses, RENFE trains, metros and taxis.
Bus: To get to the city centre from terminal 1 take the Aerobus A1. From terminal 2 the route number is A2. Both of these busses operate from 5:35am until 1:15am at an interval of 5 minutes. One way ticket costs 5.90 Euros while a round trip ticket is 10.20 Euros (remains valid for 15 days after first journey). From airport to city centre the ride time is 35 minutes.
You can book bus tickets online from this website. There are night bus services available from outside both the terminals. From terminal 1 you can get bus number 17 to the city and from terminal 2 bus number 16. This service is available from 11.00pm to 5:00am at an interval of 20 minutes.
Train: Train is a cheaper option to get into the city. RENFE Cercanias train station is located near terminal 2. From terminal 1 you need to take an airport shuttle (free) to reach terminal 2 in around half an hour. From airport station you can reach Estacio Sants (journey time 19 minutes) and Passeig de Gracia (journey time 26 minutes) by R2 Nord (North) line.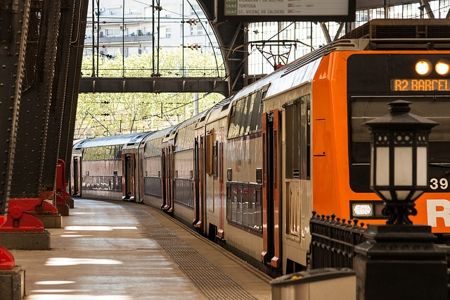 From Barcelona airport the first train departs at 5:42am and the last one at 11:38pm. The service interval is 30 minutes. A single train ticket costs 4.20 Euros. Purchasing a T10 multiple ticket will give you access to metro, bus as well as airport train for 10 journeys and your per journey cost will come down to 1.02 Euros. You can purchase train tickets from vending machines by using coins or notes.
Metro: You can avail metro from both the terminals to reach Barcelona city centre by line L9 Sud (South). Metro operates from 5:00am until midnight from Sunday to Thursday. On Fridays and nights before public holidays, metro runs from 5:00am until 2:00am. On Saturdays the service operates for 24 hours. This service from airport is automated (without drivers) and the service interval is 7 minutes. For airport metro you need to purchase only Billete Aeropuerto or the airport metro ticket which costs 4.60 Euros. Normal metro tickets are not accepted. Purchase ticket from vending machines.
Taxis: You will find taxis outside both the terminals. From terminal 1 you can reach city centre in around half an hour and from terminal 2 in around 20 to 25 minutes.  The taxi fare would be 35 to 40 Euros. There are plenty of options for private transfers as well as car rentals.
You can choose from a wide range of private transport and transfer services (including airport transfers) and book online from this Viator site.
Public Transports
Like in Madrid, Barcelona too has integrated public transport system. Transport Metropolitan de Barcelona or TMB mainly operates bus, metro and Montjuic Funicular rail. There are other operators in public transport such as Tram viu la Ciutat, FGC (urban railways), RENFE Cercanias (national railway), Aerobus etc. They work in partnership with TMB thus travelling on all modes of public transport with a single travel card is possible.
Barcelona metropolitan area has 6 travel zones. The City Centre comes under zone 1 (Point to note TMB zones are slightly different from RENFE zones). Also note that most of the streets of the city are one-way and street signs are not visible in many places.
Bus
The operating time of day buses in Barcelona is from 6am to 10:30 pm daily. There are around 100 bus routes in Barcelona including 17 night routes and surprisingly the fares of day and night bus services are same. All Night routes except 'N0' travel via Placa de Catalunya where you can switch routes.
There are display boards that show the routes and timetable at almost every bus stop. Signal with your hand to board an approaching bus. Do not forget to validate your ticket and if you do not have one then you can purchase it from the bus driver. Bus driver accepts notes of up to 10 Euros. Once in the bus, you can press the red button to let the driver know that your stop is approaching. In case you need any help you can talk to the driver and if you are travelling by a trolleybus you can contact him through intercom. The main bus stations of Barcelona are Estacio Sants and Estacio de Nord.
Metro
Barcelona Metro network has 8 lines and 158 stations. During peak hours 150 trains run including funicular service. Each line is marked with different colours and numbers starting with the letter L. The metro operates from 5:00am until midnight from Sunday to Thursday. On Fridays and nights before public holidays metro runs from 5:00am until 2:00am. On Saturdays the service operates for 24 hours. The service interval is around 7 minutes.
The ticket remains active for 180 minutes after validation. Note that metro doors are not automatic so you have to press the button or move the liver on the door to open it. Refer to the Metro network map available in every metro station to find the route to your destination. You can buy metro tickets at lower cost at metro stations located in the City Centre area.
Montjuïc Funicular
Barcelona's Montjuic Funicular Railway connects the Barcelona Metro paral-lel station with Montjuic hill. This train runs mostly underground. Montjuic Funicular has two sets of time tables… during spring and summer it operates from 7:30am to 10:00pm on Monday through Friday, and from 9:00am till 10:00pm on Saturdays, Sundays and public holidays.
This funny railway is very popular among tourists to visit Montjuic Castle and to access the cable car there. You can access this service with a TMB ticket. The paral-lel station can be reached by metro lines L2 and L3. Do not miss out on the cable car ride from Montjuic hill to get breathtaking bird's eye view of Barcelona.
FGC (Urban Railway)
FGC (Ferrocarriles de la Generalitat) runs the urban railways to connect Barcelona with its suburbs. This Railway system has three different types of lines and it complements the metro system. The lines that start with L denote they are urban lines and run within the city limits. The lines start with S means they are suburban lines and one can travel to places like Sant Cugat, Universitat Autonoma, Terrassa and Sabadell.
Inter-urban lines start with R and it connects farther destinations like Igualada and Manresa. Operating time from Monday to Thursday, Sunday and public holidays is from 5:00am until midnight. On Friday it runs until 2:00am and on Saturday and the evenings prior to public holidays there is continuous service. FGC also operates The Montserrat Rack Railway which is basically mountain railway lines. You can take this train for Montserrat Monastery. For more information you can visit FGC's official website www.fgc.cat.
Tram
Barcelona Tram has two networks and 6 lines. The two networks are Trambaix and Trambesos. These two networks have a total 29.2 kilometres of track with 56 stoppages. The first network has T1, T2 and T3 lines while the second one has T4, T5, and T6 lines. Using Trambaix network one can reach L'Hospitalet de Llobregat, Esplugues de Llobregat, Cornellà de Llobregat, Sant Joan Despí, Sant Just Desvern and Sant Feliu de Llobregat.
Trambesòs network connects Sant Adria de Besos and Badalona. The operating hours from Sunday to Thursday is from 5:00am until midnight and on Friday, Saturday and evening prior to the public holidays you will find a tram until 2:00am. This service is also a part of the integrated public transport system of Barcelona.
RENFE (National Railways)
The national railway has service through the city of Barcelona and its suburbs touching stations like Sants, Placa Catalunya, Arc de Triomf and Passeig de Gracia etc. The main train stations of Barcelona are Estacio de Sants and Estacio Franca. Before purchasing tickets for rail check if you want to purchase for suburban railway tickets or TMB integrated service tickets. There are 17 lines under RENFE suburban railway network category that start with the letter R.
Taxi
The yellow and black taxis in Barcelona are easy to spot. There are several taxi stands at the important parts of the city. You can hail one if you see the green light on the roof is on. The minimum fare within the city limit is 2.15 Euros, per kilometre charge is 1.13 Euros and the waiting charge (up to an hour) is 22.10 Euros.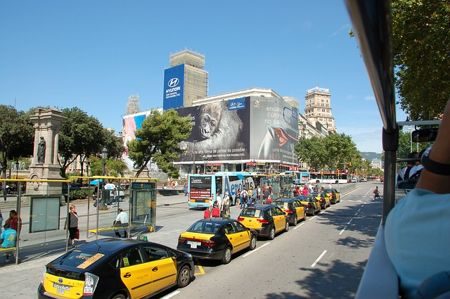 Remember there are various additional charges. See the fare chart in display inside every taxi. There are many taxi companies operating in Barcelona. Following are the most popular two companies which you can call over phone:
Radio Taxi- (+34) 933 033 033
Taxi Amic- (+34) 934 208 088
Tickets and Travel Passes
There are multiple options of ticketing available for public transports, from single ticket to multi pass.
Single Ticket is for those who use public transport occasionally. This ticket costs 2.20 Euros and valid for a single journey either by bus, metro (except airport line) or montjuic funicular (an underground rail system). At the same price a Single Bus Ticket is also available that is valid for a single bus ride only.
A One zone single travel card is valid for 75 minutes after validation and can be used for all integrated public transport (maximum 4 times) apart from airport line metro. Round trip is not allowed.
A T-10 travel card actually consists of 10 single tickets. This is an ideal ticket for more than 4 journeys. A single zone ticket costs 10.20 Euros, ticket valid for two zones is 20.10 Euros, a three zones ticket is 27.40 Euros, four zones ticket costs 35.25 Euros, price for a five zones ticket is 40.50 Euros and a ticket for all the six zones is 43.05 Euros.  Tickets can be purchased from vending machines, news-stands, TMB customer service and information centres.
A T Dia ticket is a day ticket valid for 24 hours for a single person after its first validation. This card allows unlimited travel by public transport in specific zones it was purchased for. It allows travel by airport metro line as well as one round trip. A single zone ticket costs 8.60 Euros and a six zones ticket is 23.05 Euros. Tickets can be purchased from vending machines, newsstands, TMB customer service and information centres. For a stay over a month one can use a T 50/30 ticket that allows 50 journeys in 30 days. Price of a single zone ticket is 43.50 Euros.
The Hola Barcelona Travel Card allows unlimited travel for 2, 3, 4 or 5 days by public transports in Barcelona. It also allows airport to/from city centre travel. The two day travel card costs 15 Euros and can be used for 48 hours after its first validation for consecutive days.  Cost of 3 day card is 22 Euros, 4 day card 28.50 Euros and 5 day card costs 35 Euros. Like 2 day travel card 3, 4 and 5 day cards are valid for 72, 96 and 120 hours respectively after their first validation. It can be purchased online from TMB's official site with 10% discount. Visit www.tmb.cat.
Barcelona Card is an ideal option for tourists. It not only allows free unlimited travel by public transport, it also gets you discounts on major tourism attractions, entertainment, restaurants and shops. This card is also available for 2, 3, 4 and 5 consecutive days and the price is 20 Euros, 45 Euros, 55 Euros and 60 Euros respectively. This card can be purchased from Tourist Information Offices at Barcelona and 4 other selling points in the city, alternatively purchase online and avail 5% discount from this website www.barcelonacard.com.
Getting To Major Attractions
Since Estacio Sants is the major transport hub within the city centre area of Barcelona, all journeys below are shown from this place unless mentioned otherwise.
The charming narrow medieval streets of the old town or Barri Gotic area is worth a stroll and get the vibe of trendy bars, restaurants and clubs. This place is located around 4 kilometres towards east. Take a R4 train towards Terrassa or R1 towards Mataro and get down at Catalunya Placa, it's around one kilometre walk from there. Alternatively you can ride a metro L3 line train towards Trinitat Nova and disembark at Liceu and then walk for 65 metres. Train journey time is 5 minutes and metro takes around 10 minutes.
You should visit the neighbourhood of Gracia to see Antoni Gaudi's architectural mastery. Here visit the Casa Batlo museum and the Sagrada Familia Basilica (unfinished work of Antoni Gaudi and most visited). This place is located towards north at a distance of little over 3 kilometres. Take a regional train towards Estacio de Franca and get down at Passeig de Gracia station. From there either you can walk to Vila de Gracia or switch to a metro line 3 train towards Trinitat Nova and get down at Fontana. Vila de Gracia is 400 metres from Fontana. Journey time by train is 4 minutes and metro takes 3 minutes. Alternatively take a line 27 bus towards Roquetes and get down at Gran de Gracia then walk for 400 metres. Bus ride takes 20 minutes.
The famous streets of La Rambla has multiple attractions like Del Liceu Theatre, Mercat de Josep de La Boqueria (Market of La Boqueria Josep), Maritime Museum, MACBA (museum) and the famous Barcelona's Head. La Rambla is located little over 3 kilometres to the east. Take a metro L3 line train towards Trinitat Nova and get down at Liceu. A good idea is to combine visits to La Rambla with Barri Gotic.
For Soccer fanatics a must visit place is Camp Nou (FC Barcelona's stadium). There are guided tours available at the stadium to show you players changing room, tunnel to pitch walkway, pitch benches, chapels and many other things. It is located around 2.5 kilometres to the west. Take a L3 metro towards Zona Universitaria and disembark at Palau Reial, from there walk for 600 metres. Metro takes 6 minutes. To walk less take a L5 line metro towards Cornella Centre and get down at Collblanc (5 minutes), then walk for 200 metres to get at the Metro Collblanc bus station and take the M12 route metro bus towards Reina M. Cristina Pl. Get down at Mini-Estadi (3 minutes) and then walk for 100 metres.
For beach visits, you can combine trip to La Barceloneta beach with Icaria beach. It is located around 5 Kilometres to the east. The best option of getting there is to take a R4 line train towards Manresa and get down at Arc de Triomf. Then walk for a couple of minutes to reach the bus station and take a V19 route bus to Barceloneta. Total journey time will be around 17 minutes.
Another interesting beach is Mar Bella (this is a nudist beach). This beach is located at a distance of 7.5 kilometres to the north-east. Take a L5 line metro towards Val d'Hebron and get down at La Sagrera (journey time 16 minutes), then walk for 100 metres to get to the bus station. Take a V27 bus towards PG. Maritim and get down at Jonquera (18 minutes), then walk for around 500 metres to get to the beach.
There is another beach called Sitges Beach… journey details given under day trip section.
Day Trips by Train
Barcelona is a very vibrant city with its history, culture, architecture, nightlife and food. It is also a nice place to make your base for outward trips. You can take several interesting day trips by trains. Following are the few such day trips. All trips originate from Estacio de Sants (Barcelona Sants).
Take a trip to ancient town of Girona. This quaint little town surely will rejuvenate you. To reach there you need to take RENFE trains which are available every 10 minutes. It will take 38 minutes to reach by express trains and around 90 minutes by all stop trains. This place is located around 100 kilometres north east of Barcelona. You can take MD 15901 (all stop train) or AVE 10709 towards Figueres and get down at Girona, or alternatively take MD 34703/34737 for Girona. Superfast train tickets can be purchased online, it costs 17.40 Euros (check for discount… discounted rate starts from 9.40 Euros). Tickets for slower trains can be purchased at the rail station ticketing machines or manned counters.
Another place famous for its stunning architecture is Figueres. Take a RENFE train from Barcelona main station to reach there. Trains are available at every one hour and the journey time is 1 hour 45 minutes. Figueres is located further north east of Girona. Distance from Barcelona is 140 kilometres. You will get direct train MD 15901 from Barcelona. Online ticket price starts from 16 Euros. Tickets for regional trains can be purchased at the originating station.
Take an exciting trip to rocky range of Montserrat. From Plaza Espanya train station you will get trains at every 30 minutes to reach Aeri de Montserrat. It would take one hour to reach, from there you can avail FCG's rack railway trains or cable car. A ToT Montserrat pass is useful; it allows boarding all transports including rack railways and cable cars. This place is located around 50 kilometres north west of Barcelona. From Plaza Espanya station take an urban railway train R5 towards Baixador and get down at Monistrol de Montserrat, from there take the rack railway. Train journey takes little over an hour and journey by cable car (rack railway) takes around 20 minutes. The combined Montserrat ticket costs 31.60 Euros.
Visit Sitges for the beaches on Mediterranean. This place is located around 38 kilometres southwest of Barcelona and takes 45 minutes by RENFE trains. There are trains every 30 minutes. Take train R2S towards Vilanova I la Geltru and disembark at Sitges. Ticket can be purchased at the originating station only. The ticket costs little over 4 Euros.
Car Rental
Like in other European cities various car rental companies are available at Barcelona. To rent a car a valid three years driving license is required. Valid EU license are acceptable. For non-EU countries you need a valid passport & visa along with a valid driving license and at the time of hire you have to prove that you are not in Europe for more than 6 months.
Driving license printed in non Roman alphabet must accompany with an International driving permit. For most of the companies, minimum age required is 21 to 25 depending upon model of the car. Minimum per day hire rate starts from 14 to 15 Euros. Following are few well-known car rental companies…
Europcar- europcar.com
Hertz- hertz.com/rentacar/reservation/
Sixt- sixt.com/car-rental/spain/barcelona
Avis- avis.com/en/locations/es/barcelona
Bike Rental
Biking in Barcelona also has its own charm with many dedicated biking tracks (almost 200 kms) in and around the city. There are several dedicated bike routes to encourage tourists for biking. 9.25 kilometres Ciutat Vella route offers something for everyone from seaside to parks and monuments.  Another interesting but little lengthy route is Diagonal route  which is a 10.75 kilometres loop with starting and ending point at Port Olympic.
Among other routes there are Eixample route (8.25 km), Montjuic route (11 km) and Barcelona route (24.5 km). The rent of normal bike varies between 6 to 10 Euros per day (10:00am to 8:00pm) depending upon company and models. Hiring for 24 hours will cost more. Before you rent a bike here are few rules for biking in Barcelona.
Even in designated bike lanes the speed limit is 20 kph.
Wait and allow pedestrians to cross bike lanes.
Stay alert while biking on roads.
In a pedestrian areas or while biking in squares speed limit is 10 kph.
Obey traffic signals.
Following are few well know bike rental companies…
Bike Rental Barcelona- bikerentalbarcelona.com/index.htm
Green Bikes Barcelona- http://www.greenbikesbarcelona.com/
Pedal Bike Rental- https://pedalbikerental.cc/
Cruising Bikes- cruisingbarcelona.com/english/rent/bikes.php
Scooter/Motorbike Rentals
You must possess a valid driving license to rent a scooter or motorbike. Your home country license is accepted but needs to get translated by an official translator or else you must have and IDP (International Driving Permit). The rental rates vary from 16 Euros to 50 Euros per day depending upon models. Following are a few well-known companies…
Rental Motorbike- rentalmotorbike.com/motorbike-rental-barcelona
Motoroads- motoroads.com/motorcycle-rentals-barcelona-motorbike-hire-spain.aspx
IMT Bike- imtbike.com/motorcycle-rentals/locations/barcelona/
Barcelona Moto Rent- barcelona-moto-rent.com/
Transport Tips
There are three routes of hop on hop off buses (Red, Green and Blue). Green is operative during April to November
'Venda de Tiquets' is a ticket vending machine
Vending machines accept coins and credit cards
Vending machines at metro stations accept notes and dispense change
Bus drivers won't accept larger than 10 Euros note. But it is wise to carry changes if you need to purchase a ticket on Bus
Do not forget to press the red button on a bus when your stoppage is approaching
Also Read