Getting into the city
From the airport
Salzburg Airport W.A Mozart doesn't only serve the beautiful Salzburg city but also acts as an access point to the best of Austria's ski areas. The airport is roughly 11 km southwest of Salzburg city centre. The airport has 2 terminals and Terminal 1 is the main building with service counters, restaurants, shops and a nice visitor's terrace. Terminal 2 has a modern construct containing high-end bars and restaurants (Hangar 7).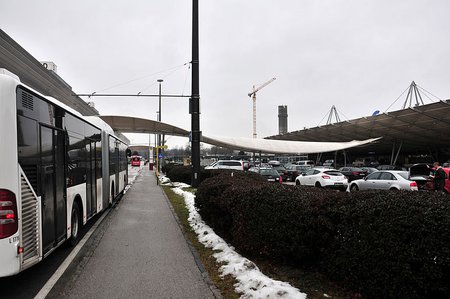 In summers there is nonstop connectivity from all major UK cities to Salzburg. The top international flight operators connecting to Salzburg are British Airways and Ryanair.
OBB Postbus stops are located opposite the airport terminal. Bus number 2 travels to the Salzburg main station/ Hauptbahnhof from the airport every 20 minutes every day. Journey time is around 25 minutes.
Bus number 10 travels to the Salzburg Rathaus (old town) from the airport every 10 minutes every day. Journey time is around 15 minutes
Buy bus single tickets from the Newscorner at the airport terminal or from the ticket machine at the bus stop or directly from the bus driver. The indicative ticket price is 2.50 euros if you buy from the driver and 1.90 euros if you buy it in advance.
You will find taxis round the clock in front of the airport. The trip from the airport to the city centre will take around 20 minutes depending on traffic flows.
Taxi fares from the airport to the city centre will range from 20 euros to 25 euros depending upon traffic.
You can book your taxi transfer from the airport to your hotel in Salzburg via this Viator website.
From the Train Station
The Salzburg Main Train station (Hauptbahnhof) is 20 minutes of walk from the Altstadt or the old city. The main bus terminal and a big taxi rank stand in front of the train station. A taxi will usually charge 10 euros to take you to the city centre. There are restrooms and currency exchange counters in the station.
You can also book your taxi transfer from the train station to your hotel in Salzburg via this Viator website.
International connectivity to Salzburg by rail is good with trains available from Venice, Frankfurt, Berlin, Munich, Cologne, Budapest, Innsbruck etc. The Austrian international trains (including night trains) are operated by OBB (national rail company of Austria)
By Long-Distance Bus
Major long-distance bus operators to Salzburg are Blaguss, FlixBus and Leo Express.
Flixbus is the oldest international bus route operator in Salzburg and provides the widest connectivity.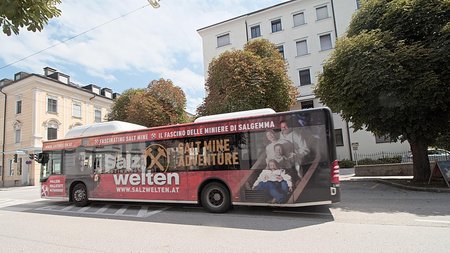 Strasbourg, Munich, Venice, Maribor, Frankfurt, Portoroz, Stuttgart, Imotski, Berlin, Mantua, Sebes, Merzig are some of the cities connected to Salzburg by Bus. Blaguss has a newer stylish fleet of buses although its connectivity is not as good as Flixbus. LeoExpress connects Prague to Salzburg via Homi Plana. This is primarily a Czechia-Slovakia based operator. You can buy tickets online from their respective websites.
You can also book a bus/private transfer service to/from Salzburg through this Viator website.
By Car
The Salzburg Airport is connected by motorway to the city centre via the intersection of A 1 and A 10. Remember to get a 'vignette' (sticker) from the tolls before you enter the city. You can buy these at petrol pumps too (a 10-day vignette will roughly cost 9 euros).
You will find P+R (Park & Ride) car parks at the many access roads leading into Salsburg. You can simply park your car and then use the services to whichever part of Salzburg you want. Study the P+R car parks here.
Public Transport
The public transport system of Salzburg runs primarily on buses with trains and trams acting as fillers. The same ticket can be used for travelling across the integrated travel network of Salzburg. Study the Salzburg city zone carefully … it extends to the Austria Germany border. If you want to get into some other zone (for example the Freilassing zone) you will need an additional ticket
Buy tickets in packages and in advance as this will minimise costs. Preferably buy them from the Trafiken (kiosks) or the ticket machines at the bus stops. Buy ride tickets from the bus driver as the last option. A 24-hour ticket is recommended if you need to take 3 or more public transport rides. If staying in Salzburg for more than 3 days, buy a weekly ticket.
The Salzburg Verkehr app for iOS and Android helps travellers plan the best way to go around Austria and choose between public transport mediums or a car or bike. You can download the app here.
The app will access all the latest traffic data and get you updated traffic information on your chosen route. The data from Verkehrsauskunft Österreich (VAO) details the whole transport scene in nutshell.
InterCity Rail
The Salzburg S Bahn network links the central region of Salzburg with the national rail network. Two S Bahn lines are run by OBB in Salzburg (S2 and S3). Line S 2 runs on the route between Strasswalchen and Salzburg Hauptbahnhof at hourly intervals.
The S3 runs cross border connections at hourly intervals between Salzburg Hauptbahnhof to Schwarzach S Veit and the Bavarian spa town Bad Reichenhall in collaboration with Berchtesadener Land Bahn. On weekdays (working ones) the S3 also runs between Freilassing and Golling Abtenau going through Salzburg Hauptbahnhof.
Using the S1 line will take you to the Salzburg main station every 30 minutes from Lamprechtshausen.
You can get tickets from the OBB App using your mobile. You can also book tickets online from this OBB Site.
Call and get information about train connections at the OBB Call Centre (+435 1717). Or check train connectivity and timetables here on this site.
Bus
The public transport system of Salzburg is centred on electrically powered trolleys and buses. A trolley bus (Obus) runs every 10 minutes while a bus can be found every 15 minutes. The bus connectivity is denser during the summer holiday season i.e. between July and August. Check bus schedules here.
You can buy Obus tickets at the Service Center Verkehr, ticket agencies, ticket machines at bus stops, train stations and the Salzburg Verkehr customer centre. Train attendants at local railways and the Berchtesgadener Landbahn also sell tickets.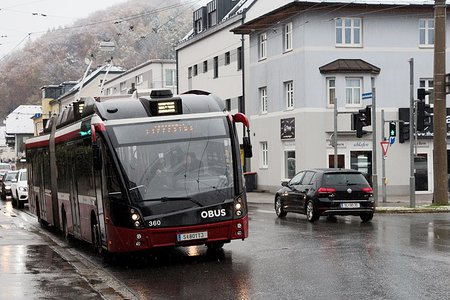 There are 120 barrier-free low floor trolleybuses that can be easily used by the differently-abled. Almost all buses have USB ports for charging cell phones. There are 12 lines of the trolley bus service that cover Salzburg and its outskirts. You can check the electric trolley/ Obus schedules here on the Obus website.
The Nightbus runs at night from Friday to early Saturday morning and from Saturday night to early Sunday morning. The general fare is 4.50 euro per ride and this bus is a safe way to get home at night. The night buses connect with the late Lokelbahn trains that depart from the Loklbahn trains.
The hop on hop off city tour (yellow line) lets you explore the city in comfort. There is a yellow line tour that lets you explore the city sights and a Green and Red Line that lets you view the Lakes and Mountains. Choose between a one day and a 2-day ticket.
Taxi
Taxis are available throughout the city but their concentration is higher outside the airport, train stations and designated 50 taxi stands.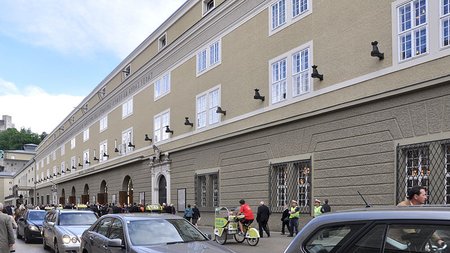 Some of the more popular taxi service operators are:
Better Taxi is one of the popular taxi service operators in Salzburg. (If you have an I phone) download their app and book from there. You can also book online from their website.
Salzburg Taxi… You can simply book by calling +43 676 3347 141, or by booking via their website.
Taxi Salzburg… They mostly do hotel transfers, airport transfers, sightseeing rounds and ski resort transfers. Call only for enquiries: +43 664 9100912. You need to book online through their website.
Walk
Salzburg is flattish and compact apart from the road that goes up to the fortress (this has a funicular).
The old town is perfect for a self-guided walking tour. You can do a two-hour walking tour that covers the Mirabell palace gardens, Love Lock bridge, Mozart's residence, Saint Sebastian Cemetery, Capuchin Monastery, Stone alley, Mozart footbridge, Mozart Square, Panorama 1829, Residence square and fountain, Gold Lane, Old Market Square, Old Residenz Palace, Salzburg Cathedral, Chapter Square, Stieglkeller Beer Hall, Fortress Funicular, saint Peter's cemetery and Abbey, Catacombs, University Square, Winkler Terrace etc.
Tickets and Passes
Combined Tickets for Salzburg Public Transport Network
 A 24-hour ticket for Salzburg central zone is available for 6.40 euros if you buy it from the bus driver/ conductor. You can buy the ticket in advance at a reduced fare of 4.20 euros from the ticket vending machines or the phone app. It makes better sense to buy the 24-hour ticket than the one direction ticket (available in a pack of 5) that comes for 9.50 euro. You can also buy 1 single-use ticket from the conductor/ bus driver for 2.90 euros.
An hour ticket is available for 2 euros. These prices are only for the Central Zone i.e. Salzburg City and airport. These tickets can also be brought on regional trains. These tickets can be used on Buses, Obuses and regional trains.
If you are going to explore Salzburg exhaustively and are going into two or more regions then buy the two region combination ticket for a week (priced at 29 euros). This will allow the use of public transport networks in Salzburg central and one adjacent zone for a week. If you want to cross borders and go to upper Austria or Berchtesgaden land then buy a cross border ticket for 4 euros.
You can get more information about different travel zones and fares here.
The all-day tickets, weekly tickets and two-zone combination weekly tickets are a good way to save money.
Salzburg Card
Though most of Salzburg is "very walkable", some attractions like the Schloss Leopoldskron, Schloss Hellbrunn, Salzburg Zoo, Untersberg Mountain are outside the city centre and so it's better that you buy a travel card.
Apart from that, there is the Salzburg Card that allows bus rides (Albus and City Bus A lines 20 to 28, 34, 35, 151) and the Salzburger Lokalbahn trains (till Acharting halt). The tourist information point in the City Centre (left of the famous Mozart monument) sells this card.
The card is of great value as it offers free admission to 30 attractions and discounts on events and concerts as well as access to certain tours. Free use (subject to conditions) of the cable car to the Hohensalzburg fortress, the funicular on Untersberg Mountain, the ski lift to Mönchsberg Mountain, and the river tram
When you buy the card you will get a guidebook/ brochure with a list of attractions and a map of bus lines that you can use. The card can be brought in 24/ 36//72 hours. Ideally buy the 72-hour card as it's impossible to see all sights connected with the card in less than 72 hours.
You can buy the Salzburg Card and other sightseeing passes online from this Viator website.
The indicative price is 26 Euros, 34 euros and 39 euros for the 24, 48 and 72 hour versions of the card.
If you intend to be in Salzburg for a week or more then consider buying the SalzburgerLand Card. The SalzburgerLand Card is available in 6/12-day formats for 76 euros/ 90 euros respectively.
If you don't use the SalzburgerLand Card for the Grossglockner High Alpine Road ride then a 24 hour Salzburg card is included in it.  The card includes free entry to 190 attractions, lift skis and discounts on cultural events.
You can buy the SalzburgerLand card from its online store if you are a resident of the EU. Otherwise, you have to buy the card at tourist offices, hotels etc.
Car Rental
Parking inside the city is chaotic so driving around this compact walkable city is not really recommended. However, a car rental service may be useful when you plan on seeing lots of attractions outside the city and don't want to use public transport.
It's compulsory to have snow chains/ winter tyres fitted on your car (November beginning to mid-April) so check if your rented car has them. You need to have a toll sticker on your car while driving in Austria. Parking is complicated so better park outside the city centre and then use the Park and Ride Service.
Some popular car rental agencies in Salzburg are Thrifty car rental, Budget Car rentals etc.
Bike Hire
The combined network of bike paths cutting across Salzburg (best biking city in Austria) is more than 180 km long. Most cycling paths are on the banks of River Sazalch and through parks. Salzburg is dotted over with secure bike boxes and tiny bike repair stations apart from bike-friendly hotels.
You can bike along Hellbrunnerr Allee that leads out to Heilbrun palace and its bevy of 'trick fountains'. For long-distance bikers, the 175 km long Tauren Bike path that leads to the north from Oberndorf goes along Hallein, Goling etc. For more adventurous souls the Mozart Bike Tour (450 km ride through Bavaria and Salzburger Land) and the Salzkammergut bike tour (345 km ride exploring 13 lakes) are good choices. Public transport mediums like trolleys, buses and trains have bike racks that bikers can use for free.
Roadbike Rental is one of the top bike rental companies in Salzburg. You need to call/ mail them specifying your height, accessories requirement, hotel address, and delivery timing. Payment can be made at the time of delivery of the bike to your desired location.
Phone: +43(0)6645948383
Email: [email protected]
Rent 1 bike for a week at 249 euros or for a day at 49 euros. The delivery/ pickup of bikes is done at zero cost and all bikes have a lock, pump and extra tube.
You can also rent a bike from Citybike that allows tourists to rent a bike after online bookings made on their website and payment via credit card. Phone:  +43810 500500
Citybike takes a registration fee of 1 euro and then offers the first hour free. The second hour and the third hour is charged 1 euro and 2 euros respectively. From the 4th to the 120th hour, the charges are 4 euros every hour. Use CityBike if you need a bike only for a few hours.
Also Read