One of the oldest towns in Europe that has music in its history and heart, Salzburg city hosts over 300,000 tourists a year. Every year in summer the 'Salzburg Festival' of music & drama is held here. This is the birthplace of Mozart, the western classical maestro.
You can explore Salzburg in three parts if you will – First, the churches, Mozart's birthplace etc. Second, the New Town where Mirabell Palace, Mozart Conservatoire are located. And third, the area that is to the south, which has Hohensalzburg Fortress, Schloss Hellbrunn (summer palace of Archbishop), etc.
There is also a hill Kapuzinerberg with an elevation of 640 meters and located on the right bank of the Salzach River – which too would make a great visit. Get Salzburg Card for free entry to many city spots. The card also allows free access to public transports, and discounts on many cultural activities, tours and excursions.
Watch the short video
Attractions
The Old Town (also known as Altstadt) is a UNESCO World Heritage Site since 1996 and steeped in history. It spreads along the banks of the River Salzach. It has two parts, the original or the oldest part is on the left bank which is connected to the New Town at the right bank by the Staatsbrücke (i.e. the 'State Bridge') that goes over the Salzach River.
The New Town is actually an extension of the Old Town and is 'New' only with respect to the older town… both together actually form the Altstadt.
The Old Town is home to a number of old Baroque buildings, merchant houses, several public squares and numerous alleyways. You can easily walk around in the Old Town as most areas are marked as car-free zones. Some of the key attractions that are located in the Old Town include Salzburg Cathedral (the Dom), the Mozart Statue on Mozartplatz and the most popular shopping street of Salzburg… Getreidegasse.
Below are the top places to visit in Salzburg (in no specific order):
Mozart's Birthplace (Mozarts Geburtshaus) is located at Getreidegasse 9, where he was born on 27th January 1756. His family lived here till 1773. Mozart's apartment on the 3rd floor and rooms on the second floor of this building have been converted into a museum in 1880. You can see the instruments which Mozart played including his concert piano, his family portraits including 'Mozart on Piano', furniture, many old documents and manuscripts, souvenirs etc.
In 1773, Mozart's family moved to a new house in Makartplatz. The house is known as Mozart Residence (or Mozart Wohnhaus). Makartplatz is a square named after the painter Hans Markt. Mozart Residence is now a museum. It was rebuilt after WW-II destruction.
Sebastiansfriedhof (St. Sebastian's Cemetery) is a 16th-century cemetery located next to St. Sebastian Church and has magnificent sculptures around the tombstones. The entire place is surrounded by columns. This is where you can find the grave of Mozart's wife. In fact, this cemetery was used to bury only the dignitaries, members of the Royal family, and some members of Mozart's family.
A great attraction in Salzburg is the Mirabell Palace. Home to Archbishops during the 1600s, it showcases the exquisite craftsmanship of architecture. Mozart played with his sister in this Baroque home. 7kms away is Hauptbanhof – the main railway station of Salzburg.
Mozarteum was built around 1914 to celebrate works and the life of Mozart, and it now doubles up as a music school. The most interesting thing here is a cottage where 'The Magical Flute' was composed.
Under the International Foundation of Mozarteum, there are two more museums in Salzburg – Mozart Geburtshaus and Mozart Wohnhaus, a must for music aficionados. The whole city has musicians playing at street corners or painters selling their creations, and shops with Bavarian dress mannequins.
On the other side of the river is the Salzburg Museum housed in the Neue Residenz building (open 9 am-5 pm, Tuesday to Sunday). You can see fragments of mosaics, architectural styles, musical instruments, coins, statues, paintings etc in separate sections.
Salzburg Cathedral (The Dom) is the first cathedral church of Salzburg (built in the 8th century), though a remodelled version was built around 1500-1600 in Baroque style. It has a church organ that Mozart played. Several archbishops have been put to rest in the graveyard here. The interior is huge and can accommodate 10,000 people. If you have time, then play the giant chess board planted on the ground near the cathedral.
St Peter's Abbey (Open 2:30 pm to 6:30 pm) is a 7th-century building located next to Salzburg Cathedral. It is the only Abbey founded by St Rupert in Europe that has survived the wars. It has been restored and remodelled with Baroque touches. Many pay visits to the area where Mozart's sister Johann Hydn – the famous composer had been rested.
The Large Festival Hall (Grosses Festspielhaus) serves as a place for theatre and opera and is an important venue for Salzburg Festival. It can accommodate around 2,180 spectators and is also an architectural marvel. Guided tours are available after 2 pm.
Hellbrunn Palace is located south of Salzburg and is famous for its trick fountains. It was conceptualised by prince-archbishop Markus Sittikus as his summer residence and was built between 1612 to 1615 by the Master Architect Santino Solari who had also built Salzburg Cathedral. There is an abundance of water in Hellbrunn Mountain and as a result, water was used as the central design feature.
There are trick fountains in the palace ground that spray water jets from hidden fountains taking the tourists by surprise and almost drenching them. There are also 21 audio stations that narrate the story behind the trick fountains.
Other than exploring the rooms in the palace, you can explore the folklore museum, and stroll around in the expansive parks and gardens around the palace. Hellbrunn Palace was mainly created for recreation and enjoyment. It's a great place for families with kids.
You can reach Hellbrunn Palace by bus #25, or by car, or bicycle (takes about 25 minutes by bicycle). It's usually open daily from April till the end of November. There is an entry fee (Adults € 13.50, Child 4 – 18 years € 6.00). You can also buy a family entry ticket. If you have Salzburg Card, you get one free entry.
There are tour operators offering Specialised Guided Tours through Salzburg tourist spots… one such tour is on the lines of the famous film 'The Sound of Music'. There is a sing-along tour based on the sequence of the film. It departs in an AC coach from St Andrew's Church to the Mirabell gardens, then to Leopoldskron Castle, Hellbrunn Castle, Nonnberg Abbey, St Gilgen and Lake Wolfgang, and finally to the wedding church Mondsee as the last spot where the film characters Maria and Baron got married.
There are many variations to these local tours… they take you to Eagles Nest,  Bavarian mountains, additionally you can opt for Hallstatt for 8hours, Grossglockner tour for 8 hours, or Neuschwanstein tour for a full day, and more.
Go through This Viator site where you can see almost all tours of Salzbug listed along with description of each, cost, user ratings, etc and you can book one of you choice online.
Eagles Nest is at an elevation of 6,000ft and great for a half-day trip (four hours) departing at 8.45 am from Mirabell Palace. The tour goes through Hellbrunn Castle, Konigsee river valley to Obersalzburg. It is a must for history lovers. You get a marvellous view of Salzburg city from here on a clear day.
There are also boat trips on the river, amphibious bus tours (bus which is also a boat) etc. Alternatively, just explore & enjoy the lakes and mountains in Salzburg.
Visit the Werfen Ice Caves (Alps) to experience a natural wonder – the largest ice cave in the world. It's 18 metres high and 20 metres wide and located in the Hochkogel mountains. It has deep winding passages and you need to walk through to explore (it extends to over 42kms inside the mountain).
The guided cave walk of 75minutes is an amazing experience as you watch the stunning limestone formations and the ice cave. It's open from May to October (8 am to 4 pm). From the entrance of the cave, you get a panoramic view of the landscape outside. Carry appropriate clothing as the temperature is sub-zero inside, and there is a vertical gain of 234metres which you need to negotiate using a gondola lift and numerous staircases.
Another tourist attraction is the oldest salt mine Salzwelten in Hallein where you wear a traditional miner's attire, go deep down to explore the legendary tale of 'Man in the salt'. As part of a guided tour, you can even do rafting on the subterranean salt lake.
A short trip to Golling Waterfall is quite popular among tourists. It takes only 35 minutes by train or car. The waterfall although not very large, is beautiful. There are several viewpoints here to watch the fall, some would require efforts to climb, others are easy.
As I had mentioned earlier, Salzburg is the home of Mozart and a city of music. All through the year, Salzburg Fortress Concerts are held in the 900-year old Fortress Hohensalzburg. The combination of a historic fort along with perfect acoustics and performances makes it a highly coveted experience for music lovers. You can also book a dinner at the concert. The view of Salzburg city from the concert hall is simply awesome.
There are conducted tours to Hohensalzburg Fortress which is perched on Festungsberg mountain at an altitude of 506 meters. It s one of the most prominent landmarks of Salzburg and can be seen from far away towering above the city. Even if you do not take a conducted tour or join a concert, you should find some time to visit the fortress.
You can take a funicular (Festungsbahn) to get to the fortress that leaves from the Valley Station located at the heart of the city (No. 4 Festungsgasse). The funicular operates every 10 minutes and takes less than a minute to reach up to the fortress. It rises from an elevation of 437-meter to 536-meter.
Alternatively, if you like to hike, then take the steps near the Valley Station and walk up. You can then better appreciate how invincible the fortress complex is. And once there, stand on the Kuenburg Bastion and soak in the magnificent view of the Salzburg city below.
Kapuzinerberg (Capuchin hill) is located on the right bank of the river. The Capuchin monastery is located here. There is a stairway here with 250 steps that leads downhill to the church St Johannes am Imberg – a small yet beautifully decorated church. From the church premises, you can see Salzburg city, full of spires and domes.
A note of caution: If you tour around the city on public transport, beware of pickpocketing particularly at bus stops and train stations.
Food & Drinks
There are plenty of cafes and restaurants in Salzburg offering a range of cuisine including Italian, Mexican, Spanish, Turkish etc. And there are many pubs as well. However, an excellent place to experience local food is the well-known Augustiner Braustubl… it's quite affordable too.
Esszimmer is a Michelin-starred restaurant in central Salzburg specialising in European cuisine and offering vegan as well as gluten-free options. It has several seating options (private, outdoor, even highchairs) and a full bar – a must if you like to indulge.
Another great place to try… Barenwirt on Main Street of Salzburg. Try out the fried chicken and wild boar sausage, a speciality they serve. For the Austrian version of steak & barbeque, the locals refer to an Indian (Asian) restaurant – Tajmahal.
Don't miss out on Cafe Sacher Salzburg. Try out a Kaiserschmarrn (a plum based pancake). A local speciality of Salzburge is Salzburger Nockerl – a sweet soufflé dessert. They really make it well here and the portion served is quite large. However, the coffee they serve is also excellent too.
Stieglkeller with self-service areas is the place to go if you are looking for great views while drinking beer. Salzburg offers brewery tours as well – visit Stiegl Brauwelt for Euro 9 and also get a gift and three drinks. Starbucks and McCafe are also good options if you like an international chain of restaurants.
Shopping
Getreidegasse is a street full of shops that gives you the best of choices in buying souvenirs, while it also houses boutiques and cafes. You can also visit Manner – a shop in the Old town of Salzburg, to buy chocolates… you will likely get lost with so many choices (cookies, numerous assorted chocolates, liqueurs etc).
However, in chocolates a must buy is Mozartkugeln from Cafe Furst (established in 1884 and inventor). You can also consider buying Reber chocolate in Altermarkt.
If you are visiting Salzburg during pre-Christmas time, then go to these three squares – Residentzplatz, Domplatz, and Kapitaelplatz to buy authentic Christmas decorations. Austrian clocks are excellent – try Archides Wohnraumuhren for mechanical clocks.
How to reach
There are direct flights to the International Mozart airport of Salzburg from international cities such as Amsterdam, Brussels, Berlin, Birmingham, Cologne, Dublin, Dusseldorf, Frankfurt, Istanbul, London, Palma de Mallorca, Paris, Prague, Saint Petersburg, Moscow,  Rotterdam, Vienna,   Zurich etc. Once you reach, you can get to the Salzburg city centre in about 20 minutes by taxi or trolley bus.
If you are driving from Munich, take the A8 highway. From Vienna, the A1 highway leads to Salzburg. Use snow tires during the months of October to April. You need to purchase an Austrian Motorway pass though.
By train, Salzburg is just an hour and a half from Munich. There are hourly intercity trains from Vienna too. Austrian Federal Railways operate trains between Prague and Salzburg.
Buses operate from Prague, Linz and Cesky Krumlov. There are numerous shuttle bus services like BeanShuttle, Budweis shuttle, CK Shuttle, Czechshuttle etc.
Local transport
Salzburg city is best to be explored on foot, although you can use StadtBus (Trolley bus or diesel bus). You can reach the outskirts of Salzburg by bus as well as by taxi. Bus tickets can be purchased from bus drivers.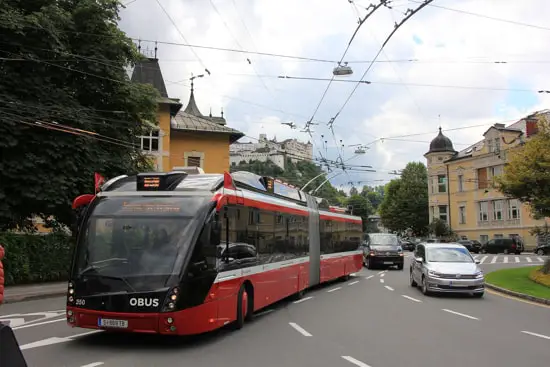 There are also options for renting a car (around Euro 35 a day) to drive around the city. There are bicycle tours available starting from Euro 10 per day during May – October.
Read: Getting around easily on Salzburg Public Transport
Best time to visit
September to October is the best time when the season changes (pre-winters)… there are not many tourists yet the weather is quite comfortable. You can also visit during March and April to avoid the summer rush, however, it could still be a bit chilly around this time. Summer (May to August) of course is a great time to explore Austria… you only wish if there were fewer tourists and the hotel rates little more affordable.
Read: Important weather conditions in Salzburg & other major cities of Austria.
Also Read