Style & Character
The Saint James like most other luxury hotels of Paris is inspired by the French Royalty but it goes a step further and differentiates itself by creating an exclusive 'chateau experience'. In fact this might be the only living Parisian Chateau…all the others are in the countryside.
Originally built by the widow of the French Prime Minister Adolf Thiers as a higher training student for good students, designer Bambi Sloan has used an eccentric chic style in redesigning the vintage building adding a healthy dose of the 'luxe eccentric'. The 100 year old Chateau style hotel has its own private garden creating a mixture of intimacy, ecological sensitivity and aesthetics that's reminiscent of all properties owned by Relais and Chateaux.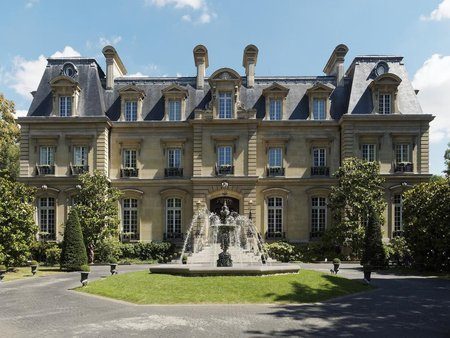 Rooms
There are 49 rooms and suites inside the hotel and they all have vintage brass keys that open the doors. Rooms are divided into Boudoir, Superior and Deluxe while suites are divided into Junior, Standard and Prestige. Then there are the signature Pavilions; meaning the Love Pavilions and Belles Feulles Pavilion.
The Boudoir rooms are the most compact (and most economical) at 25 sq. m and each of them look different not withstanding their identical looking red doors. Some of these have wigs and ancient crypts as décor while others have Barbie pink styles all pointing towards the eccentric ideas of the designer.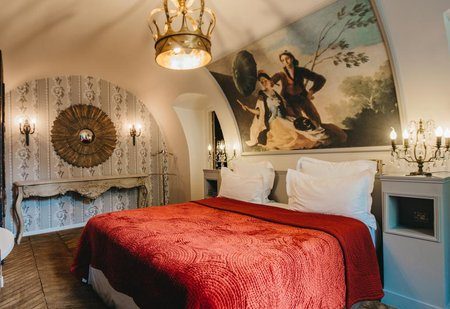 The Superior rooms are 35 sq. m each and have imaginative names like 'small gray' and 'last queen of Scotland' with equally startling design themes. Naturally the Deluxe rooms at 42 sq. m are the largest and they tell different stories too. There is one all white deluxe room that's particularly lovely to look at.
The Suites have a small reading/ dining area along with the bedroom and are exquisitely turned out. The blue Oriental suite has a stunning collection of Asian porcelain while the John steed room is upholstered in flannel and leather; all suites can accommodate 3 people with ease. The standard suites are about 70 sq. m and usually spread over 2 floors with one floor being a private winter garden or a luxe lounge.
Some of the suites have magnificent vaulted ceiling while some have rare paintings and antiques inside; choose one that reflects your taste. The Prestige suites are 90 sq. m or larger and are inspired from the royal past. The ones on the first and second floor look out unto the air balloons in the garden while the Music suite at the top floor has a grand piano and a lovely conservatory
The pavilions are decadent and delicious and are styled like private villas. The Love Pavilion is ideal for honeymooners with its 3 storey's containing a romantic bedroom, lounge, spa with Turkish bath and twin massage tables where an in-house masseuse can administer couples massages.
Common room amenities are Guerlain product hampers, nespresso and supplies, complimentary water and private bar along with I-home station. The furniture inside is also vintage. Bathrooms have a gorgeous tub and exquisite Guerlain product hampers.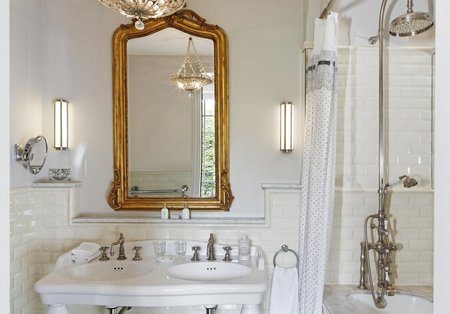 The Baby cots can be provided in all rooms on request. The suites are all on the third floor and they make clever use of the stunning glass roof of the hotel in order to create a special individual winter garden.
Rooms have minibars which have a good stock of champagne and savories from Angelina (a fashionable Parisian tea house loved by Coco Chanel). There is a Nespresso machine in all rooms but there is no kettle that's pretty strange.
Tip: email in advance to reserve one of those 'corner rooms' that have maximum windows and hence let in a lot of light.
There is a consistent black and white theme running through the entire hotel… staircases have paneling and balconies have chequered prints and look over startling hot air balloons (the hotel was once an aerodrome). The lounge is royal velvet and daring prints and the zebra trophies over the regal fireplace creates an interesting look.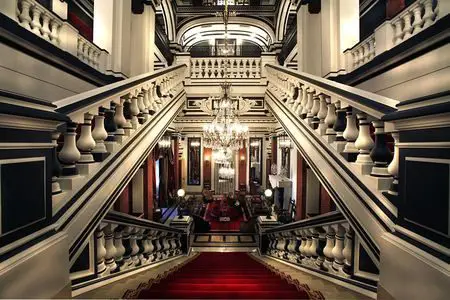 Banquettes, voluminous glass vases filled with fresh blooms, huge paintings, chandeliers, trompe l'oeil parquet carpet (common design all throughout the hotel) all create a regal look. And the icing on the cake is the most unusual chandelier aptly termed "chaos" that shines on over your head as soon as you enter the building.
Amenities & Service
This is a pet friendly hotel; one of those rare Parisian luxury hotels that actually encourages pets (though the owners are charged around 35 euros per furry guest). Baby cots are freely distributed and extra beds for kids are given for free and for as little as 55 euros for teens. Babysitting services can be arranged at short notice.
Unlike normal hotel spas that are basically two room affairs, the Saint James Paris Spa is an exotic and extensive amalgamation of east and west. There are 2 treatment rooms styled like sensuous boudoirs and 2 large Turkish baths. Their Guerlain beauty products have exotic ingredients and offer amazing lines like Dedicace Guerlain, Orchidee Imperiale (orchid extract infused) and Abeille Royale (royal bee jelly infused)!! The velvety sofas and gilt laden mirrors add to the charm of the spa. Pre- book your treatment sessions by contacting the spa at +33 1 44 05 81 99 or emailing [email protected]
There are 2 dazzling meeting rooms on the ground floor that can be used for dinners, business meets, receptions parties etc. with period furniture, designer fittings, skylights and can accommodate 26 people and 18 people respectively.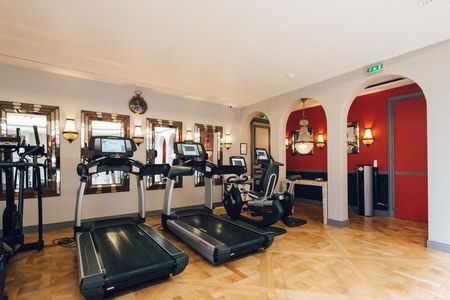 The hotel is ecologically responsible, has good waste management practices and harvests its own honey from the beehives in its garden. It grows its own herbs in the herb garden. This is a no smoking hotel.
The property offers Electric BMW's for use of guests and there are bicycle rentals too. There is private parking as well as valet parking. The hotel is fully Wi Fi enabled and climate controlled. The lack of a pool may seem strange for a hotel of this standard.
Surprisingly for a hotel of this standard, the hotel is not friendly towards people with reduced accessibility. The lack of disability cooperative features is a definite minus. However despite the décor being adult oriented there are plenty of connecting rooms and sofa beds that may make the place friendly for families with kids.
Food & Drinks
The dining place holds one Michelin star and the Chef Adrien Brunet has his distinctive style that takes inspiration from Berry (his native region). There is the tremendous 9 course Discovery Menu that's served with much flamboyance… the fricassee mushroom with black truffle is one of the best dishes along with smoked aubergine with scallops and roasted fillet with caviar.
You should also try the sinful white pudding and foie gras.  The cheese courses are curated by star Parisian cheese mongers Fromagerie Quatrehomme. There is the one dish one wine tasting option that's also cute…alternatively opt for whatever you want from the a la carte menu. The menu and the chef are very accommodating so vegetarians and vegans and gluten free eaters can rejoice!! Desserts are supervised by specialized Anthony Chenoz….the granite Limoncello with sesame seeds and roasted bread ice cream with gavotte cookies are two of the stunners.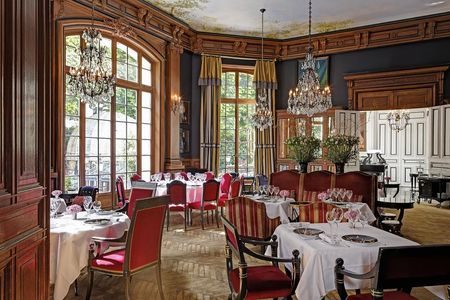 Light lunches and wines can also be enjoyed in the delightful library bar that's right next to the main dining room. The bar is reconverted from a massive library….it still has around 12,000 books and it has an array of studded armchairs crating a decent spot to cuddle up with a drink. The leather encased furnishings and the herb infused cocktails are both equally impressive.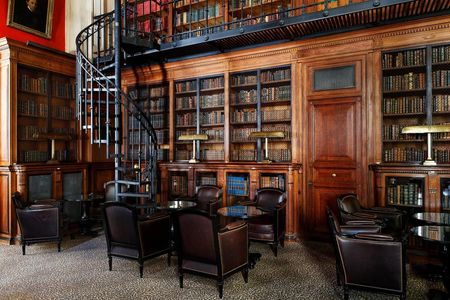 Breakfast timings are between 7am and 10am while lunch between 12.30pm and 2pm, and dinner is from 7.30pm and 10pm.
The breakfast is served in an elegant way with impeccably dressed waiters serving you curated items from the small and stylish menu. Or  (a better option) is to choose from the compact buffet comprising of fruits, whipped eggs, viennoiseries, Bordier yoghurts (the hotels delish butter is also sourced from here) etc. The Sunday brunch is beautifully arranged and is geared towards families with kids. The brunch is free for kids under 4 and discounted for kids under 12.
For eating out, on Avenue Victor Hugo there is the classy Le Stella with its waiters wearing nifty bow ties bearing authentic French gourmet cuisine. Then there is Les Tablettes de Nomicos on Bugead Avenue that's known for its inventive food. Another fine dining option is Le Petit Pergolese on rue Pergolese…it has stunning artwork from the Albert Carre collection.
If you want to try out more casual dining options nearby then there are huge steaks at Le Table Lauristan on Rue Lauriston and fusion food at Derriere (rue Gravilliers) that's again eccentrically designed by Bambi Sloan. Right next door to Derriere there is a famous bar Andy Wahloo. Also on nearby Rue Rene Boulanger there is a laundry themed drinking place called 'Lavomatic'.
Check Availability
Rate provided by Booking.com
Location
The 16th arrondisment where Saint James Paris is located is not a touristy place and there aren't too many hotels in this area. Some may like this feeling of merging with locals as the location is cheerful and lively with luxe boutiques and most amenities around the corner.
Some steps away is the nearest metro station Madeliene that's reachable by metro line 2 (reachable in 4 minutes on foot). Porte Dauphine metro station is also nearby and it connects to La Chappelle metro at Gare du Nord which means that travel is easy for Eurostar arrivals.
Easiest (and suitable way) to transfer to hotel from CDG airport and Orly airport (both are half an hour away) is to take a cab. You can also take the air France shuttle buses to Etoile that's just 20 minutes away by walking.
Walk a little and you can enjoy the Arc de Triomphe, Foundation Louis Vuitton, Musee d'Art Moderne (watch out for the Jean Nouveau façade and the Islamic art exhibitions) and Paris Aquarium.   The Eiffel isn't too far away either and then just a little distance from the hotel there is Avenue victor Hugo with luscious Parisian boutiques. In case the Saint James zebras have fuelled your interest in taxidermy; you can walk in to the best taxidermy shop in Paris that's nearby….the iconic Deyrolle has a stunning collection of stuffed animals.
Saint James Paris
5 Place du Chancelier Adenauer.
Phone: 00 33 1 44 05 81 81; Email: [email protected]; Hotel Website
Check Availability
Rate provided by Booking.com
Also Read