Style & Character
The Maison Souquet oozes understated luxury that's signalled by its subtle façade highlighted by 2 scarlet lanterns. This is housed in a neoclassical building that served as a pleasure house during the Belle Epoque period; the most lascivious chapter in Parisian history.
Jacques Garcia the principal renovation artist has applied all his talent in recreating the sensuality and exotic beauty of this establishment that stands in the wonderful Pigalle area of Paris. This is a hotel that unabashedly prides itself on its love nests and its fantasy backgrounds that are created through sensual artwork, divans, sofas and imagery.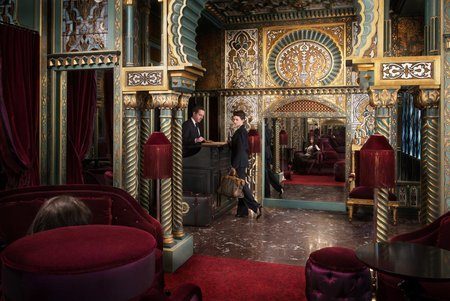 As with many Parisian luxury hotels expect to find every whim of yours satisfied here right from having a liveried butler serve you caviar in your room to enjoying a celestial wellness session in the spa to having a French gourmet breakfast in the "winter garden". The Maison Souquet makes no qualms about celebrating its racy past and its relatively small size and personalised service makes it ideal for couples and lovers.
Rooms
The 20 rooms include 6 suites and other standalone rooms with fantastically beautiful interiors.
The standalone rooms (18 m2) are designed like cosy love nests and 2000 meters of 120 strains of silk were used to outfit them. Innovatively named like Napoleon III, Chinese, Indian, Japanese and 18th century etc.; these rooms bear the names of well-known courtesans who once titillated Paris.
The junior suites (26 m2) are designed to be restful places crafted by superior principles of design and haute couture. Curated artwork, paintings, rich panelling nestle inside the Belle Otero and Castiglione (2 famous Parisian courtesans). The junior suites have private access to spa and swimming pool upon request and they have attached salons and bathrooms.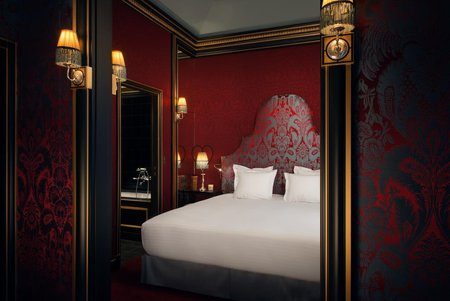 The two larger suites are actually small apartments called La Paiva and Liane de Pougy…dedications to these famous pleasure sellers. The La Pavia with its extravagant fabrics reflects the taste of the poor Russian weaver's daughter who became the most lusted for woman in Paris. Liane de Pougy; a bergeres icon and chaste princess is the inspiration behind the other apartment. Uniquely crafted high ceilings and luscious furniture with fine artwork deck what's claimed to be 'one of the most elegant living spaces in Paris'.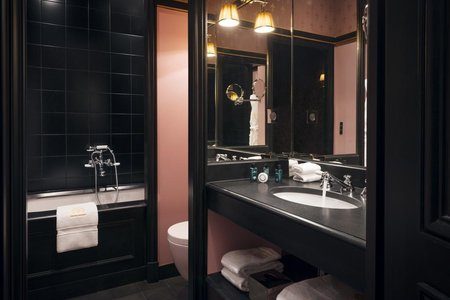 Both the apartments can accommodate 4 people each and are 55 m2 in sq. area. These have private access to the spa, and their bathrooms have large bathtubs and walk in showers. Both suites have private entrances and hand curated artefacts and draperies of the finest quality. Apartments have a living area/ salon, bedroom, walk in closet, bathroom and a delicious air of decadency.
Common amenities include wireless broadband, HDTV flat screen, private refrigerated bar, climate controlled room, 24 hour in room dining and a personal safe
No two rooms here look alike but you can expect velvet couches, chandeliers, old school walk in closets, gilt, lots of pillows and ultra-luxurious linen everywhere. Even something as commonplace as a thermostat is hidden behind a brass décor grate. If ambience and aesthetics are important to you …this is heaven!! Each room/suite/apartment has a brass plate naming a particular 'lady of pleasure' who once bewitched Paris.
While the rooms and their ambience are luscious they are not exactly family friendly. This is a hotel that grandly celebrates its past as a former 'pleasure house' and there are pictures of the same nature set up everywhere. This is a place where you can honeymoon and not a kids-included vacation place.
Services and Amenities
The Maison souquet is filled with charming nooks and spaces to relax; all of which are elegantly decorated by Jacques Garcia. Right from the lobby with its plush chairs and special blend of house candles (you can buy them when you leave) to the reading room with its curated collection of books.
There is a fantasy universe inspired spa with celestial ceiling complete with golden stars that shine across a blue sky. Imagine accessing an old stone stairway tucked behind rich velvet panels to reach a spa. The stars and planets deck the roof that shines above a 10 m swimming pool and a magical atmosphere pervades into the adjoining hammam and beauty treatment rooms.
The spa is available for private use on special request and a secret key is provided which adds to the mystique of the entire spa experience. Unfortunately the French law requires either a lifeguard or a security camera to be positioned around the pool area; the camera around the pool at Maison is the only impediment to the intimacy promised by the hotel.
Private Butler service is available at an added charge. The butlers will take care of everything from making reservations to drawing up vacation plans. In room breakfast is available but the stunningly beautiful winter garden might as well tempt you into having it there. The service is completely personalised and all the staff …Louis, Manu etc. go out of their way to please guests.
Dry cleaning, ironing and shoe care services are available on request and so is luggage service. Guests can ask for a power adaptor, board games and card games along with an entire games console and a computer. Maps of Paris are available for free on request. All rooms contain free Hermes Orange verte toiletries.
A curated bouquet of beauty services are available for guests and they include the beat of beauty treatments and hair styling services. You can avail everything from a manicure to a complete makeover and even request for a luxurious in-room massage.
Check the official website of the hotel to learn about special offers and packages like "Parisian romance", "heavenly wellbeing", "haute culture" etc. that include late check outs, complimentary drinks and reserved private use of the spa. Romantic packages will include handwritten notes, a profusion of candles and a bed strewn with rose petals ….all perfectly tailored for couples.
Food and Drinks
The lounge has eclectic Moorish décor and is named "Mille et Une Nuits" with an amazingly decorated bar area… like the spa the bar is also tucked away and is uniformly charming with a blazing fireplace and luscious wood panelling everywhere. You can expect to sample the best of cocktails, choicest wines and most exclusive liquors here along with sophisticated French food.
Right from the purple flower encrusted centrepiece (seats spiral around it) to the dazzling crystal serve-ware the bar looks stunning from every angle. The bar and lounge at Maison Souquet are open to non-guests as well as guests; this might be an issue.
There are lots of nice restaurants in the Montmartre area and you will actually be spoilt for choice. The LAtelier Libanais pigalle on Boulevard de Clichy serves great Lebanese food while the Rouge Bis on Place Blanche serves classy European fare. For Italian food you can try out Tavoliere on Boulevard Clichy and for authentic French haute cuisine the Le Sanglier Bleu (same place) is great. There is a Starbucks on Place Blanche just about 100 meters away while a good supply of beer is available at Brussels Beer Project. Other casual dining options around are Roy's Pub restaurant, Pepone Café, Le Bistrot, Bistro de Montmartre are all good options within a kilometre of the Maison Souquet.
Check Availability
Rate provided by Booking.com
Location & How To Reach
The location is Montmartre and the hotel is right near Moulin Rouge so this makes it a zone where Parisians romance and play….this may or may not be an advantage for you. This is the 9th arrondisment of Paris which was famous in the past for being a red light area. One of the biggest advantages of the location is that you are an affordable Uber ride away from umpteen places in downtown Paris.
The Moulin Rouge, Pigalle basketball court and the Museum of Romantic life with its lovely tea garden are 3 immediate attractions just a few steps away from the hotel. The Theatre des Deux Anes and the interesting looking La Quatrieme Pomme are also nearby. There are cheaper cabarets like Lapin Agille that are perched on the hill right by Rue Lepic.  At the bottom of that very hill there are 2 classy theatres named European and Le Mery. Other attractions around are the Montmartre cemetery and the Sacre Coeur. And while you are in this exciting area don't forget to get your portrait sketched by one of the numerous artists gracing Place du Tertre.
Easiest way to get to the hotel from the CDG (22.1 km away) airport is to hail one of the umpteen cabs around…if you are staying in this beautiful a hotel don't bother using metro/ RER for your arrival.
The nearest metro is Blanche metro station (about 100 meters away) and Place de Clichy (300 meters away) and also the Pigalle & Abbesses stations (500 metres away). The metro networks are great for exploring the beautiful city once you reach the hotel, check in and enjoy its sensuous decadency.
Maison Souquet
10, rue de Bruxelles — 75009
phone: +33 (0)1 48 78 55 55; Email: [email protected]; Hotel Website
Check Availability
Rate provided by Booking.com
Also Read