Getting into the city
From the airport
Lucerne doesn't have an international airport so if you are flying in then it's better to fly into Zurich airport. Not only is the Zurich airport nearest to Lucerne but it also offers the best international connectivity. From Zurich airport to Lucerne it's a 67 km journey that will roughly take 55 minutes by car. There are no direct flights to Lucerne and the only other option is to fly into Berne Airport that's 124 km away.
The covered bus station in Zurich airport is the biggest in Switzerland and you can easily board a regional bus to reach Lucerne. There will be at least 1 change though as there are no direct buses. You can either opt for IC5-IR75 route or IC8-EC route and either way your journey will take around 1 hour 33 minutes. The approximate bus fare (depends on the route you take) will be 14.25 euros.
Book your bus tickets according to time table through ZVV Website.
You will find taxis round the clock in front of the Zurich airport… lookout for the white coloured ones with the yellow/ black taxi signs. The trip from Zurich airport to the city centre will take around 50 minutes depending on traffic flows.
Taxi fares from Zurich airport to Lucerne city centre will be around 240 euros in an economy taxi. Taxi is the fastest and the most expensive way to travel!!
You can call a taxi via the 24 x 7 airport taxi hotline: +41 43 444 11 00.
You can book your taxi transfer between Zurich airport and your hotel in Lucerne in advance though this Viator site.
The Swiss Travel Centre (SBB) is located just below the airport centre building in Check-in area 3. The train number IR70 goes to Lucerne from Zurich airport and it is available from 4.55 a.m. to 11.35 p.m. You will get this train every half hour. The one-way journey will last for an hour and 2 minutes and costs only 12.50 euros (adults) and 6.25 euros (kids)
Buy the train ticket from the ticket machines at the Arrival areas 1 and 2. You can also buy tickets from the SBB ticket counter that's open from 6.15 a.m. to 10.30 p.m.
By Long-Distance Bus
Major long distance bus operators to Lucerne are BlaBlaBus, FlixBus and MarinoBus.
Lucerne is connected by bus to Zurich, Geneva, and Basel and also to international destinations like Paris, Vienna, Lugano, Milan, Bern, Venice, Milan, Lyon, Budapest etc.
In Lucerne the major stops where you can get off are at Lucerne Carparkplatz Inseliquai, Luzern Landenbergstrasse /Luzern Omnibusbahnhof, Lucerne, Parking Bus Inselipark, Luzern Inseli Bus Stop, Gare de Lucerne – Inseliqua etc.
The first bus from the left (in the picture above), connects Lucerne Main Station to Ettiswil which is about 33kms away to the north-east of Lucerne via Ruswil. The domestic buses in Lucerne (and rest of Switzerland) began running from 2018 as Switzerland wanted to retain focus on its excellent train networks. The Eurobus Swiss Express runs 3 domestic lines in this region. There is one line from North to South (Basel to Lugano interim Lucerne) and 2 from East to West.
You can compare routes, operator charges, frequency and coverage from an umbrella website like BusBud as it will show you route results between Lucerne and your chosen destination. This website of BusBud to book your international bus tickets to Lucerne  (or return).
By Rail
The excellent rail system in Switzerland makes rail rides into the country a better option than flying. For example, it takes an hour to get into Lucerne from Zurich airport but only 45 minutes from the Zurich rail station to Lucerne rail station (i.e. Luzern Bahnhof). A second class train ticket from Zurich to Lucerne is about 7 euros.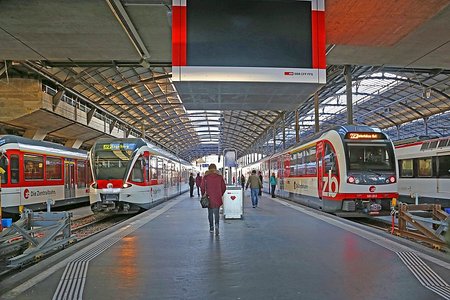 You can reach Lucerne in 2 hours 45 minutes from Geneva, 1 hour from Basel and 1 hour 51 minutes from Interlaken.
Cities having strong rail connections to Lucerne are Basel, Geneva, Bern, Interlaken, Lugano, Zurich and Milan. The Goldenpaass Line, Wilhelm Tell Express and SBB all service Lucerne station.
City Public Transport
The public transport system of Lucerne runs basically on buses and trolleys. The regional network is coded into zones and Lucerne city stands for zone 10. So if you are just going to explore the city and its famous neighbours (Littau, Kriens, Meggen, Emmenbrucke etc.) then just buy a combined ticket for zone 10. This is probably all you will need as the bus transport to cable car valley-station (Pilatus) is also within this zone.
If you buy a day pass for zone 10 it will cost you around 8 euros and a single hour pass will cost around 4 euros. A multi-day ticket (basically 6 single-day tickets) will cost 46.80 euros. If you want to do extensive sightseeing then buying a multi-zone ticket is good. For example, you will need a multi-zone ticket covering both zone 10 and zone 23 if you want to explore Matters Lucerne route. The 2 zone ticket prices start from 59 euros. More information about Tickets & Passes is given under the next major heading below.
You can plan your entire travel timetable inside Lucerne using this VBL (Lucerne City Transport) website. Explanations of different zones are also given there.
You can buy these combined tickets via cash/ credit card from ticket machines at every stop. You can also buy these tickets from any VBL point of sale. There is one in Lucerne station.
There is an app called Fairtiq (works on both I phones and android) and you can use it to buy public transport tickets in Lucerne. The app works well in English and will automatically charge you the most cost-effective fare by comparing day passes and single tickets.
You can get more information by calling VBL transport helpline: +41 41 369 66 44
Don't forget to buy the ticket… if you get caught travelling without one, you will straightaway be charged an 85 euro fine. The VBL sales points are good places to get transport advice.
Trolleybuses
In city transport, a trolleybus is a good option. This has replaced the tram system of Lucerne in 1961. The network is run by VBL and has 6 lines that not only cover the city thoroughly but also run to nearby towns of Horw, Emmem and Kriens. About 92 buses, 74 trolleybuses on 25 daytime routes run in Lucerne. All information is available on the VBL website and the combined travel tickets work here.
SBB Night Buses run on Saturdays and Friday evenings between 12.00 a.m. to 4 a.m. No matter what travel pass you have, there will be an extra ticket for these buses. It's best to buy tickets directly from bus drivers on the night buses.
Boat
A great way to see Lucerne is to take a hop on hop off boat tour or a Lake Lucerne cruise (there are 1/2/3 hour versions). Some tours have an audio guide and some have food and wine offerings.
The tickets are available at the Lucerne pier (a few steps away from the main train station) or at the SBB, Rigi Bahnen, Pilatus Bahnen, Tourist Office Beckenried, Treib Seelisberg Bahn etc. The last 3 mentioned mountain rail offices sell combi tickets for the boat and mountain trip that's a good value.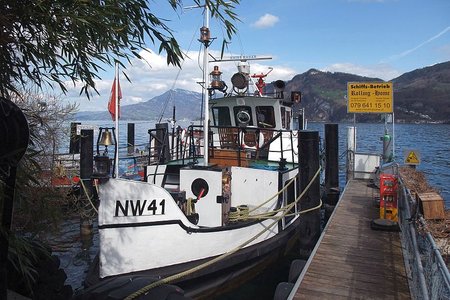 You can also book a boat tour or cruise online in advance through this Viator website.
Boat travel is free with Swiss GA card, Swiss Travel Pass etc. and 50% discounted with Swiss Half fare card. Kids under age 6 get to travel for free.
Different boat routes, fare plans and the time tables (for different seasons) are available on Lake Lucerne Website.
You can hop off to see pretty Swiss lake bordering villages along the Lake Lucerne like Fluelen, Brunnen, Weggis and Treib and you can also take a funicular to travel further (Selisberg can be reached by funicular from Treib and it offers great views).
You can also take a ferry from the Lucerne Bahnofquai pier to Vitznau and Alpnachstad. There are ferries every 3 to 4 hours and the journey time is 57 minutes. While choosing a boat tour remember that a round trip means a return on the same boat while a change trip means coming back on a different boat.
Tip: With a second class ticket you can only sit on the lower deck which doesn't have great views. Ideally, pay the extra charge to get a seat on the upper deck.
Tickets and Passes
The Visitor Card is your best bet in the travel pass choice bracket for Lucerne. You get a lot of discounts on mountain railways, museums, cableways, excursions in zone 10 city network. These include 20% discount each on the Rigi Bahen, Stoosbahen, and Stanserhorn-Bahn etc. Plus, you get free Wi-Fi access in Luzern.com (official Lucerne and Lake Lucerne Tourism site) hotspots staggered throughout the city. Along with all this, you also get free use of train and bus (2nd class) within zone 10.
Visitor card is valid for 14 days from the date of arrival… this is a non-transferable card. This card is free if you book overnight stay in any hotel (but not hostel) in zone 10 through Luzern.com.
There are a whole lot of other travel passes you can explore and its best to browse through all options on the SBB website.
The ground rule for having an optimised travel experience in Switzerland is to use the Swiss rail. There are a staggering number of Swiss rail passes and it will require a bit of analysis to figure out the right one for you. The Swiss Travel Pass is available for 3/4/8 and 15-day formats. The facilities include free tickets for bus, boat and train apart from discounted entry to museums and castles and discounts on mountain trips.
The 3-day pass is priced at 218.51 euros and is super convenient as it allows ticketless free travelling on many routes (including up to Rigi).
The Swiss Half Fare Card may work out to be the cheapest if you are staying for more than a week in Lucerne as it allows 50% discount on tickets for one month. Tickets here means urban transport tickets, mountain trip tickets, and train, bus and boat tickets. The half fare card is priced at 112.11 euros and that's considerably cheaper than the Swiss Travel pass or the Swiss Flex pass. However, you will have to keep buying different tickets for your trips and that will cost you time.
If you are in Lucerne for just a day then buy the Saver day pass. This is affordable and gives you free tickets on trains, buses and boats plus urban transport systems. However, there are no discounts on mountain trips and entrance to museums. The saver day pass will offer great savings of both time and money for a short stint in any prominent Swiss city. The Saver Day Pass comes for 48.87 euros and is best combined with the Half fare card.
Other options you can explore… Swiss travel pass flex, Eurail pass and regional pass for Lucerne (Tell Pass-Lake Lucerne)
Almost all Swiss travel passes are half price for kids between ages 5 to 16 and free for kids below 5.
Taxi  Service
Taxis are available throughout the city but their concentration is higher outside the train stations, designated taxi stands, Schwanenplatz, Hotel National etc.
The standard taxi charge (initial) is 5.4 euros and then 3.60 euros/ km. Taxis use their meters and will charge heavily for waiting (around 6o euros per hour). Only 2 pieces of hand luggage's are free; anything over that (suitcases, pets) etc. will be charged extra.
Some of the more popular taxi service operators are:
RF Taxi is one of the most affordable taxi calling services here… their base rate is lower than the standard rate charged by most Lucerne taxis. They have Eco vehicles, minivans and limos.
RF Taxi phone: (+41) 41 320 18 18; Website
McTaxi operates all over Central Switzerland, right from Lucerne to Zurich to Kriens etc. They also run large vans (seating 8 people) so ordering a McTaxi can be convenient if you are arriving in a large group.
Phone: (+41) 76 577 66 55; Website
Walk
Lucerne has a rich political and cultural history and it's a delight to walk around the city. You can start your walking tour at Lucerne train station with its historic portal and if you want you can even get some maps from the Tourist Information Centre located inside the portal. Walk till the "lake of four forest cantons' or Lake Lucerne and then the Chapel Bridge.
Your next stop should be the Renaissance style Lucerne Town Hall, Jesuit College and church, Spreuer Bridge, Musegg Wall, Bourbaki panorama and then the Hof church on Leodegarstrasse. You should ideally combine a walking tour with a boat tour of the Lucerne Lake… after all, this is Switzerland's prettiest lake. By the way, Lucerne is very walker-friendly and there is a well-marked walking path encircling the Lake Lucerne.
You can also book this charming walking tour of Lucerne that includes an hour-long boat trip on Lake Lucerne online through this Viator website.
Car Rentals
One way streets, pedestrian-only zones etc. abound in Lucerne (especially in the old town) so driving inside this compact walkable city is not really recommended. However, a car rental service may be useful when you plan on seeing lots of attractions outside the city. It's easier to admire beautiful Swiss valleys and passes if you have a car.
Don't drive into the mountains without proper chains and winter tires if there is any chance of snow. Some areas explicitly require cars to have winter tires (you will see a blue road sign with the picture of tire bound in chains).
It's compulsory to have international insurance certificate (Carte Verte), a valid national driving license in order to rent a car here and you need to be over 20 years of age.
On average, per day car rental cost in Lucerne is 80 euros.
It's better to consult an umbrella website like Kayak when you are renting a car in Lucerne as it will compare many car rental companies and suggest the best options.
Some popular independent car rental agencies in Lucerne are Sixt rental, Hertz rentals etc.
Sixt offers a choice of convertibles, SUVs, sedans etc. and for an added charge you can ask for child seats, GPS etc. Tiy can book a car through the Sixt website.
Bike Hire
The Lake Lucerne region is best explored on 2 wheels and the adjoining area that has MTB trails and world Class Mountain biking roads is a biking paradise. There are nearby mountains like Burgenstock, Rigi, Stanserhorn and Pilatus. The old town of Lucerne is quite biker friendly too.
You can bike around Lake Lucerne in the clearly marked biking path but there is a glitch. In Lucerne, there is an obsession with separating walkers from cyclists and since walkers get the lakeside track, the cyclists get the track that's a little further away from the lake. Also, the cycle lanes disappear suddenly on roads and this is disconcerting for novice cyclists.
Renting bikes at Lucerne is easy and you can use Rent-a-Bike; they offer bike rentals in 200 locations across Switzerland and Germany. Rent-a-Bike has partnerships with Tour de Suisse Rad AG and FLYER AG so you will mostly find Swiss bikes in their fleet apart from German made Stevens Bikes. The daily rental rate for a normal bike is 25.67 Euros and for an e-bike is 36.13 Euros.
You can select pick up and return stations and reserve a bike from Rent-a-Bike site.
You can go on an e-bike tour (much less strenuous than normal biking) and the Lucerne to Brunnen route is quite good.  This 18 km route is basically the track where the Confoederatio Helvetica originated. You will travel from Lucerne to Fluelen to Morschash and Brunnen and pass by lesser-known (yet very enjoyable) spots like the Swiss Holiday Park.
The minimum rental period is half a day (till 1.30 p.m.) and the maximum is 1 month. If the pick-up and drop locations are different then there is an extra nominal fee. If you have an SBB Half Fare card then you will get discounts and additional facilities like child seat for free.
Keep in mind that bike season runs through 1st April to 31st October and availability of bikes is limited outside this period.
Also Read