Style & Character
True to the name of the Hotel, this luscious 37 room boutique hotel serves up a delicious degree of narcissism and self-indulgence. Inspired by the beautiful, fashionable and narcissistic Cleo de Merode who was incidentally an actress, dancer and artist in the Bella Epoque period; the hotel tries to incorporate her spirit in the rooms, spa and ambience.
The narcissist beauty had inspired the greatest men of her time; Marcel Proust, Klimt, Nadar, Lautrec and Hahn Reynaldho (he gave her the name pretty little narcissist)… artists queued up to sculpt, paint and photograph her and kings and the entire world was enamored of her. Don't worry if you have never heard of Cleo before; corridors and spaces in this elegant hold startlingly beautiful pictures of her and the entire hotel holds pieces of her mysterious life story… told through clever clues. The furnishings and aesthetics of the hotel are said to reflect the sensuality and playful nature of this lady.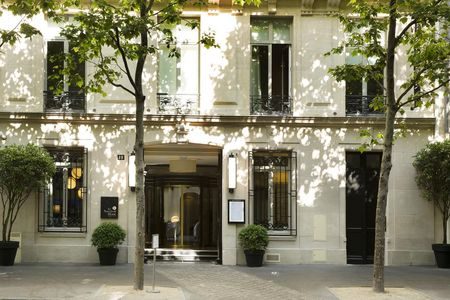 The design is decidedly feminine with beige, white and black being the predominant colors that are set off by pale rose, gold and sky blue accents. The abundance of exquisite draperies, rugs and pillows all around along with the elegant framed artwork create a first class 'five star' aura. Incidentally the star designers Laurent and Laurence along with interior artists Thierry Martin and Thibault created this look.
Rooms
There are 37 rooms divided into different sub types like classic, superior, executive and deluxe. The classic rooms are compact at 18 m2 but cannot be classified as 'small' and they provide good value for money. There are so many built in closets that maximize space utilization and the use of white-nude colors open up the space.
The superior rooms are 22 m2 and have the option of double/ twin beds with extra plush chairs inside. The deluxe rooms are 26 m2 and have an additional private access to a 6 m2 terrace with cozy seats and shrubbery. The executive rooms with a sofa (can easily accommodate 1 person at night) and plush chairs plus a private terrace (6 m2). The bathrooms of executive and deluxe rooms have both a bath and a shower.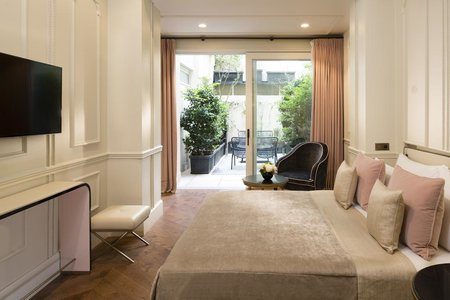 The classic suites are 36 m2 while the Aurore suite is 39 m2 and the Cleo Suite is 40 m2. the Aurore suite has a private terrace from where you can watch the bewitching Parisian sunrise while the Cleo suite has an Eiffel tower view along with a cozy alcove, sloping mansard and fireplace. Another signature suite in the Hotel is 'On the rooftops of Paris' (37 m2) that provides a fantastic view of Parisian rooftops .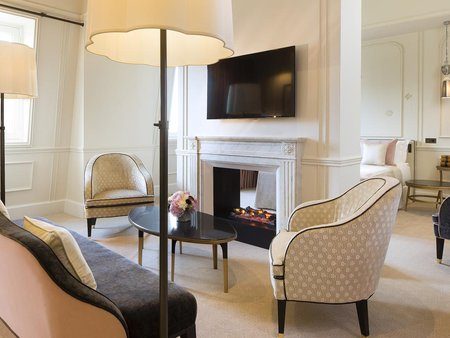 All suites have interior patios, large bathrooms (with shower and bath) and a sitting area plus the bedroom. Most of the views are stunning… choose rooms based on what you want to see; Concorde Ferris wheel, Eiffel, faint image of the Sacre Coeur standing on Montmartre or simply the elegant mosaic of Parisian roofs.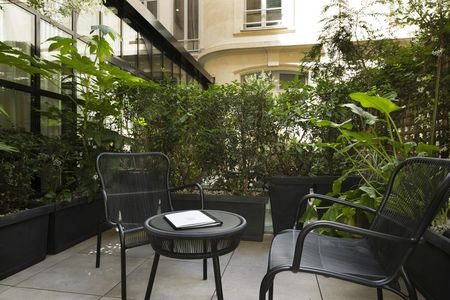 Some common features of all rooms and suites are reverse cycle air conditioning, excellent sound proofing, high speed internet, flat screen TV with video library. Most rooms have choice between a double bed and twin beds along with a spacious closet. All rooms have a fully stocked mini bar with complimentary water bottles, espresso tea/ coffee, iron and ironing board  and a shoe shining machine .
All bathrooms have state of the art rain effect showers, luxury bath robes with matching slippers, hair dryer and scales. A luxury beauty product hamper with the in-house perfume vial is provided.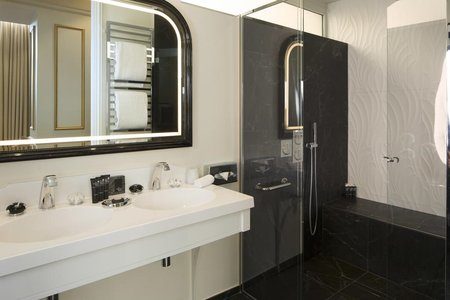 The Le Narcisse is always kept neat and spotlessly clean and the service is usually flawless. Unlike most 5 star Parisian hotels you won't find a lot of chandeliers, gilt and period furniture and the ostentatious Louis XV style is absent. There is understated luxury and ample use of silk, tweed, velour. Most of the furniture is modern with a few art nouveau/ art deco pieces
Amenities & Service
There is free Wi-fi in all rooms… all the rooms are sound proofed and climate controlled. There is 24 hour concierge service and the concierge will take care of everything including drawing up tour plans to hotel reservations, concert tickets to calling up cars. In room service is available from 6 p.m. to 3.00 a.m. valet parking is available 24×7.
The concierge can also make arrangements for a night at the La Maison des Amis and La Maison des Vignes; small boutique accommodations in the heart of the Le Domaine de la Soucherie vineyard estate (they have a tie up with the hotel). This place is 2.5 hours away from Paris and offers a sumptuous wine tasting experience plus a date with serenity.
The classy looking plush upholstered conference room is ideal for small meetings and business talks (can accommodate 10 people max). Featuring filled bookshelves, state of the art business equipment with connected screens; this room has the capacity to host business lunches/ dinners.
The lowest floor of the hotel has a beautiful intimate spa and an 11 meter pool complete with waterfalls and hydrotherapy jets. Small plush sofas surround the pool area and guests can sip on infused water, nuts and dry fruits. The spa menu is competent but standard with common therapies like Californian massage, Swedish massage, facials, body wraps and manicures on offer. Carita's iconic renovateur (secret blend of sunflower seed and organic oils) is at the base of massages and treatments. The hammam room and the sauna section provide good options of relaxation after a long day of sightseeing.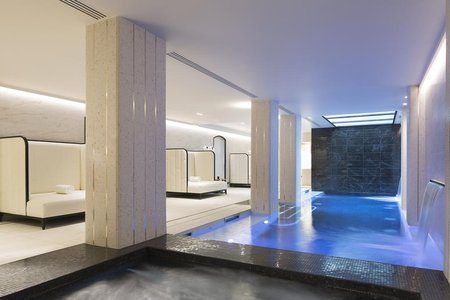 Alarm calls and wake up calls are provided on request. Housekeeping is impeccable… rooms are cleaned and refurbished twice a day and there is a turndown service too. The staff here are very discreet yet super helpful. This is a smoke free hotel and pets are not allowed inside.
This is a boutique establishment and the utter sense of privacy and luxury creates a cocoon like feeling that will appeal to some though some may feel that the spa and pool are too small for five star standards. However the focus on Cleo and her decidedly colorful history may make things uncomfortable for families travelling with kids. For couples and adult groups; it's hard to find a place in Paris with more elegance and great service.
Food & Drinks
There is an intimate 20 seated in-house restaurant 'Cleo' that commands a good reputation amongst local Parisians. Canadian chef Zachary Cavller (he honed his skills at The Sparroe & The Lawrence) offers elegant seasonal food that's ethically sourced and combines healthful benefits with unique taste. Cured meats are his speciality…you can savour the best of sweet and savoury delicacies at the afternoon tea spread at Cleo. A continental breakfast spread is available at Cleo every day and the entire menu is purely organic.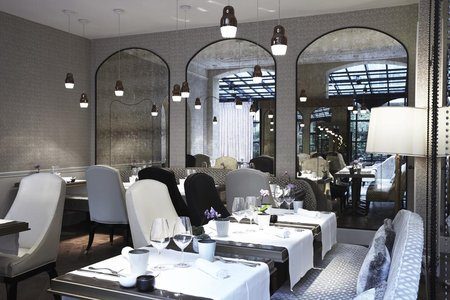 If you are looking for dining options nearby then you can check out Le Recrutment Café, Giovanni Pizza Pasta etc for casual food. For fine dining Le Petrossian, Villa Thai restaurant, Tomy and Co, Au Petit Tonneau ….all within 1 km of the hotel, are suitable. If you are looking for a Michelin starrer nearby then there is L'Arpege d'Aain Passard with its 3 glorious stars.
Just a few steps away from the hotel is the Au Moulin de la Vierge bakery and the Patissiere Thoumieux. Walk a little further and you can satisfy your sweet tooth at Patissiere Patrick Millet, Chocolatier Maison Clauddin and the wine merchant Le Repaire de Bacchus.
Check Availability
Rate provided by Booking.com
Location & How To Reach
The Le Narcissse Blanc is beautifully positioned between the Eiffel tower and the Ponte Alexander III in the 7th arrondisment of Paris. Some great palaces and monuments around the hotel are Les Invalides, Trocadero, Le Grand Palais, Orsay museum besides the Eiffel. The Le Champ de Mars and Les Champs Elysees with its glamorous stores and beautiful architecture is a short walk away.
Look at the National Parliament, UNESCO building and some of the most influential Parisian homes while you are strolling around in this area. You will also find Musee Rodin, Musee de l'Armee des Invalides, Musee du service Sante etc. ….all within 1 km of the hotel.
The nearest airport is Paris Orly airport (16 km away) while the CDG Airport is 31.8 Km away. The nearest metro station is La Tour Maubourg followed by Varenne while the nearest RER station is Invalides. You will find a lot of historical and museum oriented tour centers nearby….after all this is the historical and romantic heart of Paris.
Shoppers can rejoice at the proximity of the flea markets at rue Cler (10 minute walk), glamorous stores at Triangle d Or (15 minutes away) and the Bon Marche departmental stores (20 minutes away). Stroll a little further and you will reach the elegant Saint Germain des Pres neighborhood.
19, Boulevard de la Tour Maubourg
Phone: 33 140 60 44 32; Email: [email protected]
Check Availability
Rate provided by Booking.com
Also Read