Style & Character
The Le Bristol is amongst the most luxurious hotels in Paris and it boasts of its illustrious past with the likes of Rita Hayworth, Sophia Loren and Charlie Chaplin favoring its services on their vacations. Nestling in the haute couture area of Paris …rue Fabourg saint Honore the Le Bristol officially became a hotel in 1925 having served as the American Embassy during the Second World War. Incidentally this was the first Parisian hotel to be chastened a 'Palace' i.e. a cut above the highest 'Five Star' rating.
Le Bristol is an offering by the Oetker Collection that specializes in standalone top notch luxury hotels in the best global locations. The Oetker hotels are geared towards affluent travelers and offer the finest standards of European hospitality.
Rooms
A major renovation project at Le Bristol ended in 2014 and this was when 21 new rooms and 5 suites including the sensational panoramic suite were added. Incidentally woody Allen's famous movie 'Midnight in Paris' was shot in this suite. As of now there are 188 rooms located in two buildings that are sewn together by a gallery filled glass hall and yet separated by a formal French garden with decorative parterres. You will get a distinct 'Versailles palace' feel from the entire place.
Incidentally the paintings and prints which dot the hotel rooms in abundance are all expensive originals so make good use of your camera while you are here. There are chandeliers and gilt encased mirrors that add sparkle too the space. While the walls and flooring is kept neutral in a palette of graceful nudes… a bevy of designer fabrics adorn the walls (spot names like Manuel Canovas, Nobilis, Pierre Frey, Bernard Thorp and Rubelli).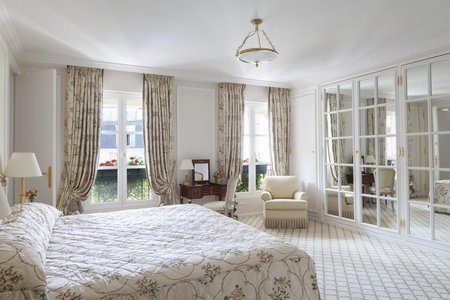 The rooms are divided into Superior, Deluxe and Prestige room categories and even Superior rooms (lowest category) are as big as a standard Parisian apartment and command a full 430 sq. feet. The Deluxe rooms are 485 sq. feet while the Prestige rooms are 540 sq. feet and both these categories have separate seating areas and huge bathrooms with twin basins.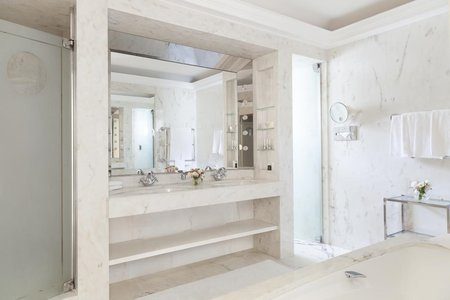 The junior suites are 592 sq. feet and they have a big sitting area which can easily accommodate an extra bed. A family of 5 can easily connect a junior suite with a deluxe room and stay in style. Tall graceful windows face the interior terraces/ garden/ lovely shops of Rue du Faubot and expansive bathrooms with double sinks and huge rain showers are available.
The deluxe junior suites are 805 sq. feet and have a huge dressing room at the entrance. Rosewood chests, Canova floral prints and exquisite furnishings grace these apartment style suites that overlook the Castellane Glass dome on Rue Faubourg. The 970 sq ft deluxe suite, 1185 sq feet St Honore suite and 1290 sq feet Prestige Elysee suite all escalate in terms of luxury and facilities.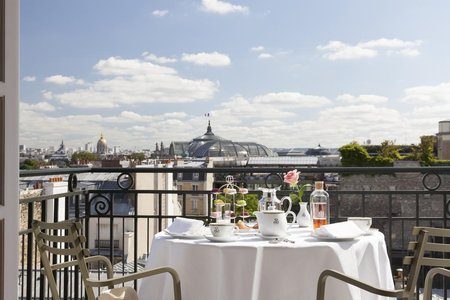 The Prestige suite is right adjacent to the French President's Palace; Elysee. The 1185 sq feet terrace suite is on the 5th floor and has direct private access to a flower filled terrace. There is a terrace suite on the 6th floor too and it has a private Jacuzzi. The suites have nespresso machines, separate sitting and dining area and two bathrooms each.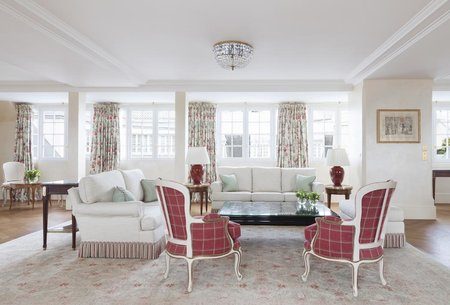 Paris has always attracted honeymooners and lovers and so the 8th and top floor 1905 sq feet honeymoon suites are an apt offering. These are bright, chintz filled spaces with walk in closets, steam rooms and spacious baths. There is even a private kitchen which can be privately used by in-house chefs to whip up candle lit meals apart from a cozy balcony with a fantastic view
The 2155 sq feet penthouse suite is a 2014 addition and has staggering amounts of silks and jewels bedecking its designer interiors…the windows offer views of the dome of St Augustin. The 2155 sq feet panoramic suite has commanded a lot of media attention for its décor… expect walls filled with rare paintings and a stunning celadon green honey and ash color scheme. The Louis XV rare wood furniture, private staircase, fireplace and dining room (for 6) are special features of this suite.
If an Eiffel view is what you are after then choose the 2110 sq feet Paris suite with its period furniture and gold moire encrusted bedrooms might be the answer. And if you want a vacation filled with magnificence then book one of the few 3230 sq foot royal suites that look like 18th century townhouses and have Carrara marble bathrooms and 8 seater dining tables inside. Or go a step further and book the 3475 sq feet Imperial suite (largest one in the hotel) that's exclusively done up by French firm Taillardat. This suite has 2 bedrooms, 2 dressing rooms, 2 bathrooms with steam room and a private seating area along with a private kitchen.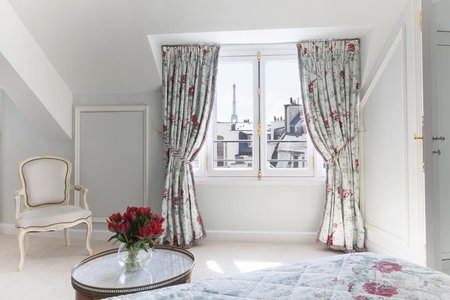 Baby cots can be provided in all rooms on request. You will basically get whatever you wish for in the rooms… luxurious towels, unisex bath robes, slippers, hair dryers, extra toiletries, fresh flowers etc. The champagne bottle/ wine and fresh fruit that greets guests when they check into their rooms is just one of those "special" touches.
Amenities & Service
Unlike normal hotel spas that are basically two room affairs, the Le Bristol Spa is a full-fledged 8 room enterprise that contains a couple's suite with a whirlpool, treatment rooms, steam room and glass doors coat the ceiling to the floor and offer views of the charming interior garden. Each treatment room has a mini garden terrace that guests can use to dig into tea and fruit post the beauty sessions. Incidentally the spa emulates the brand La Prairie…a famous Swiss beauty brand and this is its only offering in Paris.
Their in house beauty products have exotic ingredients like caviar, platinum and gold and they have packages with exotic names like 'Midnight in Paris' and 'From Russia with Love'. Champagne soaks, hot vodka drenched towel massages and all body massages and on call makeup services by Terry products along with standard beauty services are on offer. Don't exit the La prairie spa without peeking into the luscious spa shop inside!!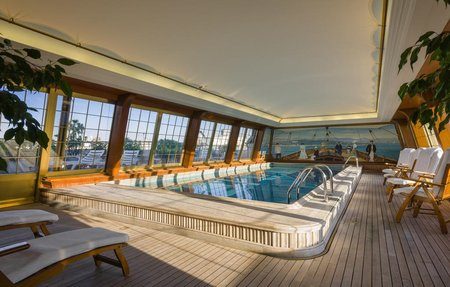 There is a special 'Russian room' that offers Baniya treatments and has a hammam, rain shower and hot marble table. There is an exclusive salon for men too with expert barbers and beard groomers.
The kids Club with its array of toys, recreational facilities and trained attendants is thoughtfully placed right next to the spa so that parents can have some hours of undisturbed luxury. There are chalkboard walls, doll houses, electric car tracks and lots of floral cushions and guests have the privilege of hiring a babysitter.
A stunning wood lined indoor yacht shaped pool on the 6th floor that overlooks Eiffel and Sacre Coeur is framed on both sides by floor to ceiling windows that offer Parisian views.
Plus guests of Le Bristol get free access to the stunning gym here that has all state of the art fitness equipment including treadmills, bikes and elliptical machines. The fitness center and pool both open from 6 a.m. onwards and the room key can be used as an access card.
Call 33-0-1-53-43-41-67 to make a prior reservation in the spa.
A vibe of traditional opulence pervades the hotel… even the forties elevators servicing the buildings are regal looking and so is the in-house Burmese cat 'Fa Raon' whose favorite place to nap are the Louis XV chairs in the lobby. Everything from spa service to food is very expensive; obvious as you are in one of the fanciest hotels in the fanciest city of the world… However the old school hospitality, elegance and the chances of spotting a celebrity make it worth the price.
The Le Bristol is one of the best hotels of the world and the standards of hospitality here are amazing. Some of the staff here like Jean Marie (guest relation manager), Helene, Austiene, Leah Marshall will leave an indelible positive impression on your mind by their tireless quest of customer service perfection!!
The hotel is fully Wi Fi enabled and climate controlled. The hotel also offers deals that include dinner and drinks at the in-house restaurants.
Food & Drinks
Epicure (a Michelin 3 starrer) is the best restaurant here and it's presided by the celebrity chef Eric Frenchon. There are lovely bay windows and a bewitching French style garden view that adds to the charm of the place. this is easily one of the best fine dining places in Paris… you need to try the stuffed macaroni with black truffle and pigeon with onion and orange honey to know why. Expect chandeliers, period furniture and a beautiful courtyard view.
Dinner: Jackets are necessary, Hours: 7.00 a.m. to 10.00 p.m. Phone: 33 (0)1 53 43 43 40
Eric Frenchon also presides over the sumptuous Café Antonia which has beautiful frescoed walls and glittering chandeliers. The priceless portrait of Marie Antoinette in the Café Antonia drawing room is worth a thorough inspection. Try the special afternoon tea here….very elegant!!
Hours: 8.00 a.m. to 10.30 p.m. Phone: +33 (0)1 53 43 43 42
Eric Desbordes celebrity chef presides over the colourful 2 storey brasserie 114 Faubourg… this holds 1 Michelin star. The brassiere stands across the lobby and offers modern French food. There is an open kitchen in the first floor where you can actually watch the food being made. The décor is casual…huge dahlias against a burnt orange background but this is still an expensive place to eat. There are surprisingly exotic dishes like beetroot with fromage frais and hacddock are found here. If you are here during their monthly wine tasting event coordinated by local wine grower and Bernard Neveu (head sommelier at Le Bristol) then you are in for a treat.
Hours: 12.30 p.m. to 10.30 p.m. Phone: +33 (0)1 53 43 44 44
Le Jardin Francais is a casual garden terrace/ lobby restaurant that serves entrees, starters, drinks and a nice conventional English tea spread. From 5.30 p.m. onwards cocktail hours happen and the entire offerings of Le Bar du Bristol are brought here.
Hours: 12.00 p.m. to 10.00 p.m. Phone: 33 (0)1 53 43 43 42
The bar here is called Le Bar du Bristol where Thursday to Saturday there is a DJ spinning some attractive tunes in a glamorous atmosphere. The combination of the exotic cocktails conjured by Maxime Hoerth (winner of best French craftsman award) and tapas (created by chef Frenchon) is an experience to savor. Also try Tempura shrimp, King crab rolls and other epicurean specialties.
You can opt to breakfast either at Epicure or Café Antonia. Breakfast charges are extra (35 euros and up) and you can choose from continental/ American and Japanese (healthy) options…. The healthy breakfast option is beautiful to look at; ginger lemon honey infusions, muesli with gojo berry, fruit, egg whites etc.
If you want to try out more casual dining options nearby then there is JJ (Rue Penthievre), Risi et Bisi, Tosca, La Traboule, Le Griffonnier, Le Gabriel and 24 Le Restaurant; they are all within 1 km radius from the hotel.
Check Availability
Rate provided by Booking.com
Location & How To Reach
The le Bristol Paris stands on the Siene right bank in the 8th arrondissement of Paris. This is one of the tourist laden areas thanks to the presence of the Champs Elysees, Arc de Triomphe and Grand Palais. Look around and you will see some prestigious neighbors….Elysee Palace (the official residence of the French President is next door) along with the UK Embassy and the homes of the American and Canadian ambassadors line up along the illustrious Rue Fabourg Saint Honore area. The Place de la Concorde is about 1 km away and the Opera Garnier is about 1.1 km away.
Some steps away is the nearest metro station Madeleine that connects metro line 8, 12 and 14. Miromesnil metro station is also only 220 metres away. Easiest (and suitable way) to transfer to hotel from CDG airport (30km away) is to take a cab (preferably hire a nice car) and arrive in style… The Orly airport is about 23 km away.
Splurge shopping is super easy when you stay at Le Bristol; the flagship Hermes store is around the corner and so are Gucci, Burberry, Chanel and Ralph Lauren stores. Just walking down the Champs Elysees is a treat and you can check out the fantastic monuments like Monument a Jean Moulin on the way besides the tempting shops. On rue Faubourg you can peek into the iconic Sotheby's that's an institution in itself. There are lots of things to do; catch a concert in the Salle Gaveau, tour the muse Jacquemard Andre and Gagosian Gallery etc.
Walk a little and you can enjoy the tuileries gardens, Musee d'Orsay, Grand and Petit Palais and Les Invalides area….this is basically the historic heart of Paris.
112, rue du Faubourg Saint-Honoré, 75008 Paris
Phone: 33-0-1-53-43-43-25, Email: [email protected]; Hotel Website
Check Availability
Rate provided by Booking.com
Also Read