Style & Character
The Maison Favart eulogizes the names of the Favart couple; the ones who founded the comic Opera. This boutique 4 star establishment is caught in a time warp and celebrates its precious artsy antecedents with gusto!! The hotel front stares out to the Comique opera and the lovely adjacent square. The theme of the hotel seems to be a richer version of 'ancient Regime elegance' and there are lots of neoclassical columns, vintage artwork and velvet upholstery draping the interiors.
The hotel is known for its stunning gold rimmed mirrors, sparkling chandeliers and curated collection of luxury fabrics. You will love this place if you are a Belle Epoque period fan… Incidentally Goya slept here for quite some nights in 1824…much of his artwork is on display all around the hotel.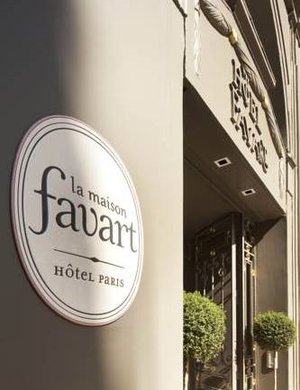 Rooms
There are 37 rooms divided into different sub types like classic, deluxe, suites, duplexes and a small elegant apartment named 'la petit maison'. The classic rooms are compact at 15m2 but are well utilized in terms of space and they provide good value for money. No two rooms are exactly alike and each one has a different atmosphere while the décor is almost always understated 18th century style.
The deluxe rooms are 19m2 and have the option of double/ twin beds with extra plush chairs inside. Handpicked toile de Jouy fabric upholstery, satin and velvet rimming's seamlessly merge in shades of redcurrant, raspberry and wine to create a rich look.
The suites are 36m2 and are styled like an opera set with velvet, taffeta, crimson and ravishing gold tones. There is a separate seating/ dining area along with a sumptuous bedroom and bathroom in the suites. The duplexes are roughly as big as the suite but are divided into two floors creating an apartment like feeling with the same opera like décor.
The jewel in the crown of this hotel is the La Petit Maison….the erstwhile apartment of the Favart couple (Charles Simon, Justine Favart). The 75 sq. m area (independent house accessed via the hotel lobby) is divided into 2 floors; ground (double bed) and first (2 single beds). Each floor can be called a unique piece of history as it's full of glimpses into the 18th century life of De Charles and De Justine. Each floor has a bedroom, bathroom with tub, shower and Jacuzzi and a TV Lounge along with a mini meeting room and a dining room.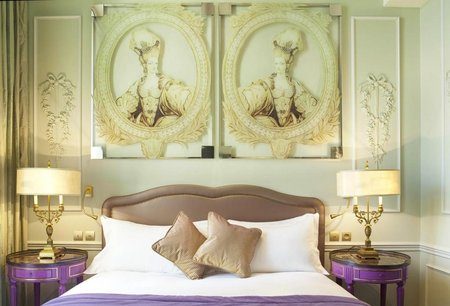 Some common features of all rooms and suites are reverse cycle air conditioning, excellent sound proofing, high speed internet, flat screen TV with video library. Windows are double glazed and there is a desk with free Iphone dock.
Most rooms have choice between a double bed and twin beds and most bathrooms have a bath (apart from classic rooms) along with a walk in shower. All rooms have a fully stocked mini bar with complimentary water bottles, espresso tea/ coffee, iron and ironing board, MP3 player, TV with catalogue of movies and a private telephone.
All bathrooms have state of the art rain effect showers, luxury bath robes with matching slippers, hair dryer and scales. A La Maison Favart product hamper with velvety dressing gowns, matching slippers, scales and hair dryer are provided in all bathrooms. You might notice unusually low ceilings and dim lighting in certain bathrooms… check the rooms properly before you check in.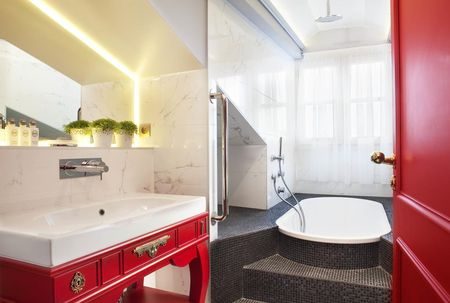 Most of the furniture is art nouveau/ art deco pieces or Louis XV style with some modern twists. Every room has a different theme and has interesting artwork and artefacts.
Two of the rooms are friendly for people with reduced mobility; a suite and a deluxe room. Most rooms look as if they are intended for adults only groups but the suites and the Petite Maison can be adapted for families with kids. Contact the concierge service in advance if you have accessibility needs or are travelling with small kids.
Amenities & Service
There is free Wi-fi in all rooms ….all the rooms are sound proofed and climate controlled. There is 24 hour concierge service and the concierges will take care of everything including drawing up tour plans to hotel reservations-concert tickets to calling up cars. In room service is available from 5 p.m. to midnight.
The staff are lovely; Lucie, Boris, Freddie, Axel and the ladies in the breakfast room are all charming. Refurbishment of the in-room supplies is sometimes slow though.
The library lounge has filled bookshelves and a lovely fireplace flanked by comfy chairs. The honesty bar is nearby.
The lowest floor of the hotel has a beautiful intimate spa and relaxation pool with chromotherapy, cascades of mirrors and self-use hydrotherapy bed. The pool and sauna section (graceful in all white wood) provides good options of relaxation after a long day of sightseeing; best of all they are free to use for all guests. There is a small gym filled with technogym equipment.
Alarm calls and wake up calls are provided on request. Housekeeping is impeccable… rooms are cleaned and refurbished twice a day. This is a boutique establishment and the utter sense of privacy and luxury creates a cozy cocoon like vibe; some guests may like it while some may long for a bigger place with more facilities.
The lovely vineyard estate Domaine de la Soucherie welcomes guests of Maison Favart for a full day for wine tasting, lunch and a night's stay at any of its luxurious pastel decked rooms set off in the middle of grape vines.
For this too you need to contact concierge service in advance by emailing [email protected] For more information on the winery experience you can contact the official website of domaine de la Soucherie.
Food & Drinks
A moderate breakfast spread comprising of cold cuts of meat, cheese, scrambled eggs, coffee, juice etc. is served in the pretty little dining room just off the lobby. Alternatively there is a set continental menu with pastry, croissants and venoisserie.
There is a small honesty bar with a limited selection of alcoholic beverages and snacks. Take what you want and leave the suggested price at the cash box….operational from 3 p.m. till after midnight.
The hotel treats guests with courtesy and charm and free champagne and chocolates…you will likely get some as soon as you check in. Water, coffee and free dessert (usually fruits i.e.) and a free chocolate is left in the room each night.
Unavailability of a full-fledged in-house dining option won't bother you much…If you are looking for dining options nearby then you can check out V Comme Vietnam for its delish Vietnamese food, Atsu for Japanese food and Au Comptoir de Nouilles for classic French. There are nice bars like Le Gorille Paris, Le Gavroche, La Rosa and super cafes like La Taverne, Caffe Concerto around. There are excellent creperies around like Le Will's and Creperie Traditionnelle. Grocery and convenience stores are also around in case you need to stock up on snacks.
Check Availability
Rate provided by Booking.com
Location
The Maison Favart stands on a relatively quiet square in front of the Opera Comique (founded by the Favart couple) in a secluded spot of the Grands Boulevads area in the 2nd arrondisment of Paris. This zone is known for its theaters, cinema houses and multi cuisine restaurants (think Korean, Indian, and Vietnamese etc). noteworthy attractions nearby are Palais Garnier and Palais Royal both of which are 10 minutes away by foot. A longish walk will also take you to the Louvre.
You can walk down to the Siene river bank in about 20 minutes. Stroll around the hotel and you will see Opéra Garnier, Grand Rex, Max Linder, Cantine Chartier Hard Rock Café. Peek inside the Drouot auction rooms, the Stock Exchange, the Galeries Lafayette and the Au Printemps. Other noteworthy places like the Musée Grévin and the Place Vendôme are within 10-minute walk. This is an intellectual zone… go into any of the cafes or bistros (some of the first Parisian cafes are around here) and you will feel like drowning in the music and conversations.
The hotel is sandwiched between 2 metro stations; nearest metro station is Richelieu Drouot (metro line 8 and 9) followed by Quatre Setembre (metro line 3) while the nearest RER station is Rer A Auber. You will find a lot of VELIB cycle hire stations nearby…there are at least 3 within 300 meters of the hotel plus an autolib car hire station at Boulevard Haussman. Commuting to most areas of Paris is easy when you stay at the Maison as Bus lines 20, 29, 48, 67, 74, 85 service this area.
5, Rue Marivaux, Paris, 75002, France.
Phone: 00 33 1 42 97 59 83. Hotel Website
Check Availability
Rate provided by Booking.com
Also Read