Style & Character
The De Berri dazzles anyone who crosses it by its stunning glass façade created by the star French architect Maurice Novarina. Some say that this was the very first official block in the 8th arrondisment and hence is listed as a historical monument. The exterior doesn't look like a hotel though; it's more like an office building.
Coco Chanel's arch rival Elsa Schiaparelli had an apartment here and the Berri hotel is an ode to her as well as Paris's haute couture element. The hotel owners have a passion for modern art and luxurious artefacts; the design elements are crafted to surprise and bewitch. The De Berri is a part of the Marriot Luxury Collection; this is a discreet boutique hotel that prides itself on exclusivity!!!
Rooms
The rooms in this luxury collection hotel celebrate the brightest names of 20th century in the field of decorative arts. This was the maiden attempt of the star designer Phillippe Renaud and his proficiency shines through the staggering collection of modern art, paraquets, huge mirrors and clever mixes of fabrics and textures used in the hotel.
The rooms feel like actual Parisian star homes rather than hotel rooms and a personal strong style can be easily detected. For example, it's difficult to imagine true blue marble (trompe l'oeuil no less), sumptuous fur, bold tiger prints and stylised aluminium used in the same space. Mirrors double over as televisions and walls are swathed in premium toile de Jouy fabric while the lights and curtains can be controlled by a remote control.
Common amenities include built in closets, private refrigerated bar, climate controlled room, 24 hour in room dining and a personal safe. All rooms have a nespresso coffee machine, Mariage Freres tea hampers and champagne with gourmet minibars. There is also Alain Millat fruit juices, truffle infused crisps and handmade Fouquet chocolate hampers… be prepared for a treat. There is a state of the art Apple TV with Netflix inside… technology lovers will adore the experience.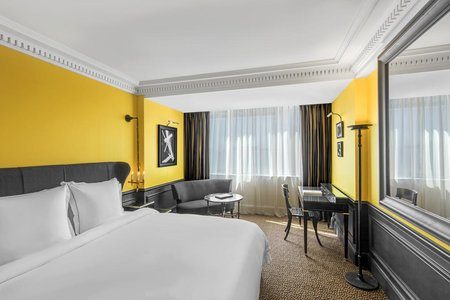 The smaller rooms (Superior) have queen beds while the rest have king size beds. Other room categories include Deluxe room while the rest are Suites; Junior Suite, Junior Suite Park View, Prestige Suite, Signature Suite Park View, Berry Suite, Parisian Suite. Each suite is modelled after a different celebrity. The suites have numerous sofas/ settees scattered around and designer furniture and amenities….most have garden views. Every room has a curated hamper of Diptyque amenities that will totally take your heart.
The bathrooms are compact but are completely state of the art… with heated floors, heated towel racks, heated toilet racks and heated toilet seats. Even The common restrooms have similar amenities. The showers have soap capsules inside… luxury body washes diffuse out with the water making you feel like royalty. There are even bathroom pods with different modes that can energize you or help you unwind.
There are 11 different room designs… each inspired from a different celebrity. Jeanne Lanvin, Elsa Schiaparelli, Marie-Laure de Noailles, Coco Chanel, Giacometti, Jean-Michel Frank, Madeleine Castaing, Henri Samuel, David Hicks are the inspirations behind different rooms; pick your favourite!!
Services & Amenities
Unlike most Parisian five star establishments that revel in the glorious medieval past and Louis XV inspired decadent fashion; the De Berri is unabashedly modern. The modernistic experience starts as soon as you check in. Whenever guests are escorted to their rooms they are given a detailed tour of the modern amenities via a digital tablet.
All public areas have buzzers that ensure quick and effective service by prompt butlers who magically appear from nowhere. There is 24 hour room service… the meaning is elevated to a new level here. The hotel staff will not only bring you a lazy breakfast in bed; they will happily install a treadmill in your room should you wish!!!
There is 24 hour concierge service and the chief concierge is a member of Les Clefs d'Or (Golden Keys) so it's easy to understand the overall level of service.
The fantastically designed lobby has free newspapers, concierge desk and the front desk has safe deposit boxes and a 24×7 helpdesk. On site laundry service, on call babysitting service and an on call limousine service are some of the other services on offer. You will find a foreign exchange house right near the hotel.
The Salle de sculptures with its beautiful sculpture reproductions (copies of the work at Louvre), art books and paintings is the most wonderful zone of the hotel. Sign in, put on those ear plugs and reign in your very own artsy universe for as long as you like.
There is a lovely yet compact spa comprising of two treatment rooms, a state of the art tropical shower, 2 Hammams and a bouquet of eye treatment therapies. There are separate lounges for men and women. The spa is open from 10.a.m to 7 p.m. everyday.
There is a fitness centre with a standard range of equipment like treadmills, rowing machines, exercise bike and free weights. Golfers can visit the stunning Golf du Bois de Boulogne that's roughly 3.5 miles away.
The staff go out of their way to make guests feel comfortable. Most of them including Vinny, Saief, Antoine ….are delightful.
The hotel has a few accessible rooms with special features and some of the common areas are suitable for the physically challenged. People with disabilities can bring their service animals along. It's advisable to call the hotel beforehand if there is an accessibility requirement.
There is no airport shuttle service though which is a bit disappointing. The sound proofing also seems substandard as the street-side rooms are pretty noisy. Choose garden facing inner rooms and look for an upgrade to the more premium room variants as superior rooms (lowest category) may seem small.
Food & Drinks
The in-house restaurant Le SSchiap (an ode to the former owner) is visually stunning with jade green seats and pretty Romain Hippolyte frescoes. The walls are hand painted and you will see lots of posters of Madonna, Dali, Woody Allen, Paul Gaulthier and their fraternity around.
The menu is lovely… Chef Michele Dalle Valle hails from Italy and there's a strong Tuscan touch in the menu. There is panzanella, cod crusted with artichokes and panzanella and lots of black truffles. Usually jazz nights and special musical performances are conducted here in the evenings from Thursday to Sunday.
The in-house mixologist Christopher Gaglione creates superb cocktails. The bar is called Bizzaz and is as dashing as its name. It overlooks the private garden of the hotel from a lovely terrace seating with gorgeous frescoes.
Breakfast is served at elegant looking low tables at the bar and has a choice of 5 menus. There is the extraordinary romantic menu with Le Caviar (champagne soaked) and smoked salmon and the gluten free menu with lots of buck wheat pancakes and cottage cheese. Then there is the classic French menu (exquisite pastries and bread butter) and the American/ Asian menus too…you will be spoilt for choice. Breakfast fee starts from 35 euro per person for the continental category.
If you are looking for Parisian themed food….this is not the place; the wine list and the menu are decidedly Italian.
There are lots of nice restaurants in the nearby vicinity which you can explore. Le Sens Unique, Café Berri, Restaurant Le W, Le Carpaccio, Dragons Elysees, Bistro Brute, O'36 are some of the nice places along rue de Berri.  Le Keller, Ramen Bowl, Elysees Ottoan are some other nice places on rue de Pontheiu.
Check Availability
Rate provided by Booking.com
Location
The location is 8th arrondissement of Paris near the iconic Champs Elysees. Staying here gives guests access to the most fashionable clubs, stores and theatres of Paris. The hotel backs off into a lesser known yet gorgeous rambling park complete with oversized trees and lovely foliage; a breath of fresh air in this rather concrete heavy section of Paris.
Famous sights around are the Arc de Triomphe, Grand Palais and Musee d Orsay. Walk through the dazzling history of fashion at the Musee Yves Saint Laurent. Shop your heart out at the Les Galeries Lafayette (2 km away) and fulfil your grocery shopping needs at Carrefour express (2.2 km away). There is an ATM within 250m of the hotel as well as a medical store.
Easiest way to get to the hotel from the CDG (29.2 km away) airport is to hail one of the umpteen cabs around… if you are staying in this fashionable a place; arriving nicely is a necessity. The Paris Orly airport is 16.6 km away; technically the LBG airport is the closest (14 km away). The nearest metro is George V (350 meters away) and Saint Philippe du Roule Metro (370 meters away).
8-22 rue de Berri, Pais. Phone: 00 33 (0)1 76 53 77 70. Hotel Website
Check Availability
Rate provided by Booking.com
Also Read