Style & Character
As the well initiated already know….the St Germain neighbourhood has precious literary antecedents which makes residing in the Aubusson a treat for lovers of literature and arts. The gorgeous D'Aubusson is housed in a 17th century mansion and all its rooms radiate a timeless elegance.
The hotel is named after the south western French town Aubusson where some of the finest tapestries of the world are hand woven in the 19th century. Naturally expect the hotel to be full of gorgeous tapestries. Fans of Simone de Beavoir can rejoice….this is the place where he stayed for a couple of years around 1940.
The jazz bar here has a reputation of its own and is loved by jazz lovers all over the city….this is the place where Rousseau, Voltaire and their contemporaries argued over world rights in the 18th century. Jean Paul Sartre was a regular here and the literary meets held at the café here are still much appreciated!!
Rooms
The 49 different accommodation options are grouped into 4 types. Nevertheless none of the rooms look the same and those that are in the oldest part of the building are the prettiest. The décor can be classified as "conventional French country décor" and the colour palette is soft nudes and elegant canopied beds (with a modern touch).
The rooms that face rue Dauphine in the 19th century section of the hotel have bolder décor schemes with Chanel like influences. Choose to stay in these if drama filled black and white tweed carpets, vintage wallpapers and cream tones with startling aqua and Bordeaux red accents fascinate you.
The 35m2 junior suites can accommodate up–to 3 people; they have a sumptuous lounge area as well as a bedroom. The duplex loft is 30m2 and has a mezzanine bedroom while lounge and mini office is on the ground floor. The grand luxury rooms can also accommodate 3 people (there are only 2 of these) and these are 26m2…..these have double beds/ twin beds/ Italian beds. The superior rooms in d'aubusson are the smallest at 23m2.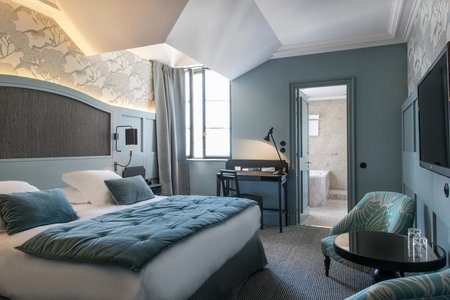 There is usually a choice between double/ twin beds while common fixtures are Nespresso machine, DVD player and a safe along with alarm clock and radio-blue tooth. There are multiple docking stations, iron and ironing board and a direct dial telephone. All rooms are air conditioned and sound proofed and have a private mini bar. Expect floor to ceiling windows, down pillows, tapestries, reading lamps and an old world air of elegance.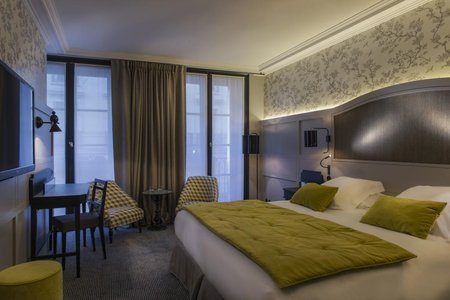 The state of the art cream coloured bathrooms have beautiful fittings and a luscious basket of orange scented Hermes hospitality products. There is usually a choice between walk-in showers and a tub.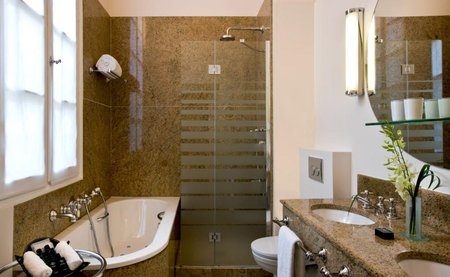 As already mentioned, the most distinctive feature of the hotel is its architecture and tapestries….expect to find antiques and Louis XV artefacts inside the rooms.
Services & Amenities
There is free Wi Fi that runs decently and it services the whole of the building. Room service is available 24 hours all 7 days of the week. Guests get access to complimentary shoe shine service
There is 24 hour concierge service…the concierges will chalk up travel schedules, get you your favourite wine or draw up travel plans for you. They can even arrange hairdressers, masseuses and beautician for you.
A babysitting service can be arranged on requests. Baby sitters can be arranged to accompany the parents and child on their Parisian explorations. The reception has bottle warmers, changing mats and extra cots.
Board games like chess, tarot and dominoes are available and there are also video game consoles (Nintendo 2DS and PSVita)….you will find them in the lounge. The availability of free DVD players with a small collection of movies adds to the charm. Laptop equipped with printer and pad is also made available to guests on request.
All guests get a free mobile phone with 4G and unlimited call facility to Canada, USA, Europe, Hong Kong, Israel and Brazil. All phones have an inbuilt city guide with a nice selection of addresses for restaurants and clubs.
The staff are gracious enough to provide free gifts everyday ….you might find brioche in your room one day and fruit the next and chocolates some other day. Housekeeping is impeccable and they have this delightful practice of leaving good night cards and candy in every room each night.
The grand salon is period style and beautiful and full of lovely armchairs. There are lots of magazines and newspapers around for people to pick up and read and a cute business corner with a desktop, printer and tablet.
There is a lovely meeting room with antiques and state of the art equipment…the skylights add to the charm!! The reception overlooks a lovely plant filled patio garden…a perfect spot for sipping drinks and lounging al fresco style.
The lovely spa opened in 2018 and it reportedly took a whopping 2.5 million euro to be built. There is a 20 m x 4 m indoor pool, treatment cabins, sauna room, massage room and a cool poolside bar with a limited menu. The SPA has Scandinavian showers, ice fountain, hammam rooms and a lovely balneotherapy bench.
There are 2 rooms which are specially meant for guests in wheelchairs….these have telephones with extra big buttons. Let the hotel know in advance about your accessibility requirements.
Saturdays at Café Laurent are special with piano jazz solo aperitif that starts from 6.30 pm to 8 pm. Tuesdays to Saturdays, there are usually concerts in 2 slots (9 pm and 10.20 pm). The jazz nights here are very special …lots of people come and the atmosphere becomes very lively. Don't choose a room over the jazz club if you are someone who loves peace and quiet. The weekly literary talks might be attractive if you love the languages.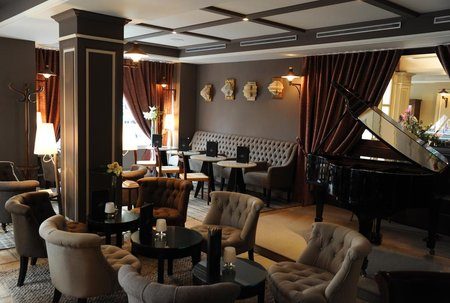 Food & Drinks
A daily breakfast buffet spread is served from 7 a.m. to 11.30 a.m. in the Salon des Tapisseries. Note the high beams that are hundreds of years old and the elegant tapestries. Each table has fresh roses and lovely silverware. Dig into a spread of mini pastries, sponge cakes, French cheese charcuteries, precooked eggs, sausages and cuts of bacons.
Café Laurent; a chic very Parisian café is a part of the d'Aubusson. The menu offers a big selection of hot and cold alcohol/ alcoholic free drinks. The patio is rather sheltered and is styled like a garden…it's a wonderful place to sip and munch and share intimate conversations. Enjoy delicacies like Foie Gras, Caviar Sibestra and French macaroons and pair it with fine teas or champagne. Food can be carried to the lounge with its huge stone fireplace and lovely tapestries….watch out for the massive beamed ceilings again. There is a nespresso machine in each room and a stocked minibar.
There are lots of nice restaurants around…there is Le Procope (Paris's oldest café dates back to 1686) that's just 5 minutes away. Also there is the Guy Savoy restaurant (holds 3 Michelin stars) inside Monnaie de Paris. For more affordable meals try Roger Grenouille….it serves classic French food (including frog's legs and snails!!!). La Main a la Pate serves homely food while Chex Fernand offers nice European food. Other good places around are Le Wok Saint Germain, Cinnamon and La Tavern de Nesle.  Don't miss the awesome cheese, chocolate and bakery shops nearby…there are quite a few.
Check Availability
Rate provided by Booking.com
Location
The Hotel d'Aubusson is located in the centre of the lovely and unobtrusive Saint Germaine des pres neighbourhood in the 6th arrondisment of Paris near the Siene left bank. This is near the much loved Latin quarters; a stimulating cocktail of fashion designers, vintage jewellers and antique dealers….a stone's throw away from the hotel.
Right near the hotel there is at the famous point Neuf. Take short walks to Notre Dame and the Louvre museum; two of the greatest sights of Paris. On the way to Notre Dame you will cross the lovely bouquinistes (green box traditional book sellers). Les Vedettes du Pont Neuf River cruises sail from under the bridge and a short five minute walk away there is the beautiful Monnaie de Paris Museum. The Odeon Theatre, Saint Sulpice, Faubourg Saint Honore and the Sorbonne are all within half an hour walk from the hotel.
There is an indoor car park at 27 rue Mazarine…you can book a slot there on prior reservation (fee starts from 35 euros per night) and it becomes easy to get around by car. Pedestrian access is right in front of the hotel. Unavailability of valet parking may be an issue for some guests.
Airport hotel transfers are available via private cars of different categories. It's advisable to contact the hotel concierge service ([email protected]) beforehand for arranging hotel transfers. Otherwise shuttle buses will take you to Montparnasse station that's just 10 minutes from the hotel. Alternatively take a taxi…you will get to the hotel in an hour if it's the CDG airport or half an hour if it's the Orly airport.
The metro station nearby is Odeon (line 4) and Pont Neuf (line 7). The Mabilion ou Odeeon (line 10) station is also nearby. The closest RER station is Montparnasse and Saint Michel. There is a direct link to Chatelet les Halles, Gare de Lyon, Gare Montparnasse and Gare du Nord that's mighty convenient. The nearest bus stops are Pont neuf (bus 24 7 27) and St Andre des Arts (bus 58 & 70).
33 Rue Dauphine, 75006 Paris, France
Phone: +33 1 43 29 43 43; Hotel Website
Check Availability
Rate provided by Booking.com
Also Read