A word closely entwined with the English life is 'Tea' and they even have a national Tea Day (April 21'st). Things which are deemed problematic are referred to as "not my cup of tea" and pleasant experiences are met with "just my cup of tea" and the English wholeheartedly believe that there isn't a bad issue in the world that cannot be cured by a nice hot cup of tea.
The average British person will consume about 2 kilos of dry tea annually and that's the record for the world's highest tea consumption. It's a paradox that the country which is so obsessed with tea doesn't grow any of its own.
Tea made its way into England via the Portuguese and Dutch traders who brought it in from China and other Asian nations after which it gained wild unceasing popularity thanks to the efforts of King Charles II and his Portuguese origin wife Catherine de Braganza.
Right now in England, the word Tea usually means a meal especially if it is taken in the afternoon or later… people here invite each other for tea all the time and it's never a rushed affair. Tea is never tea bags…it's always leaf tea in a fine pot (sometimes two pots; one Indian and one Chinese blend).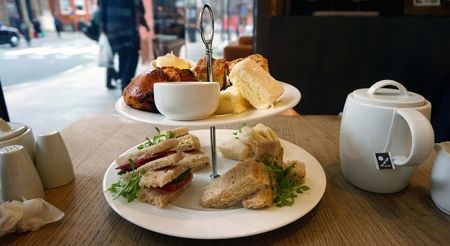 If you are in England then you will notice that the English like to have tea in style in a pleasing setting and with fine cutlery. Do make it a point to have the traditional 4 o'clock tea….historically rich 19th century aristocratic ladies (pioneered by Anna Russell the 7thDuchess of Belford) who invited their friends over in the afternoon started this ritual.
The merchant and the affluent class were quick to catch on…they usually didn't have their evening meals till after 8  p.m. and so the Afternoon Tea began to symbolise a filling stopgap meal that's had around 4 p.m.
Though in modern England hardly anyone is at home to enjoy afternoon nowadays, there are several tea rooms around England who will offer the experience. Afternoon tea comprises of fine blend of tea (with or without milk), assorted tea sandwiches (usually cucumber with the bread crusts cut off) and many other kinds of savouries.
Best Places For Afternoon Tea In London
When you are in London having the 4 '0 clock tea is a definite part of the English experience and there are amazing tea journeys offered by several hotels and tea rooms in and around the city.
Some great places for afternoon tea are the English Tea Room at Brown's with its healthy tea spread (her majesty used to sip tea here), Palm Court at the Ritz (you have to dress formally), Palm Court at the Langham (child friendly offerings of Langham Cold chocolate), Gallery Restaurant at Sketch Mayfair (pumpernickel bread with spicy tomatoes served by tea masters in designer wear) and the Sosharu at Turnmill street (tea with healthy Japanese food for diet conscious people).
And of course Fortnum and Mason is the place to go if you want to learn tea tasting and hear tea trivia while you are sipping on fine blends accompanied by live piano and an unending array of finger food.
Cream Tea
If you visit the counties of Cornwall and Devon or basically any prominent village in South West England then you will be served "cream tea" in the afternoon and this is actually a sweet meal consisting of tea and delicious fresh scones with strawberry jam and clotted cream.
Cream Tea is alternatively known as Devon Tea (the European Union is considering giving this name Protected Origin status) or Cornish tea. Delve deeper into the tea traditions and you will begin to notice the inter county variations like how the Devonians like to break their scones and cover them with clotted cream and jam before eating  while the Cornish add the strawberry jam first.
Both counties bake their own scone variations too… Devon Split and Cornish Split. Don't mistake clotted cream with whipped cream though… clotted cream tastes like a mix of butter and nutty milk cream and you must taste it to believe it!
Cream Tea is less ritualistic and cosier than the 4 o' clock tea and as it happens in relatively rural settings you will be more focused on the delicious experience than on the manners. If you want lively conversation just start a debate on the origin of cream tea… Devon or Cornwall and you will be treated to a never ending discussion.
There are hundreds of tea rooms in South west England offering cream teas but the Hidden Treasure Tea room in Fore Street and Otterton Mill in Budleigh Salterton are amongst the best places in Devon.
In Cornwall you can have a royale Cream Tea experience at the Pentillie castle on the banks of River Tamar or in a coastal manor (Fowey Hall) overlooking the Fowey Estate… Fowey Hall inspired the Toad Hall in the famous novel Wind in the Willows. Some may say that the Cream Tea is actually a subset of High tea but the opinions are divided.
To Conclude…
The 6 o' clock high tea in contrast was always preferred by the working class… this is a small meal just after work. The high tea spread is delectable….cheese, crumpets, cold meat and pickle, poached eggs, scones, buns, cake (the menu varies from place to place) and a robust supply of tea.
There is a whole rule book of English tea etiquette and maybe it will be rather difficult for you to follow all of them. However whatever you do ….don't just have one cup; it's considered as an affront.
Also Read